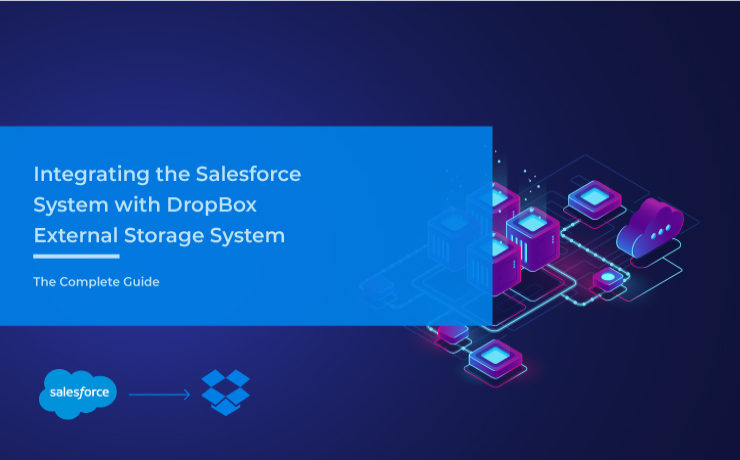 In today's data-driven world, several new companies crop up each day and competition in one's own industry increases exponentially. It becomes imperative for enterprises to offer best quality services to their end-users to stay on top. This becomes increasingly challenging when the voluminous amount of data and files, generated in the process of managing the customer information, are brought into the picture. Here Salesforce, the undoubted market leader in CRMs, comes to the rescue of such companies.
Salesforce helps enterprises create an overall holistic view of each of their customers. In turn the companies generate more leads, make better informed decisions, and multiply their chances for success and growth. But even the Salesforce customers are not spared from the challenges that come along with the platform. These range from limited storage space to exorbitant additional storage costs. The silver lining in such problems happens to be the external storage systems that can be seamlessly integrated with Salesforce.
One such viable external storage solution is Dropbox. Dropbox is one of the popular file hosting services that offers a plethora of services like cloud storage, file synchronization, personal cloud, and client software. This modern workspace, designed to reduce the workload, offers one central hub for online file storage, file sharing, and syncing. Dropbox also offers various cloud storage options that lets companies store everything safely in the cloud and access file uploads from multiple devices.
Owing to such features, enterprises integrate their Salesforce platform with Dropbox in order to enhance their file management & collaboration capabilities, thereby future-proofing the storage costs. Some of the primary reasons to choose this collaboration for your business growth are:
Easy store and sharing

– Using Dropbox's cloud storage feature allows companies to store multiple files and attachments, regardless of their size. When edited or updated, these files and content is also synchronized faster.

Higher security

– Dropbox is designed to keep all your files and data safe and secure. It also offers a specially designed feature to protect the files by backing them up.

Easy files organization

– Integrating Dropbox with Salesforce helps enterprises in organizing files that matter most so they can get the right content at the right time. Whatever the content you are looking for, Dropbox provides easy access to it, whenever needed.

Increased productivity

– With features like faster synchronization and easy searching, Dropbox ultimately saves a lot of time. Accessing, managing and sharing of content with customers from their Salesforce records become easier with Dropbox integration.

Real-time collaboration

– Dropbox integration allows users to review, edit and share the files and content with other team members and customers. This collaborative workspace enables easy sharing of documents without leaving Salesforce.
There are several techniques that can be implemented to integrate the Salesforce system with Dropbox. These range from ready-made tools to the ones built from scratch. Here are some of the possible integration tools available:
Salesforce Connect

– The Salesforce Connect framework provides Salesforce admins access to the files and data from external sources in real time along with several point-and-click tools for easy set-up. The only drawback is that this solution is available only for the Enterprise and Unlimited Edition customers and comes at a rather hefty price.

Custom-built integration applications

– For integrating Salesforce with Dropbox, another probable option is to design an application which is in tandem with one's specific requirements and is well within the cost limits. But one of the things to keep in mind is that it might not be possible for the internal Salesforce administrator to build such a custom app himself, so there is almost always an additional cost involved.

Salesforce AppExchange integration applications

– As an easier alternative, most Salesforce admins look towards the several options available on the AppExchange that can themself install. In most cases, such apps also allow modifications to meet the additional features request.
One such AppExchange application designed to help you seamlessly collaborate and store files in the Dropbox system is XfilesPro. Aided with the unique file management capabilities of this highly customizable and admin-friendly application, the Salesforce admins stand to reduce their file storage costs significantly, in some cases by up to 70%. Other features like 360-degree file collaboration including integration with various external storage systems, centralized content management system, file and folder hierarchy management, multi-org file integration, and large volume file migration are also part of this application.
Also read: How to Store Salesforce Files in External Storages using XfilesPro: Steps to Follow
In addition to Dropbox, XfilesPro can also be used to collaborate the Salesforce system with various other external file storage systems like the Cloud-based storage systems like SharePoint, Amazon S3, Google Drive, and OneDrive and On-premise systems like SMB, SFTP, and Network Drive. To know more about XfilesPro and how it can facilitate Salesforce-Dropbox integration,
get in touch
with us.