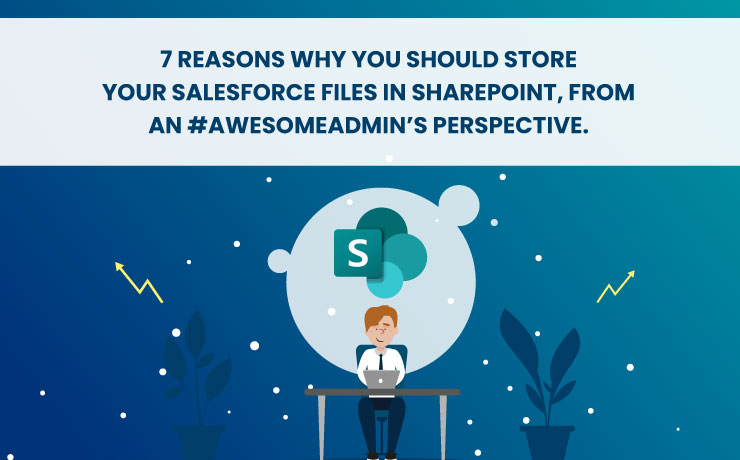 Most Salesforce Admins do not believe when we say that managing documents in Salesforce can be easy and automated. We got them completely as we understand that Salesforce is a bit tricky when it comes to file management. Because the CRM platform comes with limited file storage space, the overgrowth of the files would fail the admins to operate the application effectively.
Migrating files from Salesforce to an external storage is its only solution. If you're already using SharePoint, the popular storage system, don't look further than it as SharePoint provides a lot of advancements to store your Salesforce files externally.
Before discussing those factors, let's take a brief look at SharePoint.
A Little Light on SharePoint
SharePoint is a proprietary, web-based collaborative platform that integrates natively with Microsoft 365. It's one of the most popular document management and storage platforms today with over 100 million users worldwide. SharePoint has been making it easy for customers to set up a centralized, password-protected space for safe and secure document sharing, downloading, editing, and uploading.
Now, the point of discussion is on the integration of SharePoint and your Salesforce. As you already know, you need to partner with a solution provider for this. To make your life easier, we'd recommend you use XfilesPro, the #1 file management app for Salesforce.
XfilesPro integrates Salesforce with your SharePoint without even the need for an additional connector. And post-integration, the application automatically migrates your files from Salesforce to SharePoint in pre-defined intervals and by following the hierarchy of the files. The best part is that apart from SharePoint, XfilesPro also supports other file storage platforms such as AWS S3, OneDrive, Google Drive, and on-premise platforms.
With that note on the functionality of XfilesPro, let's discuss the seven factors why you need to store your Salesforce files in SharePoint by leveraging the power of XfilesPro.
Learn why XfilesPro is the most preferred app to connect Salesforce and SharePoint for file storage here.
A Slim Wallet Solution:

Trust us, purchasing additional storage space from Salesforce might break your bank! When sharing files to SharePoint externally, you are saving a huge amount of money associated with the purchase of extra storage space from Salesforce. In addition, as XfilesPro eliminates the need for an additional connector to integrate both platforms, you're once again receiving an opportunity to save pennies.
A Huge Storage Suite

: With the

SharePoint-Salesforce Integration

, the need for your file storage

out of the Salesforce environment

is satisfied with the huge storage capacity provided by SharePoint. The biggest urge for file storage optimization is met.
End-to-end Process Automation:

With the power of XfilesPro, you can automate your file migration process and eliminate manual efforts behind managing files in SharePoint. At the same time, if you want to opt for the manual workflow, XfilesPro also provides the ability to carry out file management in your preferred way at your convenience.
Leveraging SharePoint Tagging

: In search of the right file, sometimes naming conventions will also not be a best practice in a huge directory of files. But with the feature of SharePoint tagging, XfilesPro allows you to apply metadata labels or tags to documents, list items, and other types of content in SharePoint. These tags can be used to categorize and organize content based on different attributes, such as keywords, topics, or themes.
Discover how a two-decade-old IT firm automated the migration of Salesforce Files to SharePoint with XfilesPro.
Future-proof Security of Files

:

Firstly, there are certain security measures that SharePoint offers to safeguard your files within its platform. On top of that, XfilesPro delivers security expertise including Access Control and Encryption at Rest that helps you to rest assured that no unauthorized users are accessing your files.
Real-time File Collaboration:

Since your Awesome Admin role has never experienced anything like file collaboration in Salesforce, XfilesPro gives you that golden opportunity to collaborate on files in real-time in SharePoint. This is a great chance to eliminate the endless time required for file modification by several users.
Enterprise-level File Management Experience

: By managing Salesforce files in SharePoint with XfilesPro, you're stepping into the modern document management world, where automation rules the game and everything is controlled by you.
Explore how Salesforce-SharePoint integration helps you transform your Salesforce file storage needs here.
Huh… That seems like a lot of reasons to choose SharePoint as a repository of migrated Salesforce files. But the only necessity is XfilesPro!
If you wish to learn more about how to use your SharePoint platform to keep your migrated Salesforce files, schedule a demo with one of our product experts.