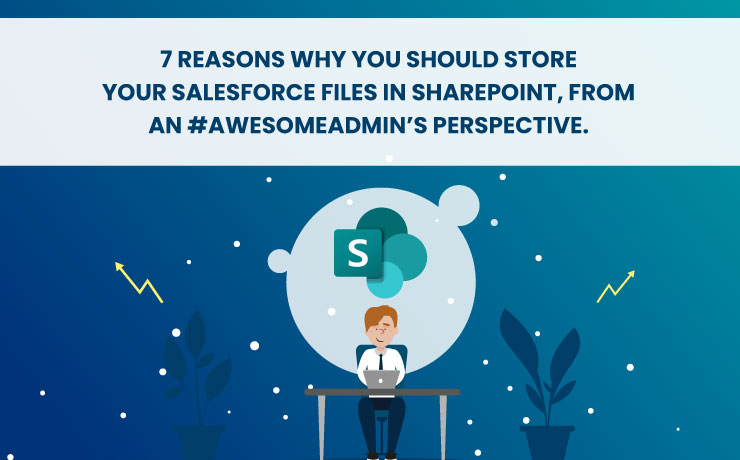 Disclaimer: This blog is for Salesforce users who are looking for a long-term solution and is expecting high productivity and streamlined workflows. If you think that is not possible and is a sham, then read it at your own risk.
Most people do not believe when we say that managing files and attachments in Salesforce can be easy and automated. We don't blame you guys because Salesforce is a bit tricky when it comes to moderating their file management. File storage is an underrated limitation of Salesforce. This causes a lot of unsettling confusion in workflows causing you to see the end of productivity.
A hoard of files is being dumped into your Salesforce's inbuilt file storage and optimizing them will be your first priority every day. Hence what to do about it? Integrate it into an external storage system right?
If you are looking for a long-term file management strategy, then integrating your Salesforce files into an external storage system will be the superlative choice at the moment. SharePoint is one of the most popular document management and storage platforms today with over 100 million users worldwide. This Microsoft product has been making it easy for customers to set up a centralized, password-protected space for safe and secure document sharing, downloading, editing, and uploading.
This is where XfilesPro comes into the picture. XfilesPro serves as an application to connect Salesforce to SharePoint. With high-yielding features alongside integration, there has never been a better option on AppExchange to optimize your file storage.
Being an #AwesomeAdmin, and exploring between options, SharePoint has come up as one of the best options for an external cloud storage system. XfilesPro also provides some very good options to its Salesforce users who have integrated into SharePoint.
An extensive guide of why SharePoint should be your viable secondary storage option in Salesforce
A Slim Wallet Solution: Being in the Salesforce spectrum, high file storage costs is not an alien phrase. SharePoint contributes as a financially savvy solution as there is room for unlimited storage. By using XfilesPro to store files in SharePoint, you can reduce your storage costs while taking advantage of SharePoint's unlimited storage capacity.
360-degree File collaboration: File Collaboration in Salesforce takes a step forward with the files being migrated to SharePoint. With XfilesPro around the corner, the files can leverage the features, and collaboration is well enhanced to a greater level.
SharePoint Tagging: In search of the right file, sometimes naming conventions will also not be a best practice in a huge directory of files. But with the feature of SharePoint tagging, XfilesPro allows users to apply metadata labels or tags to documents, list items, and other types of content in SharePoint. These tags can be used to categorize and organize content based on different attributes, such as keywords, topics, or themes.
Unlimited Storage Suite: With the SharePoint-Salesforce Integration, the need for your storage is satisfied with the unlimited storage capacity provided by SharePoint. The biggest urge for file storage optimization is met.
Future-proof Security: SharePoint offers advanced security features, including data encryption, access controls, and audit trails, which are not available in Salesforce. By storing files in SharePoint using XfilesPro, you can take advantage of these advanced security features.
Enterprise-level File Management: SharePoint comes with some breakthrough features helping businesses climb the corporate ladder higher. Real-time co-authoring, mass upload/download of files, file archiving, and many more possibilities adds to the list.
Workflow on Autopilot: With several pre-programmed mini-applications, SharePoint deploys to automate your several business processes with ease. Your Salesforce org will be the most efficient than ever.
As per the above breakthrough features combined on one application, the forecast of your file management in Salesforce is that your business is going to soar higher. With your files and attachments in place, reduced file storage costs, and optimized file storage, all your immediate Salesforce file management queries are settled with the SharePoint-Salesforce Integration with XfilesPro. Just like a blessing in disguise, SharePoint also serves several other concerns too.
XfilesPro has always extended numerous benefits to SharePoint users. If you are looking for an admin-friendly application that has a lasting impression on all its users to date, then you have to connect with us for more info about XfilesPro.
We never fail to disappoint and to schedule your free demo, then click here.