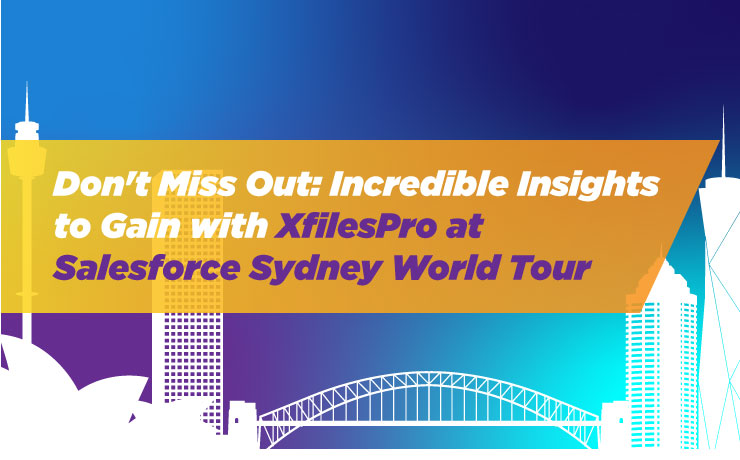 We are back to the season of attending work events and the Salesforce Sydney World tour is going to be one of the most existing ones. We are even more excited because XfilesPro will be present for helping you trailblazers to rev up your Salesforce file management game this year. Virtual conversations and meetings are convenient. But nothing can top the feeling of meeting you guys in real. Hence our product experts have seized the opportunity of the Salesforce Sydney world tour this year to have a personal chit-chat with all the Salesforce Admins to discuss their file management concerns.
Must-Know Musings of XfilesPro Before You Drop by Our Booth
Upgrade Your File Management to Elite File Mastery in Salesforce
There is no better application than XfilesPro to help you master the skill of advanced file management. In today's consciously sensitive work environment, every file's proper organization has become a necessity. With the downpour of files on a recurring basis, and with the limited Salesforce storage, it is very hard to keep the score of these files. This is where the ultimate file management skill is required. There is a lot more scoop to this insight. Do visit our booth to uncover all the information you are seeking for.
Automatic Document Generation – Our Latest Addition
Now, Xfilespro is even more effective and preferred because of its latest incorporation of XfilesPro DocuPrime. Apart from file management, another surmount challenge is to draft documents manually. Same as how each and every file is to be organized, every proceeding is to be documented. With a number of documents to be drafted from several departments a day, the drafting of documents is going to be eternal. Hence, switch to XfilesPro DocuPrime. You can ask our product experts directly at our booth at Salesforce Sydney Event to have a comprehensive knowledge of the same.
Get Acquainted with Our Companion Product – DataArchiva
You will be meeting one of our most exciting solutions DataArchiva. DataArchiva is a leading data archive & backup service provider for Salesforce. DataArchiva offers two types of archive options (native & external) and external backup. Currently, DataArchiva has three applications listed on AppExchange. (1) DataArchiva Native Archiving for Salesforce, (2) DataArchiva External Archiving for Salesforce, (3) DataArchiva Backup & Recovery for Salesforce. Drop by our booth to know more about this product.
Maximize Your Savings with Our Product Offers and Discounts
This is the best part of the Salesforce Sydney World Tour Deal. Get to experience first-hand product demos from our product experts. All your doubts and queries about all our products will be cleared. Exciting offers and discounts are waiting for you at our booth. Do come and experience our community in real.
Enough said. The rest will be revealed on the grand day of the Sydney world tour of Salesforce. We are prepping a lot for this and we are sure that if you have read this blog this far, then you are definitely in to visit our booth. Do come and visit us on D-day. Let's make good memories and who knows we might end up being partners or sharing a client-vendor relationship.
Waiting for your arrival at our booth.