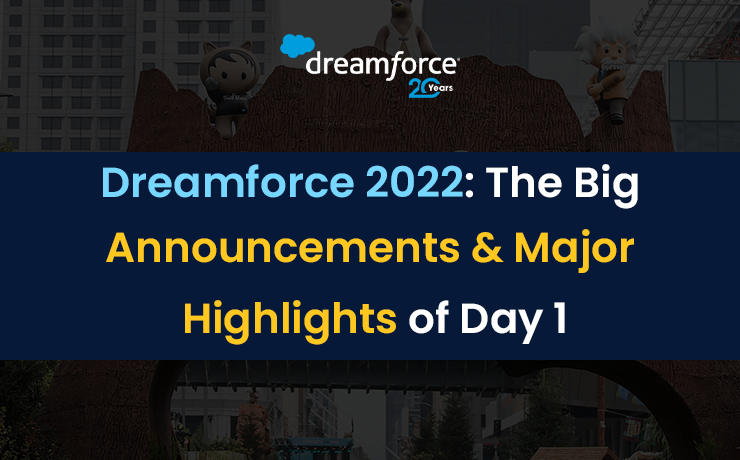 Finally, Salesforce kicked off its 20th flagship conference with a bang! With a heap of exciting sessions, inspiring stories, hands-on activities, and most importantly — some big announcements, the first day of Dreamforce 2022 was spectacular and out of this world! How did you attend the biggest family reunion of Trailblazers? In San Francisco or on Salesforce+? However it may be, how was your experience on day one?
In general, there was a great focus on product innovations. Trailblazers from around the world were curious to see what Salesforce has in store for them in terms of product and service modernization, and how the ecosystem has transformed post-pandemic. As always, Dreamforce has astonished the Trailblazers with some outstanding innovations this year as some groundbreaking announcements being made by the key personalities of Salesforce.
Here are the major highlights from the first day of Dreamforce 2022:
Salesforce Genie
There was a loud scream of surprise from the Trailblazers when Bret Taylor, co-CEO of Salesforce introduced Salesforce Genie, a new data platform powering the world's first real-time CRM. Being at the heart of real-time Customer 360, Salesforce Genie connects any data in real time. As the world's first real-time CRM, Genie uses real-time data streams at a massive scale and integrates with Salesforce transactional data. Using Genie, organizations can convert data into customer magic in order to ensure a seamless, highly personalized experience across sales, service, marketing, and commerce.
Slack Canvas
Here comes the next big thing — Slack Canvas, a new space for teams to share resources including files, links, and multimedia with a specific group or channel. Canvas basically creates a consistent flow of information and its real benefit lies in data and workflow sharing. It pulls records directly from Salesforce's Customer 360 as well as third-party services. With Canvas, the users also can import any workflow built in Slack to Canvas and execute from there. Additionally, Slack Canvas offers workflow automation, a capability allowing people to automate business-critical tasks right inside of a Slack workspace. Canvas will arrive next year.
Slack Huddle
After the big announcement of Canvas, the Slack team introduced Huddle, an easy tool for teams to make quick calls and informal chats. Using Huddle, the users will be able to meet on video calls directly inside Slack with multi-person screen sharing and messaging threads options. Tamar Yehoshua, the Chief Product Officer of Slack has shown the live demo of how to use this feature to connect with co-workers with no formal parameters. And the team has informed that the Slack Huddle will be available for the users in the coming weeks.
Salesforce Golden Hoodie
It was inspiring and amazing to hear the story of a woman refugee who migrated from her home country to the Netherlands to find freedom. Putting an end to the excitement, Marc Benioff wore the Golden Hoodie to Sima Samara, the Salesforce developer of Capgemini, and welcomed her to the #LifewithGoldie gang. Sima's story has touched the hearts of Trailblazers and she stood as the symbol of brave! Goosebumps!!
Yeah, that's it. The above were the major highlights from day one of the much-awaited Salesforce event. When it comes to us, at Moscone Campground, Booth #341, we have congregated hundreds of innovation seekers and blown them away with our comprehensive Data Management Suite (DMS) of products for Salesforce. Most of them were surprised by the next-gen capabilities of our fully-fledged suite and showed a real urge to get their hands on it. If you are attending Dreamforce 2022 and thinking about taking your data management experience in Salesforce to the next level, come and meet us at our booth. This is our welcome note for you!
You will;
Learn more about our Data Management Suite for Salesforce

Explore various partnership models and benefits

Watch live demos

Get a 20% discount on implementation and PREMIUM SUPPORT at an exclusive price
See you soon!