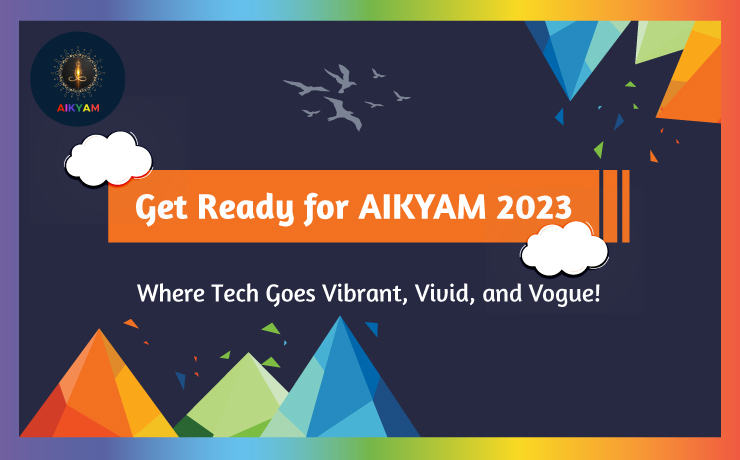 Hello All,
AIKYAM is back. Seems like a blast from the past right?
Yes, we know AIKYAM was definitely missed. The ultimate fusion of technology and creativity was definitely missed. In AIKYAM 2022, this tech extravagance ran on the theme of " unity, wisdom & enlightenment". Having technology meet innovation was the biggest and epic showdown last year. Hence in this year's explosive tech event get ready to collide with vibrant ideas, vivid innovations, and vogue experiences. And you know what is the best part? It is for two days.
AIKYAM is an event that's not only intellectually stimulating but also visually dazzling, AIKYAM is here to fulfill all your tech fantasies. This is not your average, run-of-the-mill tech conference. This is AIKYAM 2023 (drum rolls please).
This year we have embraced the themes VIVID, VIBRANT, and VOGUE, collectively the V3. Having vibrant cultural diversity, vivid keynote sessions from each department, and a vogue array of programs, this event is going to be all tech and glam. At this largest tech event of the year, brace yourself to be a part of this amazing itinerary that consists of amazing pitch fests, unveiling our newest addition to our family, our futuristic future-proof plans and finally rolling out the red carpet to honor and recognize the incredible achievements of our tech innovators.
A little extra spilling of the beans on the event
Entertainment Galore

– Prepare for a non-stop entertainment extravaganza! Brace yourselves for captivating live performances and a plethora of engaging activities that will keep your entire family entertained throughout the day.

Fun Photo Booth

– Get ready to have your permanent memories clicked with our mascots to make your presence etched forever in our memory calendar.

Scrumptious Food

– We've curated a mouthwatering array of culinary delights to satisfy your taste buds and also to suit every taste palette.
So to all our fellow colleagues, tech enthusiasts, and family, hold your dates on the 14th and 15th of July, 2023, and start pumping yourself for the biggest tech event of the year AIKYAM 2023. AIKYAM is your golden ticket to a world where technology and creativity intertwine in the most vibrant, vivid, and vogue ways imaginable.
See you on the D-Day.