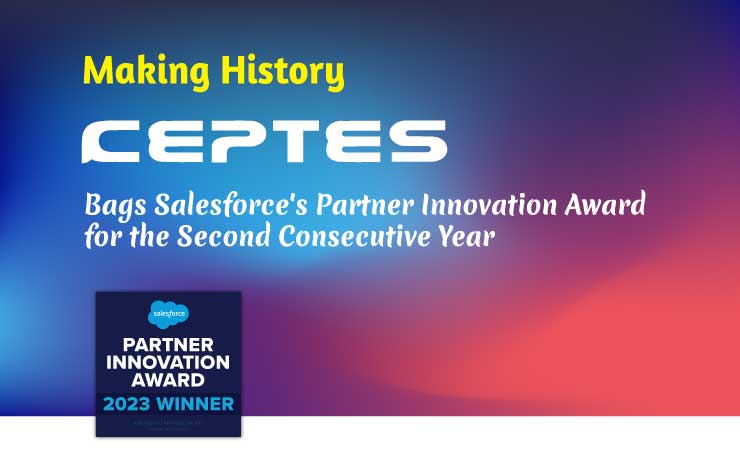 Salesforce's Partner Innovation Award is here, once again!
And, guess what…CEPTES wore the crown! 
You read it right! Followed by last year, CEPTES has added the
PIA23
feather to its cap once again this year. 
And, what doubles up the excitement is that this time, we received remarkable recognition for not one, but two prestigious ISV categories. CEPTES has been recognized as the Industries – Communications (ISV) winner for our product DataArchiva and Emerging Tech – Customer 360 (ISV) winner for our product 200 OK. 
Yes, we're growing strength to strength with the power of TWO!  
And, this was the right time. 
As the excitement for Dreamforce 2023 mounts up, we couldn't find a more perfect way to energize our spirits for the largest AI event of the year. At the same time, we're elated to learn that our eligibility has been audited and approved by International Data Corporation (IDC). For being one of the players out of the hundreds of competitors in the Salesforce ecosystem, we're grateful to see the peaks we have crossed in such a short time. 
On this occasion, we take a moment to appreciate the continued efforts of our leaders, partners, employees, and customers towards our progress. We owe #PIA23 to you!  
And, hearty congratulations to all the winners for crossing this biggest achievement along with us!
No surprise, this is the age of ISVs. And Salesforce is the favorite battleground for them. ISVs have transformed the Salesforce ecosystem over the years by helping it meet the diverse requirements of organizations, paving the way for tapping the maximized ROI. Being leading players in the ISV world for more than a decade, XfilesPro and DataArchiva have been focused on customer success by delivering advanced functionalities that help organizations crush their goals. And, that helped us to reach here – to PIA23! 
The next stop is Dreamforce! With the pride of the Partner Innovation Award, we're making it to San Francisco to attend the biggest gathering of global Trailblazers. We're pushing all the stops to present our data and document management suites in a way like never before to the hundreds and thousands of innovation seekers. 
With the addition of seeding capability, this time, we're showcasing DataArchiva as a fully-fledged suite of data management platforms that comes with data archiving, backup and recovery, and seeding options for Salesforce. On the other hand, XfilesPro will remain the most advanced platform providing file management and auto document generation applications. 
So, make sure you meet with our team at the APAC Lounge. Considering the limited slots, we request you to schedule a meeting with us in advance, right away!
See you soon at Dreamforce!