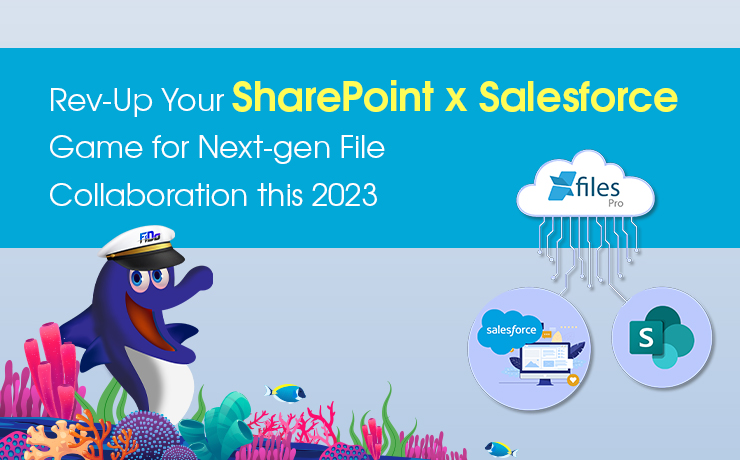 Are you excited about the brand new year? We are very happy and, as a result, we are bringing you our first webinar. In the previous year, we have come across a lot of queries on how efficient the Salesforce file management can be made. After a lot of careful research and observation, we have bought you the answer to all your queries. But to be a part of this, you have to attend our webinar that is going to take place on 19th January 2023 at 11:00 AM EST.
So, what are the key takeaways for you through this webinar? Read through carefully.
Salesforce & SharePoint Integration: Beyond External File Storage
You will have sound knowledge of how to integrate your external SharePoint storage with Salesforce storage.
Powering Salesforce File Management with SharePoint: Learn from the Experts
The webinar throws some substantial light on how to power your Salesforce file management alongside SharePoint.
The ROI of Integrating Salesforce with SharePoint using XfilesPro
Get your ROI rolling and maximize your profits by integrating SharePoint & Salesforce.
How to Minimize Costs & Maximize Productivity with Salesforce & SharePoint Integration
If you are wondering where you can maximize your profits and minimize your costs in regard to your business, the webinar is going to be of a lot of help to you.
How Top Companies Are Accelerating Salesforce File Management Efficiency with XfilesPro
This webinar is going to spill the beans on how top companies are having their file management game up and will help you introduce the next-gen file management methods.
Get Started Fast with Salesforce+SharePoint Integration: Transform Salesforce File Management in 2023.
Salesforce file management has always been a hassle for enterprises and organizations. This webinar is a completely wrapped solution to take your Salesforce file management to the next level along with SharePoint via XfilesPro.
Powering Salesforce File Management in 2023: Implement a Future-ready Strategy with SharePoint Integration
A foolproof solution is what every Salesforce Admin is looking for in any Salesforce file management-related problem. The webinar helps in deducing ways on coming up with strategies to help you tackle every Salesforce file management problem.
Pro Salesforce File Management Tips: Blueprint of a Modern Strategy
In this modern era, it's a shame if the same old traditional file management strategy is being used. This webinar will help you to shape your strategy and align it with the modern-day solution and technology.
Minimizing Costs & Driving Profitability in an Uncertain Time: Salesforce+SharePoint Integration with XfilesPro
Easy file accessibility in Salesforce even after the migration of the files to SharePoint is a key takeaway this webinar will help you understand. With XfilesPro, now SharePoint x Salesforce is now very easy.
Augment Your Salesforce File Strategy with SharePoint: A XfilesPro Webinar
Upscale your productivity and spare time for other important tasks. With Salesforce x SharePoint integration you are up for several modern strategies and many more.
These above key points would have now given you an idea of what you are getting into. The webinar is going to be a lifesaver and hence it would be a loss if you are not going to attend. If you have not yet registered, click here.