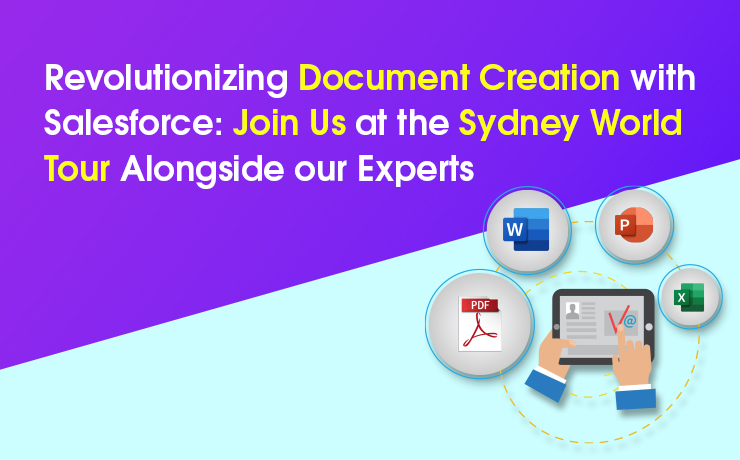 Greetings to all fellow Salesforce Aficionados!!
The anticipation is building, the enthusiasm is contagious, and the countdown has already begun. Yes, it's official. Salesforce Sydney World Tour is just days away. With preparations in full swing, we are far more than excited and are at a loss for words to describe our feelings. So, this blog is written to let you know that our whole leadership squad is flying to Sydney to attend the event. What better way to learn more about our products than to interact with them face-to-face?
The extravagance and the grandeur of the event are already creating a lot of buzz and we are here to drop some happenings at our booth on D-day. This Salesforce bonanza is anticipated to bring together the most brilliant and talented Salesforce Experts from across the world, with industry leaders and professionals eager to share their expertise and experience with you. This event is all about pushing your Salesforce game to the next level, from the newest technological advances to the cutting-edge trends that are impacting the industry.
Don't forget to swing by our booth and say hello! Here's a quick checklist of things to remember before you drop by:
Get to meet our latest baby XfilesPro DocuPrime
The newest addition to the XfilesPro file management suite is the XfilesPro DocuPrime. This automatic document generation for Salesforce is one of the most innovative additions we are giving to our customers. With a lot of inundation for the need for a document automation app, we have bought our users the gift of DocuPrime.
We are a Platinum Sponsor this year
We have elevated this global gathering by contributing to being a Platinum sponsor for this year's Salesforce World Tour Sydney. We are opening doors to big opportunities to expand your horizon by being aligned with the best applications that are going to be a game-changer for your business.
Our whole C-Suite squad will be flying to the event
You might have gotten to talk to our executives and associates. But how many times have you gotten the chance to meet all of our leaders at a go? Then make use of this golden opportunity to interact with them and gain global-level insights. Hearty discussions and the next-level targets of the Salesforce ecosystem can all be exchanged if you are up to visiting our booth.
Meet DataArchiva – The #1 Data Management Platform for Salesforce
DataArchiva is our fellow product, which will also be attending the Sydney Salesforce World Tour this year. DataArchiva is a top Salesforce data archiving and backup application provider. DataArchiva provides two types of archives (native and external) as well as an external backup. DataArchiva currently has three apps listed on AppExchange. (1) Salesforce Native Archiving, (2) Salesforce External Archiving, and (3) Salesforce Backup & Recovery. Visit our booth to learn more about this product.
Get enthralled with the offers & Discounts just for you
Get first-hand knowledge of all our products and applications and avail of an early bird discount to maximize your profit and ROI. Experience product demos from our leadership squad directly and clear all the air you have about the same. Drop by our booth and get to learn about our community and how useful we can be in your coming business years.
The excitement is building for the upcoming Sydney World Tour of Salesforce, and we're thrilled to have the opportunity to showcase our offerings at our booth. We're putting in a lot of effort to ensure that our booth is engaging, informative, and memorable.
Our meeting could be the start of something great! Whether it's a partnership or a client-vendor relationship, we believe that meaningful connections are the cornerstone of success. So let's make the most of this opportunity to connect, create new memories, and explore the possibilities of what we can achieve together.
Mark your calendar, set your reminders, and get ready to experience the excitement of the Sydney World Tour of Salesforce. We'll be waiting for you at our booth, ready to make the most of this amazing opportunity. See you soon!
Register here: https://www.dataarchiva.com/salesforce-sydney-world-tour-2023/