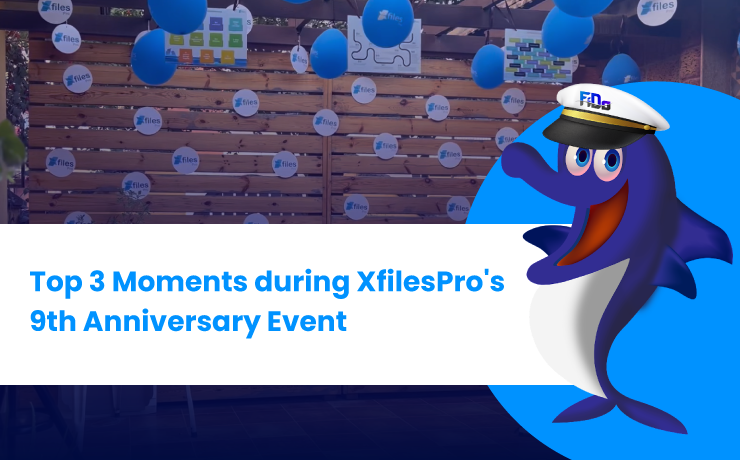 FiDo is now the proud mascot of the #1 file management and document generation application. With XfilesPro's 9th birthday, this was one of the fancy additions to the family. Captain FiDo as we refer to him is an empathetic leader and a friendly personality. By the looks of it, you can make that Captain FiDo is a dolphin. Dolphins are the most intelligent animals in the sea fraternity. When XfilesPro is ruling the AppExchange regarding file management and document generation, a dolphin is a perfect associate for XfilesPro.
On D-day, our Director & Co-founder Harish Kumar did the honors of unveiling the mascot. With a lot of joy and anticipation, the unveiling of FiDo took place amidst all the personnel of Ceptes. A loud round of applause was passed on the unveiling and FiDo was welcomed to the family with joined hands. Later on, a small insight into the product mascot was given to the audience.
Amidst all the new updates and upgrades the cake-cutting ceremony was like icing on the cake to make the day more cherished. Everyone posed with Captain FiDo and got their pictures clicked.
We are delighted that we have had a tremendous journey and we are looking forward to many more years of glorious success in the years to come. The journey was a gradual uphill to triumph. No matter how many tempting parking spaces we came across, we came hell or high water and faced them to reach where we are now. Our innovative expansion has taught us to stay patient and consistent. From the launch of EXTFM to XfilesPro, we have come a long way.
We started initially with 10 customers supporting only AWS S3. Later on, in the coming years, we eventually grew with 100+ new customers and around 450K+ licensed users. Today's success is our motivation for tomorrow's goals. Right now, XfilesPro is all set to have its most advanced upgrade in this face-lift. The feature of document generation provides you with an ample amount of ease in your workflow. Document automation will help in better productivity and help you save a lot of time. An error-free document is every Salesforce Admin's dream. For Zero Errors & Better Efficiency, Better Productivity & Cost-Effective, and Creating customised documents with templates, XfilesPro DocuPrime is the perfect solution for you.
Celebrating the APAC POTY award
The creative geniuses that our team members are, have earned us a lot of awards and accolades. We integrate strategy, creativity, and experience to build our products. Our graph has always gone exponential. The innovation combined with teamwork is why we hold the AC Partner of the Year 2022 in the ISV Innovation Category. It was a proud moment for us and we are looking forward to winning many more awards in the upcoming years.
Having said enough about XfilesPro's 9th anniversary, this is the best time for you should get your Salesforce integrated with XfilesPro as it is going through the most innovative phase. The inclusion of document generation is going to be a very useful feature that all our customers are going to find seamless. Why not call our product experts to know more about the same? We would be excited to include you in our rapidly growing family of XfilesPro.