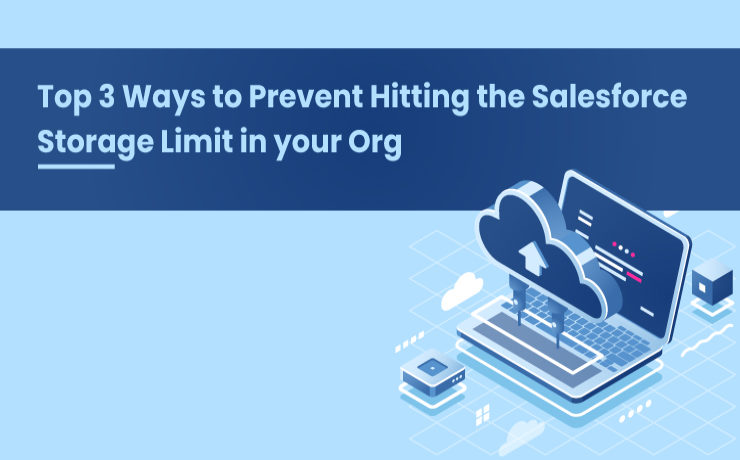 In order to keep up with the changing industry trends, businesses too have to rapidly keep on updating & reinventing themselves. They need to offer top-notch services to their customers so as to always maintain an edge over their competitors. One of the easiest ways to do this is by intelligently investing in tools & technologies that guarantee them rapid growth and profit, all the while keeping the expenses in check.
One such technological investment is Salesforce which offers excellent CRM services that empower businesses to accelerate their business growth. Salesforce as a CRM platform plays a vital role in the journey of enterprises driving forth innovation, customer success, and digital transformation. But being a multi-tenant environment, there are certain limitations in its functionalities to ensure optimum Org performance. One such area is 'Salesforce storage'.
Know Your Storage First
Salesforce provides built-in storage capabilities to its customers, allowing them to securely store and manage their data and files that are generated on a regular basis.
This storage is segregated into three categories:
Data Storage: Salesforce data storage includes space for data records like accounts, campaigns, cases, contacts, custom objects, data translations, email messages, events, Google docs, leads, notes, orders, solutions, and tasks, stored in Standard & Custom objects.
File Storage: Salesforce file storage has allocated storage space for files in attachments, files home, Salesforce CRM Content, Chatter files (including user photos), Documents, and the Site.com assets.
Big Object Storage: Salesforce Big Objects is the Big Data-based storage option that is designed to easily hold voluminous amounts of enterprise data.
What About The Storage Limits
Starting in late March 2019, all the Salesforce editions such as Unlimited, Performance, Enterprise & Professional, offer 10 GB default data storage along with an additional 20 MB for each user. For example, a Professional Edition Org with 10 users receives 10 GB of data storage, plus 20 MB per user which is 200 MB for 10 users. This makes the total data storage 10.2 GB.
Similarly, nearly all the above Salesforce editions have a default allocation of 10 GB of file storage and an additional 20 MB per user whereas the Essentials edition has been allocated 1 GB of file storage per Org. Only the Professional edition has an additional 612 MB (100 MB per user license + 512 MB per license for the Salesforce Content feature license).
When it comes to Big Objects storage, all the Salesforce editions have allocated storage for 1 million Big Object records per Salesforce Org.
Now Let's Discuss Some Limitations
As all good things have some limitations, so is the case with Salesforce storage as well. There are various complexities involved in the actual collection and storage of a large volume of files, attachments, and data records. These include:
Depending on the rate at which files and data are generated, the initial allocation of storage space in Salesforce typically begins to deplete within 2-3 years of usage.

As the primary storages start to fill up, the CRM immediately becomes bulky, reducing its efficiency & adversely affecting the user experience.

There are several compliance & governance guidelines that companies need to adhere to, which becomes challenging because of inadequate storage space and the files & data being stored in an unstructured manner.

To solve the concerns, if the enterprises decide to purchase any additional storage space to reinforce and support the primary storage, their overall budget goes up because the additional storage, both file & data, is really expensive.
Tips to increase your Salesforce Storage space
After working with multiple Salesforce customers over a decade, we understood what most enterprises do in order to manage their Salesforce file & data storage. Here we have made a consolidated list of the means through which the above-mentioned challenges can be combated and the Salesforce storages can be optimized to a greater potential.
Option 1: Clean up unnecessary data manually or automatically
One of the easiest ways to prevent exceeding the Salesforce storage limits is by purging unnecessary files and data records, either manually or automatically. There are a lot of tools are available for these purposes:
Salesforce's Mass Delete Wizard–Salesforce's web-based native mass deletion wizard allows users to delete Accounts, Leads, Activities, Contacts, and sometimes even Cases from the system. Currently, the complete Mass Delete is limited to around 250 records and is also limited to the above-named objects.
Extract Transform Loading (ETL) Tools–Certain ETL tools are used for both data migration and data removal. Popular ETL tools like Salesforce Data Loader can be used to delete both data records and files from the system. Other popular ETL tools include Dataloader.io, Informatica, JitterBit, etc. Most of these tools are paid for and will always require significant investment and evaluation to ensure they meet the requirements.
Automatic Deletion–If you don't want to spend a lot of time and money on removing redundant files and data, several third-party AppExchange applications can be used to automate these tasks. Such applications can easily delete unnecessary files and data from the system, saving both time & manual effort.
Option 2: Purchasing additional storage from Salesforce
If your enterprise is not at the liberty of deleting files, attachments, and data records because of long-term retention guidelines, then you can always opt for purchasing additional file or data storage space from Salesforce. But the thing to keep in mind before going for this option is that additional storage, both file & data, is extremely expensive and can essentially throw off your entire budget. Also, this is a recurring cost.
Option-3: Archiving data & files
Probably one of the most recommended options when it comes to Salesforce storage optimization is secure, long-term data & file archiving. Salesforce archiving solutions can potentially archive old, inactive files and data records from the primary storage to any external Cloud/On-premise storage of your choice. Archiving allows you to free up space in your primary Salesforce storage, reduce your storage expenditure & boost CRM performance while preventing you from hitting the storage limits.
Recommended Options
With a plethora of Salesforce archiving options available in the market, it can truly be a daunting task to figure out what archival application to implement. However, we have a complete suite of AppExchange applications that can help you store your Salesforce files & data in different external storage systems.
First, we have XfilesPro, an advanced file management & collaboration application that can help you migrate your Salesforce files/attachments to your preferred cloud such as S3, SharePoint, Google Drive, and OneDrive or On-premise platforms to future-proof your file storage by optimizing it and bringing down the recurrent storage cost. What's more, is that XfilesPro can seamlessly migrate a large number of Salesforce files to the integrated external storages for a more seamless file management experience in Salesforce.
Our Salesforce data archival solutions like DataArchiva can help you archive your rarely-used Salesforce data either at a native level or into external databases. Such applications help enterprises efficiently optimize their Salesforce data storage while maintaining 100% data accessibility & integrity. Organizations can also improve CRM performance, significantly save storage costs & be more compliant with guidelines.
To know more about these applications, get in touch with our Salesforce storage experts.