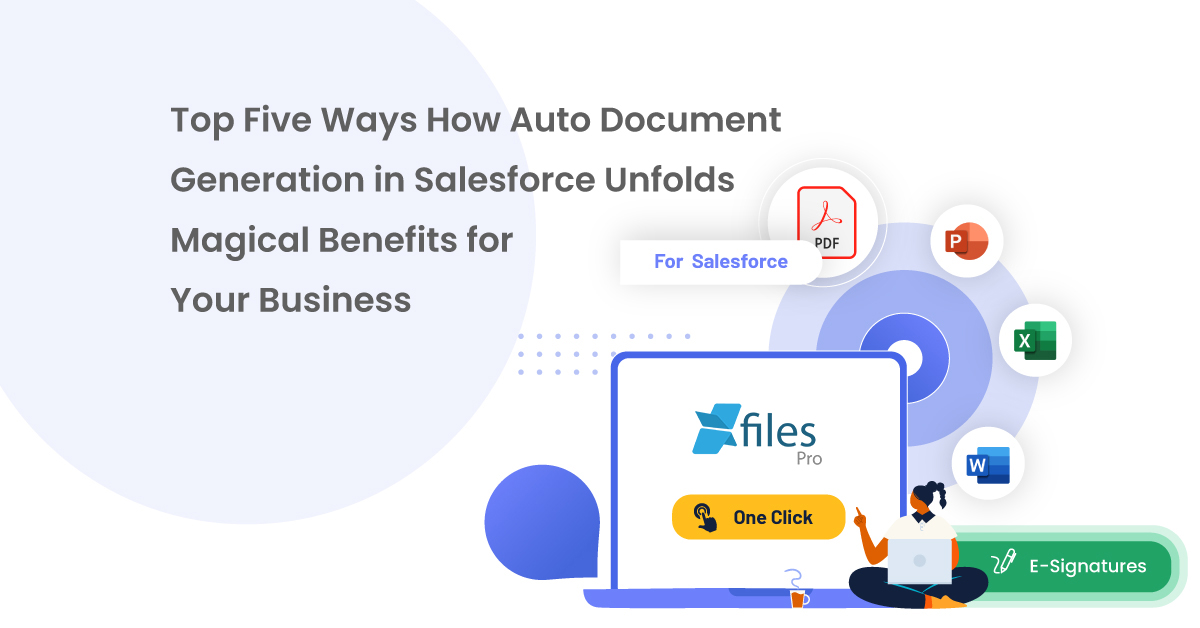 The thumb rule of document generation – Complex document requirements are better off with a precise document automation application
With a growing business, document processing also increases. Automated document generation is a vital part of document automation. This not only helps organizations to improve workflow efficiency but also saves time, reduces errors, and minimizes cost. Productivity boost is one of the most essential business goals that organizations aim for, and automating the document generation process is a key aspect.
Sales reps need to create multiple documents during different phases of a sales cycle. This includes proposals, quotes, contracts, NDAs, invoices, purchase orders, receipts, etc. The same goes with other multiple departments such as service, finance, legal, and human resources to perform their core job. Creating all the documents manually is not only time-consuming and error-prone, but it could also impact productivity. So automating document creation is always a smart approach. When you're using Salesforce for sales, or service process automation, having an automated document generation application would really boost the ROI & work as a complementary solution for all these Salesforce applications.
What is Automated Document Generation?
Typically automated document generation means creating business documents in a digital platform from scratch or by using pre-built templates. This eliminates manual work & ensures consistency. Automated document creation allows employees to focus on their core job rather than spending time on complex documentation and unlocks opportunities to scale.
Most of the departments within an organization benefit from document automation, however sales, service, legal, real estate, financial, insurance, eCommerce, government agencies, healthcare, and human resources are the most favorable domains. Automated document generation also enables document creation of any size and type faster with ease by pulling data from multiple sources within milliseconds.
How to Automate Document Generation Process?
Automating document generation requires a robust & intelligent tool. For Salesforce, the doc gen application can be integrated with the sales or service app in order to start automating the document creation process. This could be either a standalone solution available in the market or could be an AppExchange solution. Using an AppExchange solution for Salesforce is always recommended as these are offered by Salesforce partners who are completely aligned with the CRM.
There are a few things to consider while choosing the right solution to automate the document generation process in Salesforce.
Easy to configure & use

Must be able to create documents of any type (Word, PDF, Excel, PPT, etc.)

Must be able to pull data smartly from multiple Salesforce objects to prepare the document

Must be a single platform to create documents for any use case (sales docs, service docs, reports, legal docs, financial docs, etc.)

Must have adequate security features including access, visibility, and sharing

Must be able to build documents in bulk

Must offer highly customizable templates
5 Ways Automated Document Generation in Salesforce Can Do Wonders for Your Business
In this blog, we have already emitted about how automating the document generation process can help a business. Let's have a sneak peek of the top 5 key business benefits:
Faster Document Generation
Creating documents with a document generation application is faster. Most of the applications offer templates to create documents in a breeze. Some of the advanced tools also offer highly customizable document templates & a template library to choose from, which users can use and build documents of their choice. XfilesPro DocuPrime can boost the document generation process for Salesforce customers with its customizable templates and intelligent routing capabilities in which data can be pulled from different records from Salesforce. The application also offers an auto data-filling feature to make document creation even faster.
Easier Compliance
With an automated document generation process, businesses can adhere to compliance policies by maintaining high standards of documents within a secure environment. Rather than pulling sample document templates online to use, or bringing data manually, organizations can follow the right process, and use pre-defined internal templates to create documents that are compliance-ready and secure. With access controls, visibility settings, version management, tracking control, and sharing policies, the entire document management process becomes easier & compliant.
Increased Productivity
Automating the document generation process is a 100% productivity booster for any business. As manual drafting, reviewing, proofreading, approvals, and changes take a lot of time, having all these sorted through an application is all that a business needs. As Automation eliminates errors, and fastens up the process, sales cycles can be shortened, service processes can be optimized, and reports can be generated faster; these all contribute towards significantly increased productivity.
Drive Higher Consistency
One of the biggest benefits of using a document generator for Salesforce is, that it offers highly standardized documentation across departments. This drives a superior level of consistency & branding. Consistency streams across fonts, colors, logos, notes, etc., and builds brand identity.
Cost Savings
All the above benefits work together to help businesses minimize costs & maximize revenue. Automating document generation will eliminate storage, printing, and paper costs while maintaining compliance standards avoid fines. Sales cycles can be shortened which drives faster closures.
Automate Document Generation in Salesforce With XfilesPro DocuPrime
XfilesPro offers a native document generation application for Salesforce that can help you create documents of any type & size within your CRM. The application comes with multiple templates which are highly customizable & branded. XfilesPro DocuPrime also has additional features such as intelligent data filling, bulk doc generation, template versioning, access & view control, custom note addition, support for 3rd-party eSigns, and much more to make document generation easy for Salesforce customers. The application can create documents for different use cases such as sales, service, legal, HR, and financial through one platform which enables customers to build documents of any type without using multiple tools.
In today's business space, adopting automation in document generation is a highly profitable choice that can really help businesses improve efficiency & optimize workflows. Want to have a look at XfilesPro DocuPrime, please request a demo.