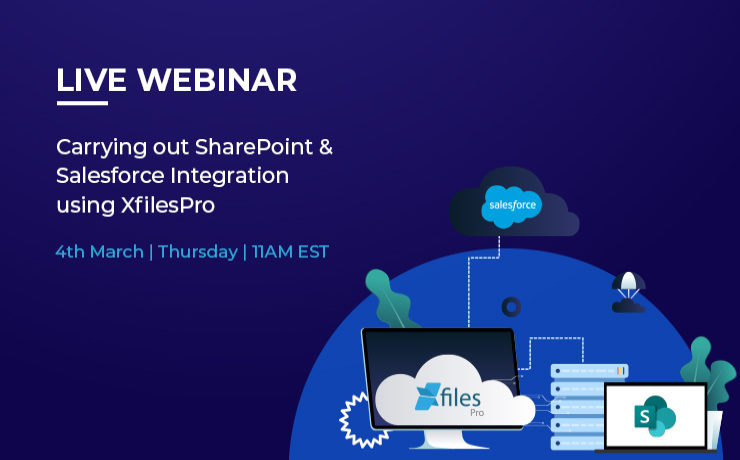 With new technical advancements cropping up each day, it becomes imperative for organizations to keep on updating themselves to maintain an edge over their competitors. For companies, their voluminous amount of files and attachments pose a great threat in achieving a streamlined file management experience. With Salesforce CRM being introduced in the market, companies now receive additional assistance in managing their business operations.
But even while using this platform, the challenges with managing the files remain tedious and never-ending. If your Salesforce organization is also looking for a solution to your file management woes, then may we suggest having a crack at using SharePoint storage. Steadily emerging as one of the most popular document management and storage platforms today, SharePoint is already being used by a huge chunk of Fortune 500 companies.
Using SharePoint's exceptional storage, retrieval, searching, archiving, tracking, and file management features, your company can easily overcome the issues related with limited Salesforce file storage and high additional storage costs. By opting for a collaboration between these two platforms, your company can generate more leads, make better-informed decisions, and drive home success and growth.
In this direction, we are hosting a live webinar in the upcoming month which will focus on the several intricacies of carrying out the Salesforce-SharePoint integration with the intelligent use of the XfilesPro application. Our webinar 'Integrate SharePoint & Salesforce using XfilesPro- An Advanced File Management & Collaboration Solution for Salesforce' is happening on 4th March, Thursday at 11 AM EST.
In this webinar, we'll discuss the key advantages of using external storage systems, like SharePoint, as means for actualizing an efficient file management strategy in Salesforce in order to better manage the file storage. We will also shed some light on the crucial role played by XfilesPro in carrying out this integration in a completely seamless and hassle-free manner as well as some of the important use case scenarios of the past.
So don't miss out on this exciting opportunity to take your Salesforce file storage to greater heights and entirely revamp your file management experience. Register for our upcoming webinar here and reserve your spot today.
Date: 4th March, Thursday
Time: 11 AM EST 9:30 PM IST