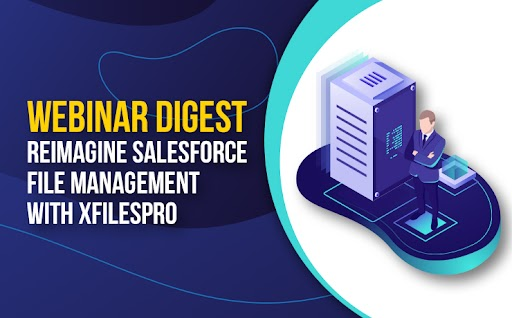 The first of many webinars planned this year is finally done & dusted. As always, it was a phenomenal turnout as many attendees joined the live session. So, before going any further, we would like to thank each and everyone who joined us for the live webinar session. But not everyone was free with their time as many people who had registered were unable to attend because of various restraints. This is why for their perusal, here is a written account of everything that went down in the webinar.
The live webinar began with our Senior Customer Success Engineer, Sutirtha Roy greeting & welcoming everyone for the session about strategies to reimagine & revamp the file management systems in Salesforce using the most comprehensive file management solution in the market, XfilesPro. The basic agenda of the webinar, optimally managing the Salesforce files so as to extract maximum ROI, was introduced to everyone.
He briefly explained to the attendees why XfilesPro is hailed as the #1 Salesforce file management enabled by over 400+ customers worldwide. From supporting several external cloud (SharePoint, Google Drive, AWS S3, OneDrive) & on-premise (SMB, SFTP, Network Drive) storages to being compatible with a horde of Salesforce apps, AppExchange solutions, custom solutions, & even Salesforce1, XfilesPro has it all. And owing to its advanced features & capabilities, the app guarantees 80%-90% file storage costs savings & faster ROI.
Want to have a quick look at the webinar presentation? We got you covered! Just see this Slideshare.
Taking over, our Associate Vice President of the Product (Sales) branch, Rakesh Nagendra talks volumes about the impressive numbers backing up XfilesPro before moving on to discuss the various file management challenges Salesforce users face on a daily basis. These can be as basic as file storage optimization to more advanced challenges like large volume file migration, file/folder syncing, & file visibility and accessibility. He also explained how XfilesPro played its part in helping users overcome each of those challenges.
Talking about rising above the advanced challenges to efficient Salesforce file management, he explained how some of XfilesPro's advanced capabilities like initial file offloading (for large volume file migration), intelligent folder management (for organized folder structure), & folder syncing (for advanced file collaboration) were of tremendous help. Moving on, Sutirtha Roy again took over to talk about some of the success stories where customers who struggled with different file management challenges used XfilesPro in various ways to overcome those challenges.
After all of the insightful discussion, a quick demo of the application was already given. Here our experts showed how easy it was to upload files to & from the external storage using the bi-directional sync functionality of XfilesPro, what the files export function looked like in reality, & how seamlessly files & folders could be synced with the help of XfilesPro. After the demo, there was a small Q&A session where the experts answered some questions & queries put up by the attendees, following which the webinar session was adjourned.
For a more in-depth understanding of the events of the webinar, please have a look at this recording of the session.
We hope this short description was of some help to the users that weren't able to attend the webinar in person. But don't be disheartened, there are a lot more exciting events & webinars in store for Salesforce users this year. Looking forward to hosting you again in the future! So, stay tuned till the next time.