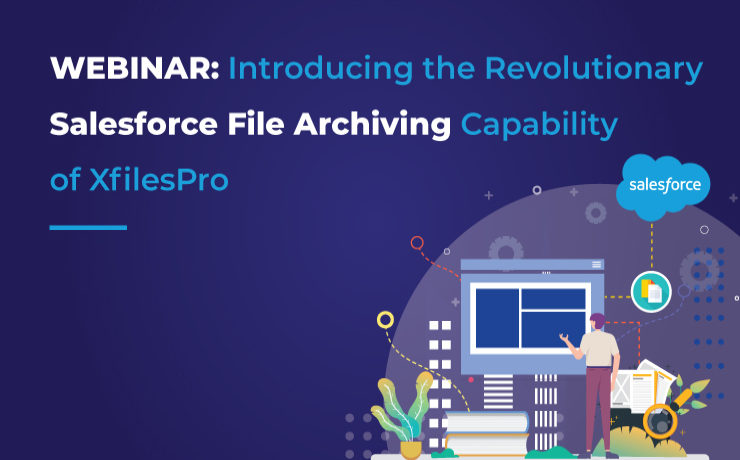 As promised, we are back with yet another insightful webinar episode for our cherished Salesforce customers. And this time it's going to be better than before: more interesting subject matter, distinguished speakers, and a galore of thought-provoking learning. So let's not delay this further and introduce everyone to this session's topic 'File Archiving: The Future of Salesforce File Management'.
For enterprises using the Salesforce CRM to manage their day-to-day business operations, the immense amount of Salesforce files & attachments becomes the foundation of an inefficient file management experience. The challenges in managing those files are definitely never-ending and they are constantly looking for solutions that can ease this tedious process. One such solution is moving the files out of the native storage and into any external storage.
Our application, XfilesPro was launched with the intention of simplifying the overall file management processes in Salesforce by offering users the option to integrate their native file storage with different external storages. Salesforce files & attachments can be easily migrated from the allotted file storage to the preferred external storage after XfilesPro establishes a seamless collaboration between the two storage systems.
To take the existing capabilities of the file management & collaboration application even further, we have recently added the feature of 'file archiving'. By archiving the Salesforce files into external storages, the infrequently used files are moved out of the native storage and into the external storage, thereby drastically reducing the burden of files on the primary storage. And this is what this webinar is all about.
Therefore we invite everyone to attend our upcoming live session 'File Archiving: The Future of Salesforce File Management' happening on 30th June, Wednesday at 11 AM EST. In the webinar, our Salesforce file management experts will discuss how XfilesPro can be used to seamlessly archive a large volume of Salesforce files & attachments to different external cloud & on-premise storage systems, without impacting any ongoing business processes.
There is a lot more to learn during the course of this webinar, like recognizing the sources of Salesforce files generation & what challenges their unmanaged exponential growth brings along with it. Attendees will also learn the ideal way to optimize the internal Salesforce file storage as well as understand how revolutionary XfilesPro is in carrying out efficient Salesforce file management. Then we'll discuss how a large volume of files can be easily archived using XfilesPro, which also enhances the user experience, followed by a quick demo of the app as well as some customer use cases from different industries.
So don't miss out on this exciting opportunity to take your Salesforce file storage to greater heights & revamp your file management experience by learning about archiving files. Register for our upcoming webinar here and save yourself a spot today.
Date: 30th June, Wednesday
Time: 11 AM EST 8:30 PM IST