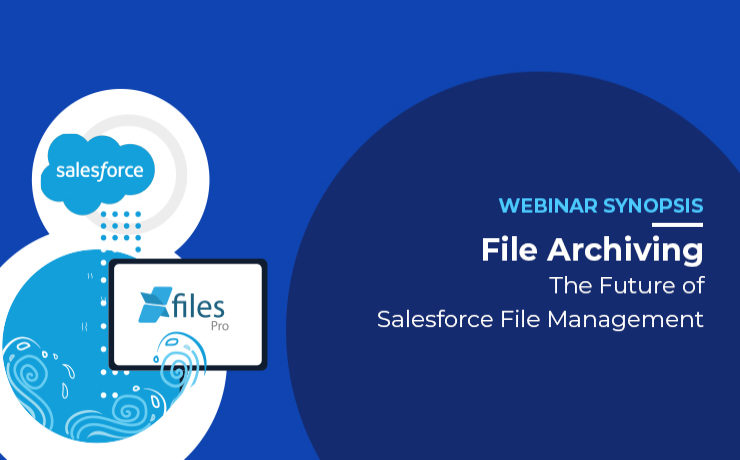 Our much-awaited webinar session finally happened last week and without further ado we thank everyone for such a phenomenal response. A big thank you to everyone who made the session a great success. But even the people who missed attending the live session can reap the rewards as we bring this article which will quickly walk them through everything that went down in the event.
The webinar, that was aimed at introducing & discussing the revolutionary 'file archiving' capabilities of the XfilesPro application, was hosted by two of our eminent Product Consultants, Vedant Srivastava and Sutirtha Roy. The action-packed 30 mins long discussion began as Vedant gave everyone present there a brief overview of the primary file storage in Salesforce followed by discussing the common challenges faced due to unmanaged exponential files growth.
Whether it is the difficulty in managing large volumes of Salesforce files or the struggles of an unstructured file/folder system or simply the difficulties that arise during setting up collaboration among files. Vedant explained how all those challenges could easily be addressed by simply integrating different external Cloud (SharePoint, AWS S3, Google Drive, OneDrive & Dropbox) and on-premise (FTP, SMB & Network Drive) storages with the Salesforce system.
It was then that he explained how XfilesPro was the ultimate solution to overcoming the Salesforce file management problems & setting up the integration between external storages and Salesforce. He explained its multifold features in great detail and also shed light on some of its primary benefits like 80-90% file storage costs savings, easy set-up & implementation, faster ROI and support for multiple storages.
Don't worry if you missed the live session. We got you covered with the recording of the session here.
After this he finally moved on to the main topic of the webinar session and discussed file archiving with everyone. He meticulously explained how archiving a large volume of Salesforce files and attachments to different external storages was now possible with the help of XfilesPro. Not only can such trigger-based archiving job be automated and auto-scheduled to reduce repetitive manual intervention, but it also has no impact on the ongoing business processes.
He also talked about the role seamless file archiving played in creating a centralized file management system by promoting community file management, file/folder syncing, internal team collaboration, collaboration with external users, better file management in proper folder structures, and an overall improvement in user experience. This was followed by Sutirtha taking over to show a quick demo of XfilesPro & how easily it can be set-up in the Org.
During the course of the webinar, three customer use cases belonging to the industry leaders from the logistics, educational & financial industry were also showcased. After highlighting the specific challenges they faced in Salesforce file management, they went on to explain how each one of them addressed those challenges by implementing the next-gen file archiving strategies of XfilesPro in their Org & what benefits they achieved.
You can also see the slide-by-slide presentation of the complete webinar here.
Towards the end of the insightful session, our Salesforce file management experts quickly summarized the advantages of using XfilesPro's seamless file archiving capabilities to completely revamp the way files/attachments are managed in Salesforce. Following this, they answered a few of the questions posed by the webinar attendees after which the session was successfully concluded.
There is a lot more in stock for our Salesforce customers as new and exciting webinars are planned for the coming months. Please follow us on our social media handles for latest updates about the upcoming webinars.