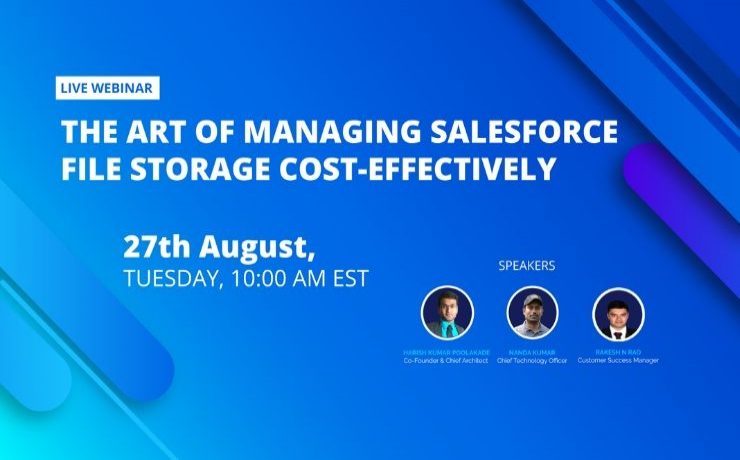 We are all set to begin our most-awaited series of webinars on Salesforce file storage. The request for this webinar series was at the peak after our successful webinar series on Salesforce data storage. In our upcoming webinar, we are going to have a deep dive into Salesforce file storage challenges and best-in-class tips and tricks to overcome them.
If you are a Salesforce CRM user, there are high chances of you dealing with a lot of files & attachments. With time & growing business, enterprises add more number of users and also start using Salesforce more extensively. This will accumulate a huge volume of files & attachments. There will be a time when this will hit the file storage cap. How to deal with this? Deleting files which you don't need? Does that sound practical? It doesn't & it won't work on a long-run.
We often see enterprises want to use external storage systems for their Salesforce file storage. Is it that easy? Actually, it is. However, storing & collaborating Salesforce files in any external storage system needs a secure setting with a strategic approach. You need to execute a seamless integration between your Salesforce system & desired external storage. All these needs expertise along with highest technical skills.
Well, this is your opportunity. This 30 minutes action-packed webinar will help you understand the best strategy on how to manage your Salesforce file storage by securely shifting all your files & attachments to an external system without impacting the user experience. Hosted by team XfilesPro, the webinar will talk about best practices of Salesforce file storage & collaboration in an external storage system including both Cloud & On-Prem. You will also see how to integrate Salesforce-AWS, Salesforce-Google, Salesforce-OneDrive, Salesforce-Dropbox, Salesforce-Any On-Prem Storage System for seamless external file storage with a purpose to reduce high file storage costs.
Being the most trusted external file storage & collaboration solution for Salesforce, XfilesPro has been the #1 solution for quite a long time now. Salesforce customers from varied industries & of different sizes are using XfilesPro for their file management & saving huge storage costs. To know more, please check XfilesPro AppExchange Page.
Webinar Details
Title: The Art of Managing Salesforce File Storage Cost-effectively
Date: 27th August 2019, Tuesday
Time: 10:00 AM EST
Duration: 30 Minutes
Our webinars are usually housefull. Don't get left behind. Register your spot now.
We will share the webinar recording & other resources to the registered members.