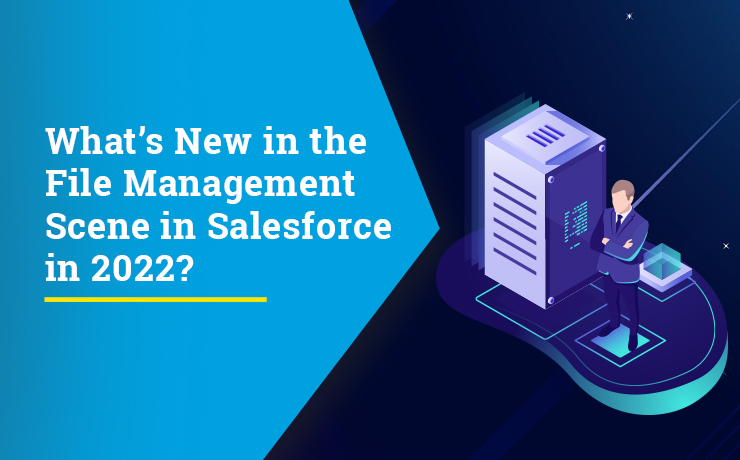 We're well into 2022 by now & believe us when we say that this year is going to be a lot different. Especially when considering the manner in which files are handled in the Salesforce system. It's no secret that because of the ongoing pandemic which forced everyone to work remotely, the world has witnessed several technological advancements. But this rapid digital transformation means that enterprises now need to adapt themselves accordingly.
It's all in the 'company' you keep
One industry sector that never stopped working, even during the pandemic, was the healthcare sector. In fact, owing to the unprecedented increase in the number of patients, healthcare service providers generated more files & documents than ever. Whether it's the patient records, insurance documents, hospital bills, or any other document, they all needed to be stored & properly managed. The same is the case with the financial sector where documents such as balance sheets, cash flow statements, budget reports, tax returns, etc put a strain on the Salesforce file storage.
Another enterprise sector that reeled in the after-effects of the pandemic & remote working was the education sector. With classes & courses going online, there was an exponential increase in the number of files like student applications, student records, their financial documents, & more. Education service providers, using the Salesforce cloud platform to run their business, definitely struggled with the efficient management of these files.
Increased Need for File collaboration
While companies continue to leverage Salesforce CRM to track leads, forecast, & manage accounts, in 2022 more & more companies are utilizing different other cloud technologies to better connect with their clients, customers, & partners. This multi-cloud environment makes it difficult for several people to view, access, & work on the files at the same time, which increases the need for seamless file collaboration. Internally, Salesforce offers 'Salesforce Files Connect' that allows users to share & collaborate on files, store files privately, manage version updates, and follow files that are important to them.
Yes, we're aware of Salesforce's internal functionality for collaboration & document management, but looking at the coming trends, all we can say is that using specific content management systems to store documents & manage other business operations will become the need of the hour. Third-party file collaboration service providers help to extend upon the Salesforce functionality, boost cross-departmental collaboration among teams, as well as help save on the number of licenses that need to be purchased.
File syncing or sinking?
Managing files & documents is a crucial part of every business. But since the business processes run across multiple systems, the files & documents are created and stored in a number of different places. For the business processes to run smoothly in 2022, all Salesforce users will need to have access to the relevant files at all times; making file visibility & file accessibility major concerns in the coming years. This holds true even for the Org's community users that need to have access to the files concerning them.
Along with the file accessibility issues, file syncing is also a major concern in 2022. In short, the changes made in the file within the user's local drive may not necessarily reflect in the file in Salesforce & vice versa. File syncing becomes more important than ever as employees continue to work remotely & have the constant need to access their files from anywhere.
Is AppExchange your go-to as well?
It's predicted that in the coming years, a lot of enterprises will use additional applications & solutions to supplement the existing functionalities of Salesforce. And for that purpose, almost all of them turn towards AppExchange, Salesforce's very own marketplace. Enterprises can use various AppExchange solutions & custom-built solutions (created on the Force.com platform) to automate & simplify several business processes. The only downside of implementing these solutions is the sheer volume of files, documents, & attachments that are generated from them.
Also since these files are stored in the primary file storage of Salesforce, it will put the enterprises at risk of exceeding the file storage limits in Salesforce. Not to mention the increased difficulty in collaboration on these files & the added responsibility of having to extend the file management capabilities to these files as well. Therefore, enterprises will have to look for solutions that will take this burden off their shoulders & let them focus on their core business.
Salesforce collaboration is the future
Having discussed all the above-mentioned factors with you, it's safe to say that looking at the current trends regarding file management in Salesforce, in 2022, Salesforce file collaboration will be the determining factor for success. By collaborating the Salesforce system with an external storage system on their choice & by taking advantage of its advanced capabilities in that process, enterprises can completely transform the way in which files are managed in their Org.
Integration between the two systems can help Salesforce organizations leverage the best features from both the systems while saving up on the file storage costs & making the user experience between the two technologies seamless. This integration will also be crucial in increasing productivity and efficiency for users. Popular storage solutions like SharePoint, Google Drive, OneDrive, Amazon S3, etc will prove to be game-changers in this process.
To make the process of integration between Salesforce & the external storage solution seamless & hassle-free, Salesforce admins can make use of either Salesforce-native solutions or third-party AppExchange applications. XfilesPro, the #1 file management & collaboration solution for Salesforce, is one such solution that allows companies to migrate their files to different external systems including cloud storages (SharePoint, AWS S3, Google Drive, OneDrive, & Dropbox) & on-premise systems (SFTP, SMB, & Network Drive).
By using XfilesPro, users can not only optimally manage their Salesforce files & optimize the native file storage but can also cut back on their file storage costs significantly & enhance the business growth, without compromising on their user experience. To gain more insight into the application, you can download this product datasheet. If you have any further queries about the application, please get in touch with us.