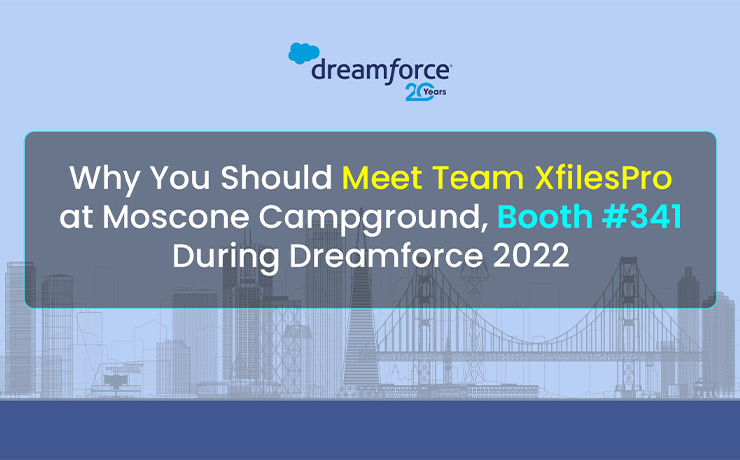 Hello Trailblazers, our time is here. We're just a few hours away from the much-awaited and most-impactful Dreamforce event ever in history. While you read this post, we're sure your team (lucky, if you're counted in) must have either flown to San Francisco or is just about to take the flight. Because we're that close to Salesforce's 20th flagship conference!
Like any Trailblazers in the world, we're also building excitement to reunite with our Ohana. As always, we're exhilarated to showcase our superior file management application for Salesforce once again to the thousands of innovation seekers from around the world. And this time with much more next-gen capabilities and features to accentuate our five-star rated product as the number one application for file management in AppExchange!
Be Ready to Blow Yourself by Watching the Futuristic Capabilities of XfilesPro
We can't wait to show you XfilesPro in action at the largest tech summit in the world! Evolving with many unique and next-gen expertise, XfilesPro has grown from strength to strength since the last Dreamforce to Dreamforce 2022. You will realize that next week!
Today, we're renowned to be the top choice for most organizations including industry bigwigs and Fortune 500 companies. You know why? There are some capabilities that make us stand out from the crowd.
External Storage Support: XfilesPro supports a large number of external storage systems such as SharePoint, AWS S3, Google Drive, and OneDrive as well as on-premise systems like SFTP, SMB, and Network Drive.
File Ownership: Unlike any other apps asking you to store your files and attachments in a third-party storage cloud, XfilesPro lets you leverage your external storage system and ensures 100% file ownership.
Folder Management: If you want your transferred files to follow certain integrity or relationship, XfilesPro can easily get it done on your behalf and ensures that the files are not scattered in your external system.
Massive File Migration: Leveraging our auto export scheduler, you can experience a hassle-free migration of a large volume of files from Salesforce to the external system of your choice automatically at lightning speed.
Bi-Directional File Sync: With XfilesPro, you will have the capability to get the changes made in Salesforce files to be automatically reflected on the subsequent file stored in the external storage, and vice-versa.
SharePoint Tagging: This latest feature allows you to tag the content contained in a file against the specific columns so that you can learn about the information that the file holds without opening it.
What do you think about XfilesPro? Do our capabilities hit it out of the park? Are we a cut above the rest? It's up to you to make a comment.
Now, we want to inform you something more. This time, XfilesPro doesn't show up at Dreamforce alone. We will present our fully-fledged Data Management Suite (DMS) of products for Salesforce to the thousands gathering. We bet you will find our comprehensive suite as one of the top innovations in Dreamforce 2022!
Curious to learn more about our DMS and the apps that provide it a complete form other than XfilesPro? Here you go…
As a groundbreaking innovation and the ONLY native data archiving platform for Salesforce powered by Big Objects. DataArchiva helps you with the optimization of your data storage space in Salesforce by archiving the historical data into Big Objects without losing its integrity.
This app clears up your data storage space in Salesforce by enabling a seamless archiving of your inactive data from Salesforce's primary storage space to your third-party database (MSSQL, MySQL, Postgres, Redshift, Oracle, etc) by leveraging your own external cloud (AWS, Azure, Heroku, etc) or on-premise platforms.
You can overcome the fear of data loss that can happen due to cyber attacks, system failure, natural disasters, or by any means as the application backs your data in an external system of your choice (SharePoint, S3, server, etc.) by using your cloud (AWS, Azure, Heroku, etc) or on-premise platforms.
DocuPrime is the most recent addition to our DMS that is designed to automate your never-ending document generation process by helping you build documents of all types and sizes within Salesforce in a click.
Yeah, that's all! Do you think our DMS can grab the eyeballs at Dreamforce? If you wish to explore our comprehensive suite live during Dreamforce 22, we welcome you to Moscone Campground, Booth #341.
You will;
Learn more about our Data Management Suite for Salesforce
Explore various partnership models and benefits
Watch live demos
Get a 20% discount on implementation and PREMIUM SUPPORT at an exclusive price
So, why wait? Schedule a meeting with our team here: https://www.xfilespro.com/dreamforce-2022/ and stay excited about catching up with us (because we do)!
We can't wait to see you there!