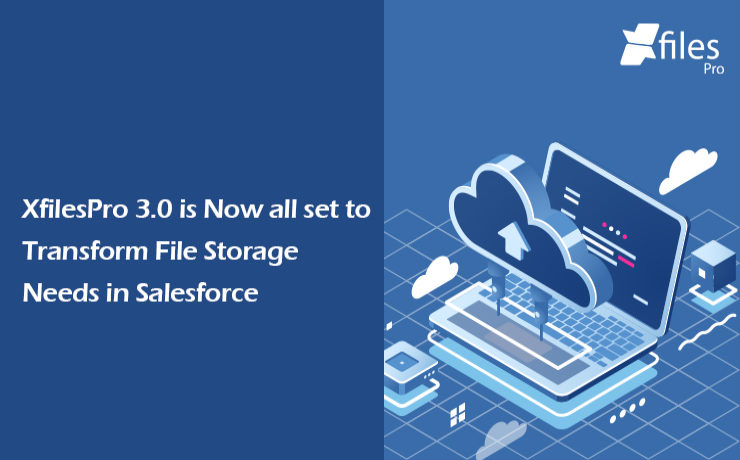 XfilesPro, a next-gen file management & collaboration solution for Salesforce, enables enterprises to integrate external Cloud/On-premise storage systems with their CRM to better manage large files, optimize storage & reduce 70%+ file storage costs.
Bengaluru, [March 31st, 2021] – XfilesPro, the most trusted & advanced file management solution for Salesforce is now furnished with new all set features & experience to transform your file storage needs in the world's #1 CRM platform. In the latest product advancements, the solution has rolled out one of its most anticipated features 'Auto Export' (File Archiving Utility) which will help users automatically export files from their Salesforce file storage to any external Cloud (SharePoint, AWS S3, Google Drive, OneDrive, Dropbox) or On-premise (SMB, SFTP & Network Drive) storage without any manual intervention. Apart from this, another notable highlight is the addition of Mass Functionalities (Mass Delete, Mass Sharing, Mass Download). Users can now delete, share, download multiple files at a time with a single click, which will save a huge amount of time. For the customers using SharePoint to store Salesforce files, a lot of new features have been introduced including additional column support.
With support for over 7 external Cloud & On-premise storage systems, XfilesPro has redefined Salesforce file management strategies. Apart from huge storage cost reduction, the application offers enterprise-grade content management with a centralized storage system that can manage files from standard as well as community users. The seamless customization, quick setup & admin-friendly capabilities make XfilesPro the most implemented solution in the market.
Along with the file management solution XfilesPro, CEPTES also offers end-to-end data management solutions DataArchiva & DataConnectiva for data archiving & DataBakup for data backup & recovery services. CEPTES is widely considered as the expert in offering enterprise-grade file & data management solutions for the world's #1 CRM platform.
Comments on the News
"After onboarding over 250 customers from across 10+ industries, I can proudly say that today XfilesPro can handle any complex Salesforce file management needs. With each new release, we have been adding new features that can really help our customers take their file management experience to the next level. I believe the new Auto Export feature can really make things easy for the users apart from helping them reduce massive file storage costs", said Harish Kumar Poolakade, Co-founder & Head of Products at CEPTES.
About CEPTES
CEPTES is a leading Salesforce consulting & solution provider with a decade of proven service excellence. With 3 global offices & over 200+ customers across 5 continents, their capabilities spread across multiple industries, technologies & solutions. They are considered as an expert in offering data & file management solutions to businesses of any size & type with their widely popular solutions DataArchiva, DataConnectiva, DataBakup, and XfilesPro.
For more information, please visit: www.ceptes.com
How the solution works:
Watch
a quick video.