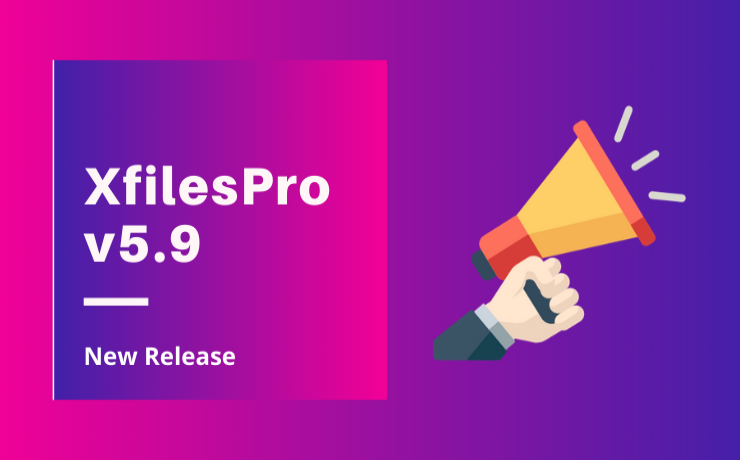 XfilesPro, the #1 file management & collaboration solutions for Salesforce has made its Winter '20 (version 5.9) release LIVE in the AppExchange with some new features and existing feature enhancements.
Let's have a sneak peek of all the newly included & enhanced features:
New Features
Mass Download Functionality
Now users can select up to 10 files & download them as a .zip folder
Mass Delete Functionality
Now users can select up to 10 files & delete all those 10 files at a time
Dynamic Column Arrangement for List & New Bi-directional Sync Component
New Bi-Sync & list component data table will now have the option to add/remove the columns up to 4
Search Functionality for New Bidirectional Sync Component
File search option in the new Bi Sync component
File Renaming for List & New Bidirectional Sync Components
Users will now have the option to rename the file. This means the actual file name should be prefixed or suffixed with the value stored in a particular field of the record and the updated name appears to be in an external provider as well
Enhancements
The Template feature in XfilesPro's new Bi-sync component for Google Drive, OneDrive, and SharePoint will be supporting folder creations for any number of folders.
Unmap functionality at the Record level (Google Drive) will have unmap functionality at the record level where you can unmap a wrongly mapped folder and remap the correct one.
About XfilesPro
With over 200 customers worldwide, XfilesPro has now over 300K+ licensed users across 15+ industries. Using the application, Salesforce users can choose from a range of external file storage options to integrate from multiple Cloud (SharePoint, OneDrive, AWS S3, Google Drive, Dropbox) & On-premise (SMB, SFTP, Network Drive) platforms to effortlessly upload Salesforce files of any size with seamless collaboration to future-proof on their file storage costs.
Get the app here.