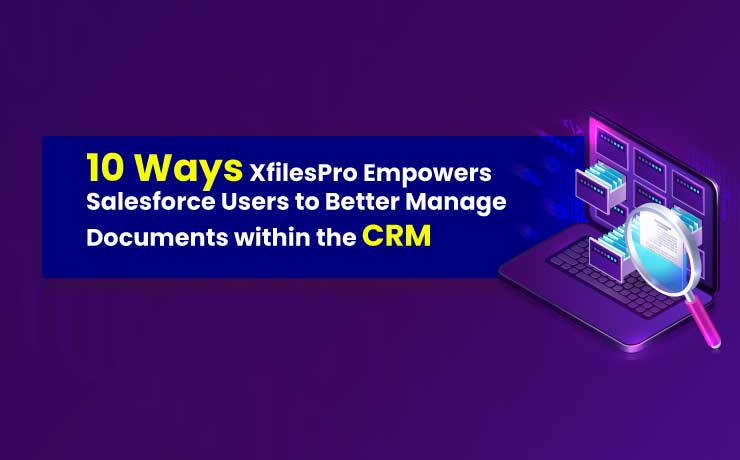 10 years…And it just went in the blink of an eye.
From being launched in 2012 as a free app supporting AWS S3 to being the most trusted, installed, and fully-fledged document management system for Salesforce today, XfilesPro made strides like nobody ever.
Harish Kumar, CEO and Co-founder of CEPTES adds,
"Beyond a file management system, XfilesPro has evolved to be the one-stop solution for Salesforce users' document management needs. We're proud to see the application empowers our customers to process a very easy workflow by playing with the mountain of files they generate every day."
It's XfilesPro's firm focus on the pain points of Salesforce customers that led to the incredible milestone of a 'decade.' Shining in the glory of 10 years, here are amazing insights about the 10 ways XfilesPro helps Salesforce users to smartly manage their documents within the CRM platform.
A Journey From Document Creation to Storage and Collaboration
No matter what task you're carrying out, where you are on it, or who you perform it for, you will be in need of relevant documents. Being an efficient document management system for Salesforce, XfilesPro understands this requirement, playing a major role in boosting your operations with documents inside Salesforce. From the generation stage of documents to storage of them in a secure repository, XfilesPro aids you every step of the way.
It's XfilesPro's document generation app for Salesforce that automates the creation of documents 100% natively within the CRM platform. Named XfilesPro DocuPrime, the application automatically fetches data from multiple objects and builds your documents in any type, size, and quantity within Salesforce.
And, once the document volumes mount up and threaten the storage cap, XfilesPro further assists you in moving them to your trusted external storage system so that your Salesforce file storage will remain free up, improving collaboration. Diving deeper into the blog, you will learn more about how XfilesPro executes this functionality.
Zero Code Integration Between Salesforce and the External Storage
From above, you have already learned that XfilesPro connects the CRM with your external storage system to readily accomplish your document management needs in Salesforce. Which are those external storage platforms that XfilesPro supports? Let's see those.
XfilesPro can integrate Salesforce with any of your preferred external cloud storage such as SharePoint, AWS S3, Google Drive, and OneDrive so that you can migrate your growing volume of Salesforce files to it. This leads to the optimization of the storage space, helping you regain the performance of the application.
And, the bright side is that the integration pans out seamlessly as it demands no-code expertise from you. You can build the bridge between both platforms as easily as you plug the USB pen drives into the PCs or laptops.
Strategic Approach to File Volume Management
Now that you learned it's a cakewalk to integrate your Salesforce and external storage, let us tell you how you can leverage this powerful connection for your document management requirements. As you generate a large number of files every day within Salesforce, it would collectively become massive in size, potentially causing a slowdown in your CRM system. To tackle this, XfilesPro moves your huge volume of existing files from Salesforce's file storage space to the external repository in one go by preserving the file hierarchy. This dynamic action optimizes your overloaded storage space and helps preserve the functionality of your application.
Meanwhile, discover how XfilesPro helped a global leading manufacturer move 40 TB of files from Salesforce to SharePoint
In another case, if your business is required to automatically push the newly created files from the app, XfilesPro has a solution to address that requirement as well. It can automate the migrate of your Salesforce files in your preferred time interval – be it days, weeks, or months, and keep them in the external storage system.
A Game Changer for Real-time Collaboration on Documents
If workers can't collaborate on documents, the chances of misunderstandings and delays will be higher. Being a modern Salesforce document management system, XfilesPro ensures that your Salesforce records are synced with respective folders in the external storage, and the modifications made on the former are reflected on the latter, and vice versa. Put differently, if you make changes to the Salesforce records, it will be mirrored in the folders of your external storage and the other way around. It's XfilesPro's Bi-sync functionality that comes into play here.
If you're wondering how folder syncing relates to enhanced collaboration, here's some more light. As files are bi-directionally synced, users within your teams can collaborate on Salesforce documents while non-Salesforce users or external teams can work on the documents in the external storage, and can have the changes updated on both platforms. This in turn provides a real-time file collaboration experience, which is crucial in operations.
Learn how real-time collaboration on Salesforce files boosts your employees' productivity.
Tailored Folder Format for Easy File Access
XfilesPro understands Salesforce customers' challenges in managing documents, particularly the limitations posed by the absence of an option to create a folder structure. Because, in Salesforce, individual documents are commonly accessed and saved by various users. Where a specific document is needed for multiple datasets, it can result in the creation of duplicates. This not only increases storage demands unnecessarily but can also cause confusion and miscommunication.
Knowing this, XfilesPro empowers you to customize your folder structure in an external location, which helps you arrange files in a specific format that deals with the workflow. Since a pre-defined folder structure can't be easily changed by employees, every user will know where to find relevant documents without any confusion, facilitating operations.
Obtaining the Ultimate Ownership Over Documents
Even though the migration of files from Salesforce to external storage becomes easier post integration, you might be skeptical about its security in a 3rd-party application. There are high chance that unauthorized users access your documents from the external environment, which will expose the confidential information they contain.
To prevent the security breach here, you can leverage XfilesPro's Access Control functionality, which empowers you to control who can view, access, edit, and delete your documents. Here, you're gaining the ultimate ownership of your documents, where no files will be accessed by unauthorized users or no information will fall into the wrong hands.
Delivering Unparalleled Compliance Assurance
Your documents are assets as they contain sensitive information. And, your regulatory policies demand you to preserve them for a long period of time for future requirements. That means you can't delete your documents and at the same time can't keep them in the file storage space of Salesforce since it would exceed the storage capacity.
Here's where the file retention functionality of XfilesPro performs an excellent job. Since the documents are moved out of Salesforce and retained in your external storage, you can access them whenever needed in the future. That means, you are no longer required to delete the documents that your compliance guidelines underlines.
Playing a Significant Role in Reducing Expenditure

Here's where your major concern revolves around — the cost. Since you can't help with the unmanaged growth of documents within the app, your Salesforce file storage will soon hit the storage limit, demanding you purchase extra storage from the biggest CRM provider.

And, it's not a one-time job. As days go by, as operations increase, you will accumulate an excessive amount of documents that will demand you to upgrade the Salesforce storage space consecutively, claiming your business' hard-earned money.

Having XfilesPro, you're opening the door to unlimited storage space in Salesforce as the app continuously frees up the storage space, which eliminates the need for storage upgradation and, in turn, helps you save a huge amount of money.

Mobile Access to Transform Workflow
You can't rest assured that all of your Salesforce users can upload or manage documents from their desktops. If you are from specific industries like real estate, where most of your users need to access from the ground using a mobile device, it's imperative to ensure this functionality is readily available for them.
XfilesPro provides a helping hand here as it enables mobile access for authorized users, allowing them to manage their documents with a flip of their fingertips. With this advancement, users can access, edit, or upload files from any location using their mobile phones, fostering streamlined and efficient operations.
Streamlining Experience Cloud Document Management
XfilesPro understands the challenges associated with the management of the files uploaded by community users via Experience Cloud to Salesforce. Since the documents are directly stored in the file storage space of the CRM, the chances are high that your storage space would be overloaded and it would impact the performance of the Salesforce application.
Having XfilesPro implemented in your Salesforce Org, the documents uploaded by Community users will be directly moved to the external storage, helping you keep the storage space unaffected by the documents.
Discover how a leading US University moved their Community user files from Salesforce to Google Drive using XfilesPro.
Bottom Line
Being a big platform for end-to-end document management within Salesforce, XfilesPro empowers Salesforce customers like you to carry out daily operations exceptionally. We'd like to conclude this note by adding a recent AppExchnage review we received from one of our esteemed customers, which offers a comprehensive conclusion to XfilesPro's overall performance.
"Working with large files often presents us with storage challenges, especially considering the pricey nature of Salesforce storage. However, XfilesPro proved to be a game-changer. The ease of connection is unparalleled, ensuring our documents are securely stored and essentially bulletproof."