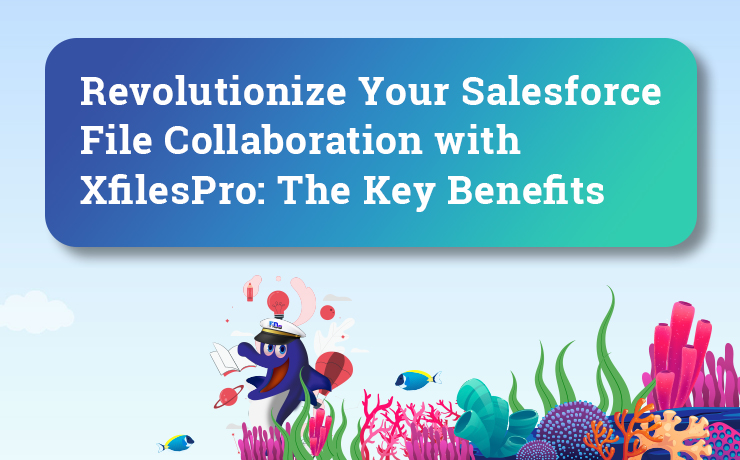 Be it on Google or AppExchange, XfilesPro is the top result that comes in your search for the best file management app for Salesforce. From the product launch in 2010 till today, the advanced application has been maintaining its supreme position in the highly competitive market.
As you know, it's no small feat to remain a cut above the rest for more than a decade for an app. The product needs to bring state-of-the-art advancements every now and then to stay ahead of the competition.
In the case of XfilesPro, one such capability that sets the bar higher for our flagship document management solution for Salesforce is File Collaboration. Since it takes forever to contribute to a file for your employees or external teams, XfilesPro streamlined this ever-complicated process with its next-gen File Collaboration functionality.
In this blog post, we will learn more about it.
File Collaboration on Salesforce: XfilesPro's Calling Card
You no longer have to worry about the huge time and effort required to modify a file. Because your files are not passing from user to user for their contributions. This is the advancement that XfilesPro holds in store through its 'File Collaboration' capability. Through File Collaboration, both your internal teams and external users can collaborate on files in real-time to give their input, which will ensure a very streamlined and effective file collaboration experience for you.
Now, we will look into the benefits that this powerful capability can unleash for your file management process in Salesforce.
Streamlined Workflow
Trust us, you will witness a dramatic improvement over how people have managed and modified a file in the past. When the traditional way of file collaboration demands laborious manual tasks where one person drafts a document and then email it to multiple people for editing and contribution, it takes ages to receive the attachment back to the originator.
Since this manual editing process is inefficient as there's no single document for everyone to work on, the File Collaboration functionality provides a centralized platform for the users to collaborate on files in real-time. It offers a seamless, natural way of work experience where you don't need to push everyone for a complex procedure to ensure version control.
Learn more about the role of Salesforce file management in streamlining your workflow here.
Centralized File Management
From first-hand experience, you must be aware of the fact that collaboration on a file is difficult if it isn't positioned at the center. That means to provide seamless access for authorized users to update a file, you need to foster a centralized file management experience. Understanding the gravity of this requirement, XfilesPro sets a process where all users (internal employees and external teams) can easily access and collaborate on a file in real-time. Here, your file will be positioned at the center of your process.
Enhanced Productivity
The good news is that with excellent file collaboration, your productivity will score the highest. Because you're eliminating the long hours or even days that are needed for file updation by multiple users. In other words, you're saying goodbye to the manual time spent on emailing the files back and forth, downloading or uploading them, creating multiple versions of those to be shared with others, and so on. So, you can concentrate on your core mission by not spending time on the file modification aspect.
External User Access
This is the game changer! As already mentioned earlier, with XfilesPro's File Collaboration functionality, your authorized external users can also work on files in real-time just as your internal team members. So, the process becomes streamlined and faster. This is indeed a great step toward ensuring an efficient file collaboration strategy.
Learn how file collaboration helps you better here:
That's it. By now, you must have learned why you can't underestimate the power of real-time file collaboration functionality that XfilesPro provides for Salesforce Admins. If you think this advancement can level up your file management operations in Salesforce, please connect with us to learn more.