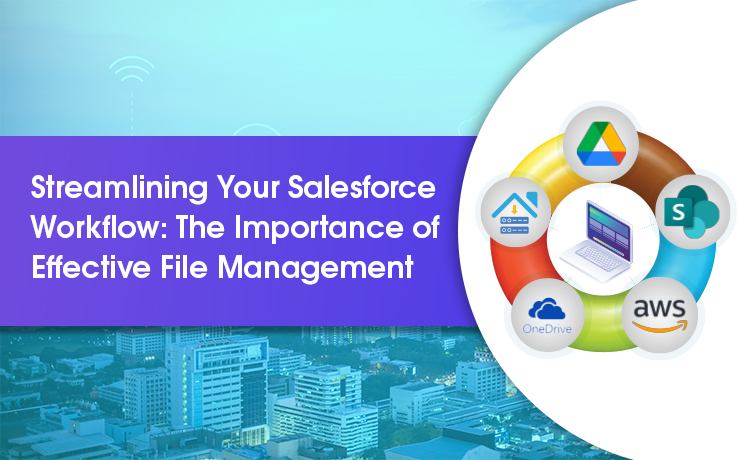 Suppose you are a Salesforce Admin in an organization where you are in charge of managing all the files that are being received. Suddenly you get an email asking you to find a particular candidate's on-board email. Within seconds you receive an email telling you you are supposed to keep a specific set of files in a secure location as it contains very confidential information. Also, at the same time, you get a ping from your senior who needs all the files of "Project XYZ" which has been stored in the file management for a month. What are you going to do? You do not know where the files are. You do not have a file location where these confidential files can be kept. With a lot of onboarding happening in the organization, the particular email is very hard to track. This is a work crisis that you are undergoing. This is what we call getting caught in a pickle.
This is clearly a case of inefficient file management. Be it a small or a huge organization, each and every file contains a value. If not today, at some point in time, you will need those. Hence having a tab on these files is very much important. So, this blog will help you to gather some insights into why efficient file management in Salesforce is very important. So here we go:
Better File Organization
The concept of file management in Salesforce starts with excellent organization. Having your files organized will help you look for them faster. Just like the case of the Salesforce Admin being unable to fetch the files in the above example, if the files have a proper hierarchical structure, then just with the name of the file, the same can be fetched.
Our Recommendation: XfilesPro has the feature of Folder Management that helps to have your folders organized. This will help you get a good idea about where your files are based on the hierarchy of your files.
Exceptional Collaboration
Collaboration is very important when it comes to files. When it comes to file management, there are different types of file access. Some need to be kept confidential. Some can be reviewed by the public. Some are to be shared only between particular departments. Hence collaboration is a much-needed necessity.
Our Recommendation: XfilesPro has the feature of external storage integration that helps you to collaborate and add external storage, wherein the file storage will get expanded and collaboration will be easier. This is a great help for internal teams as well as external users as they use centralized files to improve file management experience and overall productivity.
Storage Limitations
Salesforce always gives only 10GB of file storage per Org. But with the amount of file accumulation, it is difficult to carry on the day-to-day work requirements relying on this small amount of storage. Hence file management and the availability of Salesforce storage is always proportional to each other. Monitoring your accumulation of file storage in Salesforce is again one of the most critical and efficient file management practices that you can have.
Our Recommendation: XfilesPro is a tool for having your Salesforce application will get integrated with the external storage cloud such as AWS S3, SharePoint, OneDrive, Google Drive, or the on-premises of your choice. By doing so, there is no hurdle in file management in Salesforce paving the way for a better user experience.
Enhanced Productivity
If you are a Salesforce Admin, if you know the way around your files, then there is no going back. Quoting from the example above, the Salesforce Admin was literally juggling to get his basic KPIs to be done. But on the other hand when you are well aware of your files and where each and every file is located and named per se, then there is no disruption in the workflow, facilitating increased productivity.
Our Recommendation: Get your file management in Salesforce to do the work for you. Simply integrate it with your desired external storage and get your hands on other important works.
Promised Security
Every business is a file-sensitive business. There is no file that is being exposed out of the file management because it is less important. Hence with efficient file management, your business earns its share of security. Being aware of who has access to which files and having a controlled tab on it will help to retrieve files in case of any mishaps.
Our Recommendation: XfilesPro is the safe haven for file management in Salesforce that you are looking for. With distinguished options on who can access or edit the files, the #1 AppExchange tool for file management is a ready-to-use option for anyone.
File management is something that can never be overlooked when you are working in an organization. But it is not something that needs to be given 100% attention to detail and be on the lookout for more files. Hence efficient file management is the key to a balanced working ecosystem that will be a win-win situation for all your needs.
Since file management in Salesforce is a very tricky situation to handle, what if we say we give you a demo on how to automate and eliminate the pain of file management click on the link here.