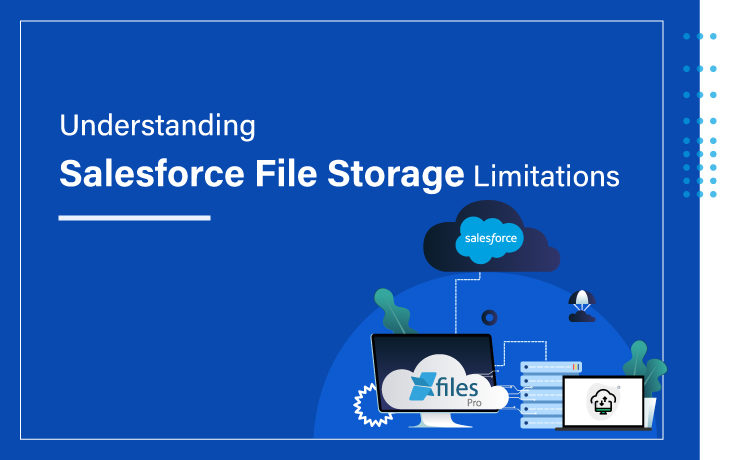 Last Updated: September 13, 2023
Over the last two decades, Salesforce has emerged as the #1 CRM provider in the world. Thousands of businesses from different verticals & sizes are relying on the massively popular Salesforce applications to boost their sales & service processes and also trusting its robust platform to build powerful business applications. Though Salesforce offers a multitude of benefits in order to ensure consistent & hassle-free performance every time, the CRM giant also limits some of its functionalities in order to maintain its high performance & consistency. One such notable limitation is storage. Please note that any Salesforce org has three default storage spaces including files, data, and big objects.
In this blog, we are going to focus on Salesforce file storage & will discuss some of the Salesforce file storage limitations. Whenever a user uploads/generates/receives files (commonly notes & email attachments) of any type while using Salesforce, they get stored in a primary repository within the app. This applies to any standard user as well as a community user.
How much file storage space do you have in your Salesforce org?
When it comes to default file storage; Salesforce editions such as Contact Manager, Group, Professional, Enterprise, Performance & Unlimited get 10 GB space per org, while the Essentials edition gets only 1 GB. In addition to this, every Salesforce org offers some additional file storage space to standard users depending on the edition and the number of user licenses. Enterprise, Performance, & Unlimited editions get an additional 2 GB of file storage per user license, while Contact Manager, Group, & Professional editions get 612 MB per user license.
What is the maximum size of file that you can upload in Salesforce?
Salesforce doesn't only have limited offered storage space, it also limits the file size when it comes to storing it within the app. Below are the file size limits;
Salesforce Files (Files home, in libraries, in Chatter posts and comments, on a record's Files related list): 2 GB

Attachments (On a record's related list in Lightning Experience. (In Lightning Experience, attachments are added as Salesforce files): 2 GB

Documents, Salesforce Knowledge Attachments & Chat: 5 MB Each
Please get more details here.
Apart from the above limits of storage & size, there is also a limit on how many times a file can be shared. This stands at 2000 times including sharing with records, people, and groups.
From the above information, you got to know that a maximum a Salesforce org will get 10 GB of file storage (excluding additional user-based storage), while most of the Salesforce file size limits have been set at an upper limit of 2GB, which is the maximum file size allocated by Salesforce.
What are the consequences?
Imagine a business that is either generating more files or files of large size in their Salesforce app on a daily basis. It is very much inevitable that they will run out of their allocated file storage faster. Once the storage starts taking an impact, it becomes tough for the users (basically sales reps & service agents) to run their day-to-day business processes smoothly, as a result, business operations start to slow down or even on the verge of breaking down. The challenge continues when you find additional storage space provided by Salesforce at a very high cost.
How to get around the Salesforce file storage limitations?
Once you find yourself in the above challenges, it becomes essential to look for possible solutions in order to prevent hitting your Salesforce storage limits. When you analyze all the options, you can summarize them into the three categories.
Option 1: Purge some old files in order to optimize your storage

Option 2: Upgrade storage by paying additional cost to Salesforce

Option 3: Move files to a relatively low-cost & long-term secondary storage space without losing access to your files
Also read: Salesforce File Storage Limit Exceeded? Some Use Cases & Tips to Prevent Hitting Storage Limits
If you are considering the 1st option to delete some old files from the org, please check with your compliance team. Most of the internal policies as well as compliance rules don't allow information deletion & ask businesses to store it for a lengthy period of time. Even if you are not restrained by any such guideline, deletion of files is never a sustainable option for you as with a growing business you will keep on generating more files. Then we come to option 2 of buying additional storage from Salesforce. Please note that Salesforce offers additional storage space at a very high cost & upgrading storage on a regular basis might crumble your IT budget.
How to manage your Salesforce storage cost-effectively?
If you want to control the file storage within Salesforce without either upgrading your storage or deleting files, option 3 looks like a perfect solution for you. Moving files to a secondary storage which is low at cost as well as gives you the option to keep them for a long period of time is always a good strategy considering it allows you seamless file access around the clock.
There are multiple ways you can move files from your Salesforce app to another storage of your choice. Some of them are to use Salesforce Files Connect, build a custom solution in-house to integrate an external storage system & migrate files either periodically or in real-time, or use any 3rd-party ready-to-use application from AppExchange to do the job for you. While Salesforce Files Connect is expensive (has certain limitations) and building a custom app could be time-consuming & complex, going with a ready-made AppExchange application looks more feasible.
XfilesPro is a leading AppExchange application that allows you to migrate files from Salesforce to any external storage such as SharePoint, Amazon S3, Google Drive, OneDrive, etc. in a hassle-free manner & in real-time. The application works seamlessly with all major Salesforce editions and supports all files irrespective of their size* & type. The highly popular app among Salesforce customers has a history of solving complex file challenges & its futuristic features empower capabilities beyond the external storage of Salesforce files.
Explore all XfilesPro features & capabilities here.
Why choose XfilesPro for Salesforce file management?
With its easy-to-use setup & user interface, XfilesPro not only powers Salesforce customers to overcome Salesforce file storage limitations but also helps them use their CRM to its full potential by maintaining top-notch performance & consistency. Let's have a deep dive into the application & why enterprises are choosing the app over its competitors.
Quick Integration: With XfilesPro, Salesforce customers can quickly connect their external storage (SharePoint, Amazon S3, OneDrive, Google Drive) with the CRM and start moving files instantly. The setup is fast & easy. The app offers multiple options to upload files such as drag-and-drop, mass upload, single file upload, etc.
Versatility: Being a highly versatile application, XfilesPro supports all major Salesforce apps (Sales Cloud, Service Cloud) as well as files generated from other AppExchange apps or force.com custom-built solutions. XfilesPro also supports files uploaded by Community users. Looking for Salesforce1 mobile compatibility? XfilesPro supports that as well.
Loaded with Features: XfilesPro is the only application that offers multiple features under one platform to help you achieve more with your files. Features such as folder structure, bi-directional sync of files, large-volume file export, folder syncing, file sharing, and much more make XfilesPro highly value for money and a must-have application with Salesforce.
Provider-Specific Features: If you're using SharePoint or Google Drive as your external repository for Salesforce files, XfilesPro has a bunch of additional features such as Tagging, Multi-site support (For SharePoint) & Shared Drive, Multi Shared Drive (For Google Drive) to do more with your file management experience.
Also read: Why is XfilesPro the Most Comprehensive File Management Solution for Salesforce?
With XfilesPro in place, Salesforce customers can save high file storage costs & at the same time use the CRM at the peak of its power. The application helps you streamline your complex file management process in order to enhance productivity & achieve superior efficiency. If you wish to learn more about the application & transform your file management experience in Salesforce, please get in touch with our experts now.
Looking for a live demo, set up a demo now.