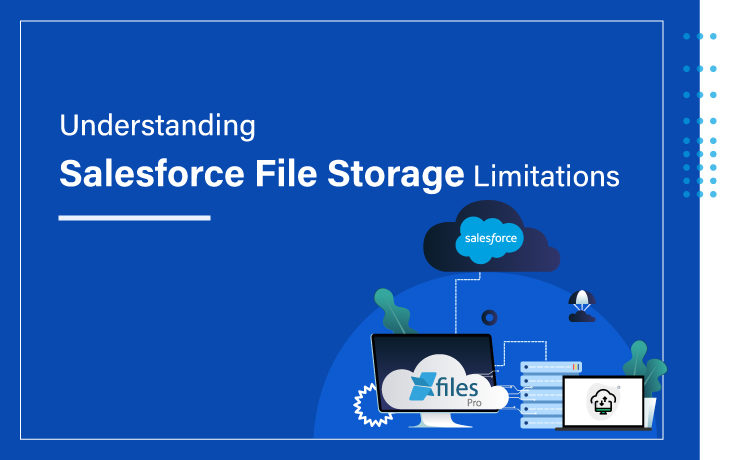 Over the past two decades, Salesforce has rightfully emerged as the #1 CRM solution provider in the world & has been helping thousands of companies run their business on its highly flexible cloud platform. Though Salesforce has a multitude of benefits but in order to ensure a consistent & hassle-free performance everytime, the CRM giant limits some of its functionalities. One of the most prominent & frustrating one of them being its primary storage space, both data & file.
In this article, we are going to primarily focus on the Salesforce file storage & will discuss some of the Salesforce file storage limitations. As the name suggests, file storage is the space dedicated for the storage of important Salesforce files like files in attachments, Salesforce CRM Content, Files home, Documents tab, Chatter files (including user photos), custom File field on Knowledge articles, & assets regarding Site.com.
Limitations of the Salesforce File Storage
When it comes to storage limits, the Contact Manager, Group, Professional, Enterprise, Performance & Unlimited editions are all allocated 10 GB for file storage., with just the Salesforce Essentials edition getting only 1 GB of primary file storage. In addition to this, all Salesforce Orgs also offer some additional file storage, decided by the number of standard user licenses:
The Enterprise, Performance & Unlimited editions receive an additional 2 GB of file storage per standard user license.

While the Contact Manager, Group & Professional editions receive an additional 612 MB of file storage per standard user license.
Not only does the Salesforce file storage have limitations in terms of the primary allocated space, there are also several restrictions on the sizes of Salesforce files & attachments that can be stored in the primary file storage of the Salesforce Org. The Salesforce file size limits have been mentioned below:
Files Tab

– 2 GB

CRM Content

– 2 GB

Documents

– 5 MB

Salesforce Knowledge Attachments

– 5 MB

Email Messages

– 25 MB

Attachments

– 2 GB in Lightning, 25 MB in Classic
*source- Salesforce Help
Therefore most of the Salesforce file size limits have been set at an upper limit of 2 GB, which is the maximum file size allowed by the Salesforce CRM. The storage size of individual attachments has been capped at 2 GB in the Salesforce Lightning Experience version while in the Salesforce Classic version, only attachments upto 25 MB in size can be stored. Different CRM content files have different maximum file size limits depending on the way they are uploaded.
As more and more such bulky Salesforce files are stored in the primary file storage, it can cause the storage space to be exhausted rapidly. The limited space in the primary Salesfoce file storage further adds to this problem because of which most enterprises run out of their allocated storage space in a short span of time. Once the storage starts filling up, the day-to-day internal processes & business operations start to slow down or even break down.
How to get around the Salesforce file storage limitations?
Due to the limited nature of the primary file storage space in Salesforce, it's very easy to run out of file storage space in just 2-3 years of using Salesforce. Once you hit your allocated file storage limit, there are only three options left:
Purge the primary file storage by deleting some of the old, useless files

Purchase additional file storage space from Salesforce

Lastly, migrate Salesforce files to some low-cost, long-term secondary storage.
Also read: Salesforce File Storage Limit Exceeded? Some Use Cases & Tips to Prevent Hitting Storage Limits
Now deleting old Salesforce files/attachments from the Org may not always be a feasible option due to various internal retention guidelines governing the enterprises that make it mandatory to store all information for extended periods of time for compliance purposes. And even the additional Salesforce file storage comes at an expensive price ($5/month for 1 GB file storage) because of which companies often look for alternatives to avoid going ahead with the purchase.
In such a situation, using tools & applications to migrate redundant Salesforce files & attachments within the Org to secondary storages emerges as the ideal solution. Such a migration can be performed by using either Salesforce Files Connect, or a custom-built integration application or by simply using a third-party AppExchange solution. One such third-party AppExchange solution is the advanced Salesforce file management & collaboration solution called XfilesPro.
Using XfilesPro, enterprises can easily collaborate & integrate their Salesforce system with different external cloud storages (SharePoint, AWS S3, Google Drive, Dropbox, OneDrive) and on-premise storages (SMB, SFTP, Network Drive). In turn, Salesforce files & attachments of any size and type can be easily exported to the external storage integrated with the system without affecting the user experience, thereby reducing the burden on the primary Salesforce file storage space.
Achieve a competitive edge with XfilesPro
Native Application
As XfilesPro is entirely built on Salesforce.com, there are no qualms about its availability, assurance, and security. It is also perfectly aligned with the Salesforce roadmap and works well with Salesforce solutions like Sales Cloud, Service Cloud, etc.
No Size Limitation
Using XfilesPro, Salesforce files & attachments of all types and sizes can easily be uploaded to an external storage system without any hassle or encountering any limit.
It's Cost-effective
With XfilesPro, there is no need to purchase additional file storage space and you can also be assured of bringing down your existing file storage costs by nearly 80-90%.
External File Storage Support
XfilesPro supports various external cloud storages like SharePoint, AWS S3, Google Drive, Dropbox, OneDrive, in addition to on-premise systems like SFTP, Network Drive, & SMB.
Lightning Ready
XfilesPro is also a Lightning & Salesforce1 mobile-ready application and is equipped to provide better and efficient support.
Large Volume File Migration
Using XfilesPro, not only the newly-generated, even a huge chunk of old legacy Salesforce files & attachments stored in the primary file storage can be moved (or archived) to the external storage at once.
Centralized Content Management System
XfilesPro will facilitate seamless collaboration between your internal Salesforce team & your external users by ensuring files are managed centrally but available for all the teams to share, view, download, and edit.
Community File Management
Through XfilesPro, all the files generated by your community portal users will also be directly exported to the external storage leading to their easier management.
Also read: Why is XfilesPro the Most Comprehensive File Management Solution for Salesforce?
Over 300+ customers of XfilesPro will vouch that neither their user experience nor their ongoing business processes were affected by the application's use. Moreover the migrated files & attachments were always 100% accessible yet always secure. The application also streamlined their file management processes & improved business productivity. If you also wish to enjoy such benefits, get in touch with us today to understand how XfilesPro's long-term file management strategy can make your Salesforce file storage unlimited or you can schedule the application's demo also.
Watch This On-demand Webinar
The Art Of Managing Salesforce File Storage Cost-Effectively