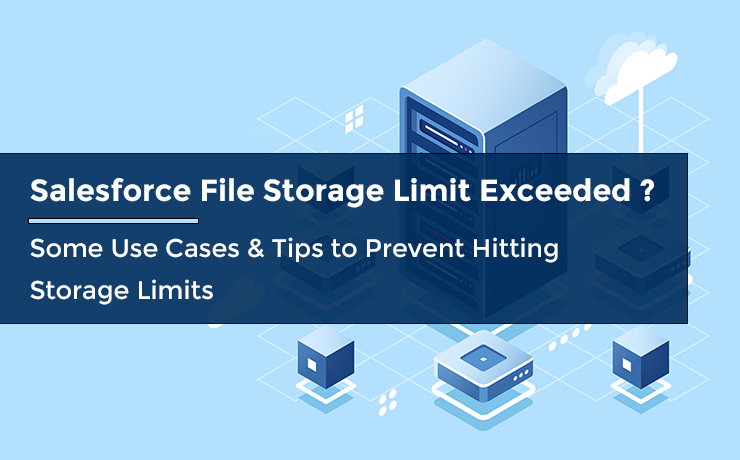 Last Updated: September 13, 2023
In today's world where businesses are becoming multifarious, customers are demanding personalized services. In order to consistently meet evolving customer demands & stay ahead of competitors, technology adoption at an early stage is elemental. Salesforce, being the #1 CRM in the world has been embraced by thousands of businesses around the globe to drive forth innovation & digital transformation. However since it is a multi-tenant environment, there are certain restrictions in place in order to maintain the speed & performance of the platform.
Though maintaining separate files & accounts for each customer is beneficial for delivering personalized experiences, it results in a large volume of files accumulating within the Salesforce app & it takes up a lot of storage space. Most businesses experience storage limits exceeding within the first two years of their Salesforce use. Managing large volumes & sizes of files in Salesforce is a daunting task & it also brings a lot of related challenges.
In this blog, we are going to highlight a few of the common industry use cases where businesses found it difficult to manage a sheer number of files in Salesforce & what strategies they implemented to optimize Salesforce file storage in order to prevent hitting their storage limits. Before discussing the Salesforce file storage challenges & solutions, let's have a look at how much file storage space you get in Salesforce.
Also Read: Top 3 Ways To Prevent Hitting The Salesforce Storage Limit In Your Org
How did you run out of file storage in Salesforce?
Now that you know how much file storage space you get as per your Salesforce edition, let's have a look at how companies generate files and what are the consequences once you accumulate a large volume of files in your Salesforce org.
While dealing with a large volume of old files
If you have been using Salesforce for a long period of time, you must find a large chunk of files that are obsolete. These files might be related to old customers, closed cases, lost accounts, old email attachments, etc. Though your sales or service team does not require these files, they reside within the app and occupy storage. This results in storage shortages in due course of time.
While generating a large number of files on a daily basis
If you have a large number of Salesforce standard users (sales & service) & they upload a large number of files on a daily basis, chances are high that you might run out of allocated file storage space faster. This might happen to specific industry customers such as healthcare, financial, logistics, legal, and insurance who deal with more documents. All these industries also deal with files that are large in size.
While giving file upload access to community users
Enterprises having community users and giving them access to upload files encounter rapid file growth compared to others. Community users upload files and if the community user number is high, file growth within Salesforce happens faster. These can be your customers, partners, employees, vendors, etc.
While using 3rd-party AppExchange applications
If you are using 3rd-party AppExchange solutions to achieve certain business goals, you will find those apps generating files internally which are getting stored in your Salesforce file storage. This is a common use case & having control over this becomes tough at times.
Have one or more reasons for file generation within Salesforce from the above scenarios? What are the consequences:
Do you have any of the above use cases? Do you feel that unmanaged file growth & rapid storage consumption in your Salesforce org might be a challenge in running a smooth business? Before we talk about how this can be avoided, let's have a look at some familiar consequences when a Salesforce customer runs out of file storage.
With storage, the cost grows. Storage upgrades come at a high cost and are not considered a sustainable plan.

A large number of files makes any Salesforce org messy & it degrades user experience along with efficiency.

Collaboration takes a blow & this might result in low productivity.

File visibility & accessibility becomes tough & it impacts the sales & service process.

More files in a bulky org results in slow application performance.

Meeting compliance demands becomes a challenge when you can't keep all your files in your control & access.
How to avoid hitting your Salesforce file storage limits?
No matter what the reason behind your Salesforce app hitting its file storage limits is, there's always a solution to it. One of the best ways to combat this challenge is to move out the files & attachments stored in the primary file storage to some long-term, less expensive secondary storage without losing access. Salesforce files & attachments, both historical and new ones, can be seamlessly migrated to different external storages of your choice.
With the large file export technique, a large chunk of files can be offloaded either periodically or in a single go from your Salesforce storage to secondary file storage options like SharePoint, Amazon S3, OneDrive, Google Drive, etc. File archiving in Salesforce is one of the most popular ways to get rid of storage limits immediately. In this same way, Salesforce customers can also move files in real time to their external storage. Files from standard users, community users, 3rd-party integrated apps can be managed & Salesforce file storage can be easily optimized.
XfilesPro: The #1 External Storage Integration Application for Salesforce
Now as you know Salesforce file storage can be easily managed with external storage collaboration. Implementing this considering smooth business workflows, security, accessibility, collaboration, ROI, etc. is a primary consideration. XfilesPro, being the #1 file management application for Salesforce is widely considered the most advanced and easy-to-use file management application in AppExchange to integrate external storage systems with Salesforce. Customers can automatically store Salesforce files & attachments of any type in their preferred external storage. You never require expensive storage upgrades & high costs can be saved.
Get a free trial of XfilesPro. Start now
XfilesPro Supported External Storage Systems
➢ Microsoft SharePoint
➢ Amazon S3
➢ Microsoft OneDrive
➢ Google Drive
➢ On-premise – FTP, Network Drive, SMB
File Upload Type using XfilesPro
➢ Manual Drag & Drop
➢ Automated
➢ Single File or Bulk File Uploads
➢ Large Volume File Offloading at Once
Additional Features of XfilesPro
➢ Folder Structures
➢ Bi-directional Sync of Files
➢ File Sharing
➢ Folder Syncing
➢ Large Volume File Offload
Explore all XfilesPro features & capabilities here.
If you want to learn more about XfilesPro & transform your file management experience in Salesforce, please get in touch with our experts now. For live demos, please connect with our sales team here.