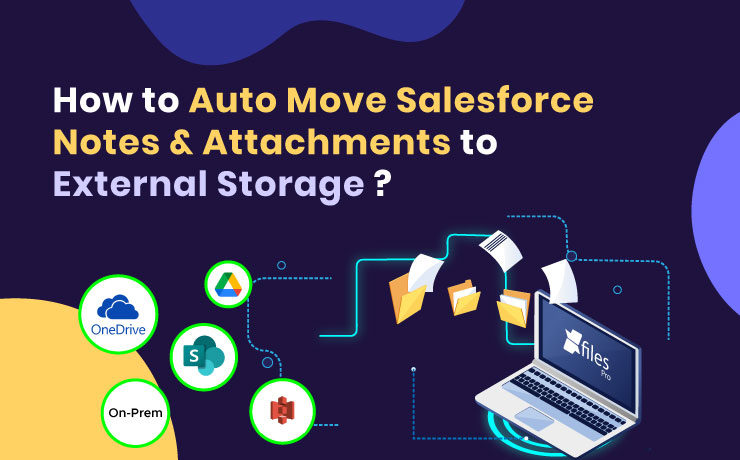 Are you worried about the consequences you will face when hitting the file storage limits in Salesforce each time? Is the thought of manually moving the notes and attachments from your file storage to secondary storage scaring you?
If yes, then this is the right place for you to look. In this how-to blog, we are providing you with a clear-cut picture of how you can auto-move your Salesforce notes & attachments to any external storage.
Notes and Attachments in Salesforce
Salesforce files are all filled in under one single file repository in its file storage. Be it how many ever record you create, they all are stored under one location. Notes and attachments in Salesforce display all the files of a particular record. Also, this comes in handy with a lot of disadvantages such as limited storage, minimal file collaboration, zero folder structure, and many more which is not an ideal solution.
Big businesses always have their files incoming continuously and henceforth the above drawbacks will be some pain points that they have to come across daily.
Most of the time, files get accumulated through
Email Attachments

Third-party applications

Manual upload
The above three are the major sources from where the pile of files gets dumped. No files can be neglected because control over information access is a very important virtue when it comes to running a business.
Auto Move Salesforce Notes & Attachments to External Storage
The best solution that has worked when it comes to moving the files from Salesforce is by introducing a third-party application that helps in file automation within your Salesforce. And we have never had a better option than XfilesPro for this problem.
Trust us, the perks are promising and have been proven effective over the years. If you are curious enough to know about the same, then keep reading especially the below segment.
XfilesPro to auto-move your Salesforce notes and attachments
Integrating into External Storage
XfilesPro application integrates Salesforce with external storage. With external storage integration, the files will be automatically moved to the chosen external storage and get stored there making the file storage in Salesforce optimized.
The external storages that are supported by XfilesPro are
SharePoint

Google Drive

OneDrive

AWS S3

On-Premises such as SFTP, Network Drive, SMB
This is the most important benefit that you can get by auto-moving your Salesforce notes and attachments to external storage. Since Salesforce does not offer a folder structure in any sense, XfilesPro provides a very organized structure for your files. It provides you with two different files when a requirement of the same comes up. XfilesPro gives two types of folder structure options such as custom folder structure and template folder structure. The custom folder structure will give you the option to customize your folder structure and the template folder structure will already have a structure ready for you to use.
Accessibility & Visibility
With XfilesPro, accessibility and visibility of the files can be well achieved. The owner can set the necessary access permission levels for a particular user/group and avoid unnecessary chaos. In this way, the files are secured and the owner can know exactly what is happening on the file.
Real-time collaboration has soared high in Salsforce file management with XfilesPro. Automated file management has helped in reducing the duplication of files as the owners can grant access to the other users at times of need. Simultaneously two users can work on the same file yielding better productivity.
Also read: Reduce Your Salesforce File Collaboration with XfilesPro: The Key Benefits
Opting for Salesforce additional storage comes with a big cost. It is an unnecessary cost and the amount of storage acquired by this lumpsum amount is minimal. XfilesPro is a very cost-effective application that will help you auto-move your Salesforce notes and attachments with a breeze.
Notes and attachments are a very important aspect of your business when it comes to Salesforce and neglecting it can impact your business. Auto-moving them will not only help improve your accessibility and visibility but also will help you optimize your storage to a great extent.
XfilesPro application has been a lifesaver to many businesses by helping them streamline their businesses and bringing in better productivity. This is the reason, XfilesPro tops the bar when it comes to file management on
AppExchange
after all these years. If you are looking for a free demo or would like to know more about the application connect to our
product experts now.