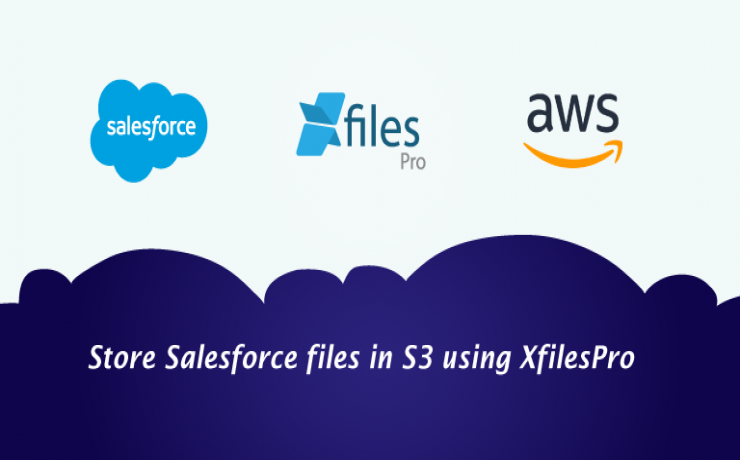 If you are dealing with a lot of Salesforce files and attachments, you can understand the associated challenges. A large number of files will subsequently lead to a high file storage space consumption and additional storage expenses. As Salesforce storage costs are hefty, it becomes irritable for organizations to optimize their primary file storage space without compromising any files or attachments. To get rid of this, XfilesPro help organizations store their Salesforce files in an external storage system without impacting the user experience. 
As a highly compatible external file storage solution for Salesforce, XfilesPro helps you reduce significant file storage costs along with seamless collaboration. When we talk about external storage support, currently XfilesPro supports various Cloud (AWS, Google Drive, OneDrive, Dropbox, etc.) as well as On-premise (SMB Windows Share, SFTP, File System, etc.) storage systems. 
Salesforce – AWS Integration using XfilesPro for external file storage
As Amazon Web Services (AWS) offers a highly scalable, reliable, fast, and cost-effective object storage infrastructure called 'Simple Storage Service (S3)', many of the organizations prefer S3 as the external storage for their Salesforce files. XfilesPro works well with S3 and it's extended features will make your file storage experience in S3 simple & cost-effective.  
To simplify the S3 configuration process, XfilesPro allows Salesforce admins to set S3 as the external storage with a single click. The set-up process can be automated and you can either use your own Salesforce Org's S3 storage or XfilesPro offered highly secured S3 storage. 
Now let's look at some of the XfilesPro features, which will help you store and collaborate your Salesforce files in S3. 
Easy File Management 
Using XfilesPro components, files are directly stored in S3. XfilesPro supports other file operations like view, download, preview, delete, share directly from the Salesforce UI. 
Export/Import Utility
Initial file migration from Salesforce storage to S3 can be done through 'Export' feature & if the files are in some other system, they can be linked with your Salesforce system by keeping them in S3 using the 'Import' feature. 
READ THIS: How XfilesPro helped an Australian non-profit organization manage 6K+ files and efficiently store them in Amazon S3
Customized Folder Hierarchy
You can completely customize the folder structure to any hierarchy based on object relations in S3. 
Bidirectional Sync
You can manage your files in S3 directly from Salesforce.
Handling Email Attachments
Attachments received through Emails can be automatically moved to S3 storage.
What choose XfilesPro?
XfilesPro offers a gamut of benefits including reduced file storage cost, secure file transfer, no limitation of file size & volume, seamless user experience, support for Chatter files, communities, and customer portals. Get in touch with us if you want to store your Salesforce files in the AWS S3 system. 
Transform Your Salesforce Storage Needs with AWS S3 Integration
Store Salesforce Files in S3 to Reduce File Storage Costs, Improve File Visibility & Collaboration