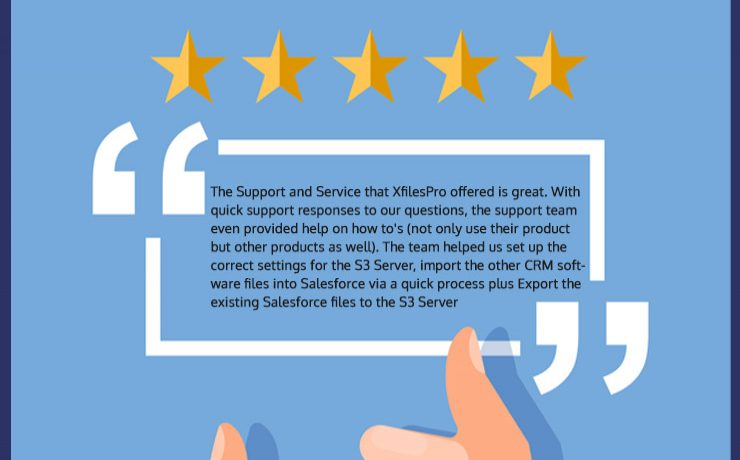 As a Salesforce external file storage solution, XfilesPro helped many companies resolve unique technological challenges related to Salesforce file storage with its vibrant features and functionalities. The other day when one of the biggest Australian non-profit organizations 'Leukaemia Foundation' faced stiff challenges managing their Salesforce files, they were looking for a solution which can help them store their Salesforce files in an external storage system and XfilesPro was the savior.
The challenge was not limited to storing Salesforce files externally, it was much bigger than that. When Leukaemia Foundation's Salesforce Admin Mike Fensom communicated with our sales team and explained them the problems they are facing, he said "We wanted to link over 6000 files from another CRM into Salesforce. But we know we will exceed our file storage limits." Mike's concern was any file storage solution would take a lot of time importing these many files to their Salesforce system and this process might impact business continuity as well as involves risk.
Adding 6K+ new files to Salesforce system from another CRM would definitely exceed the file storage limits and purchasing additional file storage space was an expensive investment. Seamlessly importing 6K+ files to Salesforce, then storing them along with the existing files in the external cloud storage (Amazon S3) and finally collaborating them all was not easy. High level of expertise was required and as always XfilesPro delivered the job.
Before storing Salesforce files in Amazon S3, the first action was to seamlessly connect 6K+ files from another CRM system into Salesforce without impacting the business process. XfilesPro's File Migration Utilities feature came into action and the application successfully linked all the 6K+ files with Salesforce objects without affecting the business process. XfilesPro quickly stored all the recently moved and already existing files in the external storage Amazon S3 and subsequently reduced the primary file storage space.
Also read- Effortlessly Store Salesforce Files In S3 With XfilesPro: A Step-By-Step Guide
XfilesPro also mapped all the existing notes and attachments and linked them all in one location on the page to make things easy for the users. Often it is difficult for Salesforce admins to configure third-party solutions, to simplify this, XfilesPro support team quickly completed the initial XfilesPro set-up and then helped Mike setting up their Amazon server to enable a smooth file transfer.
After a successful implementation, when we asked Mike about his experience using XfilesPro, he has some really kind words " The Support and Service that XfilesPro offered is great. With quick support responses to our questions, the support team even provided help on how to's (not only use their product but other products as well). The team helped us set up the correct settings for the S3 Server, import the other CRM software files into Salesforce via a quick process plus Export the existing Salesforce files to the S3 Server."
It's been quite a few months now that Leukaemia Foundation is using XfilesPro and whenever we reach them to know how things are working, it gives us immense pleasure seeing them happy and most importantly relieved. When a solution starts adding real business values rather than just offering a one-dimensional service, it becomes distinctive. And today, when we see XfilesPro placed itself at the top Salesforce external file storage and collaboration solution, we feel proud.
To know more about XfilesPro and how it can help you save huge Salesforce file storage costs, get in touch with our team.