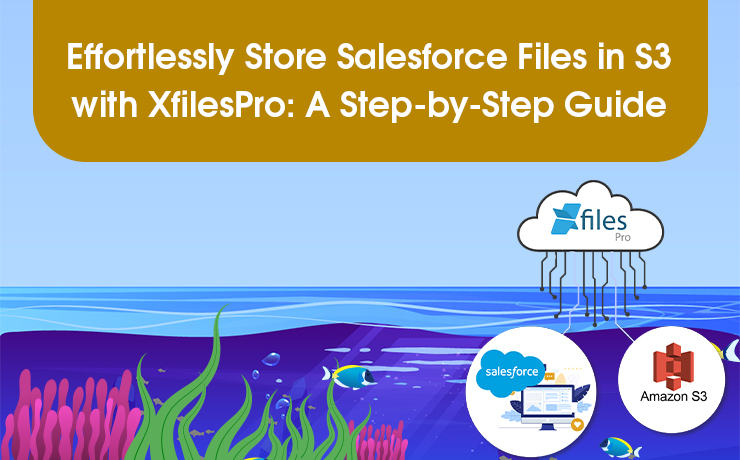 The Salesforce storage carries is a huge hoard of files. Limited storage results in chaotic and dissonant experiences for many. File management in Salesforce provides the user with many features and customization options, helps in navigating Salesforce files, and so on. But trust us, the platform's file-sharing controls can be confusing, leaving your business unsure about who has access to the sensitive information present in the files. And the most major issue faced by several Salesforce Admins is the time wasted on straightening this out. With all these above reasons, the possibility of creating discord in your business is something that will definitely happen in the course of time.
So, taking this issue into consideration, one of the most reasonable and firsthand solutions that can be used to sort this out is to integrate your Salesforce file storage to AWS S3.
AWS S3
AWS S3 is a storage service that is cloud-based by Amazon Web Services. This is one of the best ways for large businesses and organizations to store their files. It is highly durable, and scalable, and is also the perfect option to have your files stored without any limit. It is considered one of the top cloud storage solutions in recent times.
Salesforce File Storage x AWS S3
Salesforce has very limited storage and AWS S3 has unlimited storage. But how to make them mutually inclusive? How to put Salesforce files in S3? Salesforce Admins had been pondering over this thought. And we have come up with a solution. XfilesPro is the future of file management in Salesforce. XfilesPro File Management is a perfect integrator that helps in benefitting Salesforce from AWS S3.
Benefits of Using XfilesPro to integrate Salesforce File Storage & AWS S3
Having your Salesforce file storage optimized by integrating it into AWS S3, there is an ample amount of storage for new files, and the unavailability of storage in Salesforce will be out of the question. Salesforce files in S3 will be secure and easily available at the time of need.
When compared to the extra storage costs put up by Salesforce, AWS S3 has considerably better rates, which will help both large-scale and small-scale businesses to have their storing of Salesforce Files in S3.
If you are denying integrating your external storage to S3 thinking of the process of migration, then you still have not gotten a clear picture of XfilesPro file management. With the feature of initial file uploading, your desired amount of Salesforce files will be moved to S3. Hence the strenuous process of migration is automated with XfilesPro, your Salesforce files in S3 are not lost.
The Simplicity of Management
Some might be wondering about the management of files and how will one be able to find the files. Managing the Salesforce Files in S3 is no rocket science. There are no complications in uploading, deleting, or sharing files. Everything is well sorted as the Salesforce storage is integrated with XfilesPro file management.
Every day the amount of files that will get accumulated in your salesforce file storage is unpredictable. The numbers just keep increasing day by day. With the feature of XfilesPro's folder structure, Salesforce Files in S3 are all well organized and put up in the right folder structure.
Since working in an organization, it is highly critical to share files and sometimes it will be to share with the community users. But with XfilesPro's feature of file collaboration, internal and external teams can collaborate on the centralized files to improve the file management system and productivity. Also with the XfilesPro's feature of Bi-Sync, file collaboration is a breeze
How to integrate AWS S3 and Salesforce files storage with XfilesPro
Set up AWS S3 Bucket

Set up AWS IAM User:

Configure XfilesPro

Map Salesforce Files with S3 Bucket

Test and Verify and you are good to use.
A very simple process, but an ample amount of features and amenities. If you are still unclear on how to integrate XfilesPro file management for your Salesforce Files in S3 then setting up a call with our product express will be the best resort for you. Click here to
schedule your free demo.