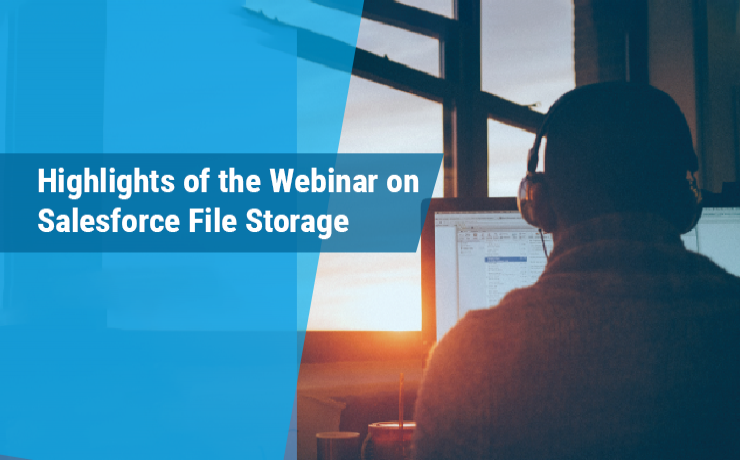 We would like to thank you for attending our latest webinar on Salesforce file storage titled "The Art of Managing Salesforce File Storage Cost-effectively". It was a pleasure hosting so many of you and we firmly believe the information that we shared during the session was informative. By now you must have got a full recap of the webinar along with other assets in your email from our support team. For those who missed the webinar this time, nothing to worry. We are going to give you all the highlights of the webinar here in this post.
The speakers of the webinar were Harish, Rachana & Nandakumar who are the core team members of XfilesPro. Harish started the webinar by giving an overview of Salesforce file storage and addressing the current challenges faced by most of the Salesforce customers when it comes to Salesforce file storage. As Salesforce offered additional storage cost is very high, most of the enterprises look for alternative strategies in order to manage their files and attachments. Storing Salesforce files in external storage systems is one of the best strategies which many of us consider. But, what about other related challenges with this including file accessibility, integration, collaboration, etc.? There comes XfilesPro.
Rachana, who is the Customer Success Manager of XfilesPro introduced the application and briefly talked about how it is efficiently addressing Salesforce file storage challenges with its unique features and capabilities. Salesforce customers can use XfilesPro to store & collaborate unlimited files in any external storage systems (Cloud/On-premise) with seamless integration & collaboration. She also talked about a couple of awesome real use cases of our current customers and how XfilesPro helped them save huge file storage costs.
During the closing minutes of the webinar, Harish took us on a short drive into the top XfilesPro features and benefits and explained how XfilesPro has mastered the art of Salesforce file storage management cost-effectively. Today, XfilesPro has a strong customer base with over 100 customers spanning over every industry.
Thank you again for joining the webinar & making it a huge success. We will be shortly going to announce our next webinar date and title of this webinar series on Salesforce file storage. Please follow us on our social channels to get all the updates about the upcoming webinar.
You can have a look at the webinar recording here & can download the webinar deck here.
If you have similar challenges, please schedule a demo with our team today.