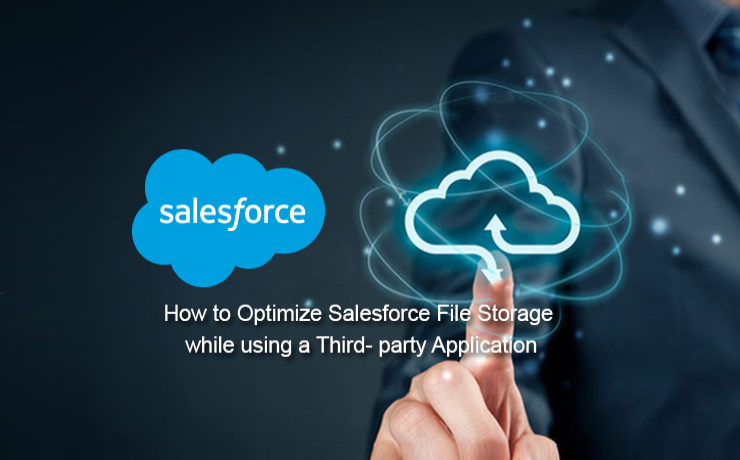 As the world's #1 CRM provider, Salesforce has been enabling multiple businesses with its world-class Sales, Service, Marketing, Community Cloud offerings, and helping them achieve crucial business goals. In order to meet modern-day customer demands, Salesforce frequently streamlines its features in order to help enterprises address their customer needs. To enhance the overall productivity and achieve certain business benefits in less time, enterprises using a Salesforce system often take the AppExchange route. AppExchange is the world's largest app marketplace where over 3600+ apps are listed with over 3+ million installations.
When a Salesforce customer uses any third-party application or any AppExchange managed package, they usually customize it in order to integrate seamlessly with their central Salesforce system and experience a centralized content management system. However, files generating from the third-party apps that get stored in the Salesforce primary file storage is a worry. Salesforce file storage comes with limited space and running out of the storage is very obvious. As additional storage costs are always on the higher side, enterprises often look for an efficient file management strategy. This is where XfilesPro comes into the picture and helps Salesforce customers future-proof their file storage with seamless external system integration. Let's have a look at a customer use case & see how they optimized their file storage with XfilesPro.
CL Services is a leading 3PL company dedicated to delivering the highest level of service in the logistics industry. They were using a third-party transportation management solution (AppExchange Managed Package) to manage shippers, brokers, and 3PL partners. This managed package was automatically generating a lot of files internally. They have generated a massive volume of files (430GB) & reached almost 155% of their allocated file storage. They didn't want to go for additional file storage space as the cost was on an extremely higher side. They were looking to upgrade the third-party application for better business performance, however unable to execute the same as the file storage was piling up & they have already run out of their file storage.
XfilesPro helped the customer integrate their Salesforce system with Amazon S3 for external file storage with seamless integration & collaboration. With XfilesPro they migrated all their files from their Salesforce system to AWS automatically without any manual intervention. They never have to take the pain of paying additional file storage costs & were able to reduce the load in their primary file storage. After implementing XfilesPro, their file storage space drastically reduced from 155% to 72% within a few weeks. This integration provided all the options to choose a better content management system for their entire organization & collaborate with the Salesforce system.
Talking about the implementation, the customer said "This is a great Salesforce App for migrating Salesforce File Storage to a cloud service such as OneDrive or Amazon Web Services. The team was extremely responsive and kept us aware of the project status the whole way. I would definitely recommend this App and will come back next time I need a project done for Data or File Storage in Salesforce."
XfilesPro offers a range of file storage options to integrate from multiple external Cloud storage platforms like (SharePoint, OneDrive, Amazon S3, Google Drive, Dropbox) to On-premise systems like (SMB, SFTP, Network Drive). The solution supports handling files generated from any third-party app or community portals as well. With its high customizable capability, XfilesPro helps Salesforce customers to blend it as per their unique business specifications. This makes the solution very unique and blended giving the customer amazing ROI from it. To see how XfilesPro can power up your Salesforce file management and help you optimize your storage, please request a demo.