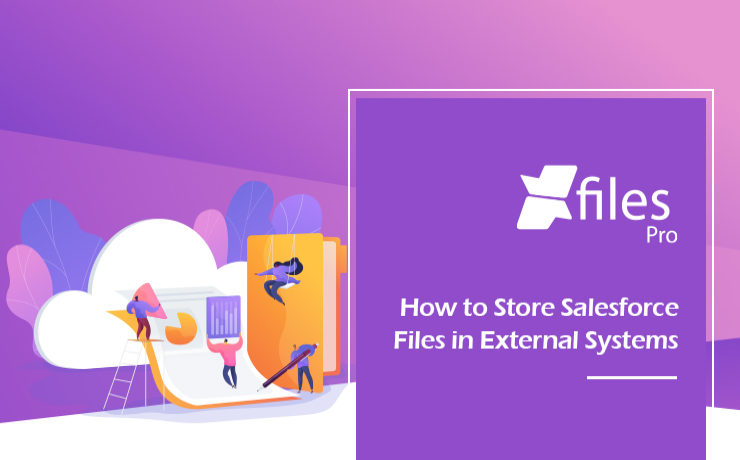 As the #1 CRM provider in the world for over a decade now, Salesforce has been helping businesses of every size & type unlock a strategic approach for 360-degree business growth with multiple business process automation. The platform has been a real savior for leading enterprises in streamlining crucial sales, marketing, service processes, and delivering exceptional customer service with improved sales and reduced costs & time.
In order to keep the application performance intact, Salesforce has certain controls in the platform and limited allocated file storage is one of the top aspects to mention. Salesforce users dealing with a lot of files and email attachments often look for a long-term file management strategy in order to optimize their file storage usage and reduce the storage costs as any additional storage provided by Salesforce comes with a hefty price.
Integrating external Cloud (SharePoint, S3, Google Drive, OneDrive, etc.) & On-premise (Network Drive, SMB, SFTP) storage systems have proven to be one of the most adopted & efficient strategies that help Salesforce users store their files in their preferred external system with a seamless 360-degree file collaboration. XfilesPro, the #1 file management & collaboration solution for Salesforce enables Salesforce files to automatically get stored in the external storage without impacting the native file storage & keeping the usage under control. The integration not only allows Salesforce users to avoid paying high recurring additional storage costs but also enables their application up & running without any hurdle.
So, let's have a look at how a Salesforce admin can start storing their Salesforce files in any of the external storage systems using XfilesPro.
Step – 1
Install XfilesPro from the AppExchange
The first step is to log in to https://appexchange.salesforce.com/ & type 'XfilesPro' in the top search bar. Click on the XfilesPro app icon to go to the listing page.
Click on 'Get it now' to install the app.
Step – 2
Configure (Integrate) external storage in a few clicks
The next step is to configure the preferred external storage within a few clicks. Once the external system is configured, it will be seamlessly integrated with your Salesforce Org & you can proceed with the next step to start setting up XfilesPro components.
Step – 3
Set up the XfilesPro components for desired objects
Once you are done setting up the external storage, next you can set up the XfilesPro components for the desired objects. Add XfilesPro components to the record page layout of the desired object from 'Page Layout Editor'.
Step – 4
Start exporting & uploading the files to the external storage
There we go. You are now all set to start uploading the files from your Salesforce Org to the external storage. This can be done with a simple drag & drop.
You can also upload multiple files at the same time. Files of any size & type (ppt, docx, pdf, xlxs, etc.) can be uploaded to the external storage as well.
Watch the video to see how external storage systems (SharePoint, AWS, Google Drive, OneDrive, Dropbox, On-premise) can be integrated with Salesforce in order to store Salesforce files with seamless collaboration.
XfilesPro is advanced file management & collaboration application for Salesforce that offers a wide range of file management solutions including external file storage, file collaboration, centralized content management, community collaboration, file/folder hierarchy management, multi-org file integration & large volume file migration, all with a high degree of customizable capabilities & in-built features to meet complex Salesforce file management requirements.
To know more & see a live demo, please get in touch here.
Watch This On-demand Webinar
Reimagine Salesforce File Management With XfilesPro