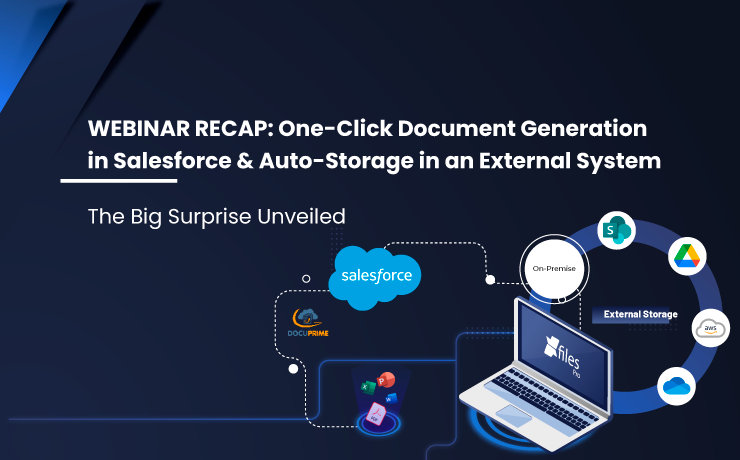 We did it for you!
We hosted yet another webinar session that gave us a feather in the cap!
It takes us immense pleasure to let you know that XfilesPro's latest webinar held on 6th July 2022 on 'One-Click Document Generation in Salesforce & Auto-Storage in an External Sysytem' became an outstanding turnout. We hosted many people who joined us live from all over the world! We've been blown away by the participants' overpowering response and we thank everyone from the bottom of our hearts for their valuable presence in our live event that marked our big success.
If you haven't attended the webinar because of any restraints and now FOMO gets a hold of you, we dedicate this blog to you. Here's a quick tour of all the occurrences that took place in the insightful session that can give you a high-level picture of something you missed out on!
XfilesPro – The Next-Gen File Management Application for Salesforce
For us, no way is better than beginning with XfilesPro!
Priyadarshi Sahu, one of our speakers, set the webinar in motion by recounting an intelligent approach toward file management automation in Salesforce, which is nothing but the implementation of XfilesPro. He dived deep into the five-star-rated AppExchange application's expertise to migrate massive files from Salesforce to any external system (OneDrive, SharePoint, Google Drive, Amazon S3, etc.) of the user's choice with just a click, at lightning speed. With his exposition of 'Auto File Export,' an important functionality and calling card of XfilesPro, the joiners got a deeper understanding of how the product can make their life easier and more productive.
As the audience got more excited to learn further, Priyadarshi expounded on various other features of XfilesPro, including file collaboration, external file integration, folder management, and file preview — which made the attendees bounce off the walls.
Now came about the most exciting part of Priyadarshi's session — What's New with XfilesPro? Indeed, this was something many guests seriously looked forward to as they are using XfilesPro and are thrilled to explore more capabilities of it.
Below are the two recent updations in XfilesPro that Priyadarshi kept in store for everyone:
Tagging for SharePoint: A feature that allows users to save tags against files on the file system as well as in SharePoint Document Libraries

to describe what the content contains

and what it does.

File Sync in Google Drive: An intelligent yet easy option to map the users' existing files in Google Drive or in their on-premise storage system that can also preview in Salesforce.
With all that said, Priyadarshi concluded his session by demonstrating a bird's eye view of XfilesPro in terms of numbers, which shed light on some interesting facts about the leading app and its dominance in the industry.
Announcing DocuPrime – The Next Big Thing
Now the time has reached to make the big announcement all were excitedly waiting for!
To blow the gaff, Sutirtha Roy, the Senior Consultant – CEPTES SOFTWARE, took the stage and unveiled DocuPrime, our latest native AppExchange application to automatically generate documents in Salesforce. Sutirtha explained at length how DocuPrime can open door to automation and how easily it eliminates manual efforts and time required to create error-free documents. Indeed, the announcement of DocuPrime during the webinar knocked down the audience with a feather.
As the discussion progressed, we got the audience's pulse, which made us excited to reveal more about this new product from the house of CEPTES. Sutirtha delivered an insightful take on the next-gen capabilities of DocuPrime (other than automated document generation) including unlimited versioning of templates, document preview, workflow & lightning flow, and eSignature. Altogether, Sutirtha's take clearly showed what all capabilities can make DocuPrime stand out from the pack!
How XfilesPro & DocuPrime Go Hand in Hand —The Twin Power
Now that everyone understood that DocuPrime had something to do with XfilesPro as the former enables document generation in Salesforce and the latter allows its auto storage in an external system. This was just what we wanted to offer through our novel concept named 'The Twin Power' or 'The Power of Two' — a powerful association between DocuPrime and XfilesPro that can use across different functions of an enterprise. Taking the concept to the next level, Sutirtha gave a live demo of the whole process — from generating a document in Salesforce to storing it in an external system — all with just a few clicks.
It's Time to Wrap Up!
As Sutirtha winded up his session, there were plenty of questions poured into us from the attendees' side! Our speakers answered a few of them in the final Q&A session and left the others with a promise that we would get back to them via email.
And, that's it!
Our much-awaited webinar buttoned up on a high note.
If you want to see the slide-by-slide presentation of the complete webinar, do check it out here! Else, if you prefer to watch the recorded version of the webinar, we've got that also for you. Watch it here now!
Don't forget to share this blog and stay tuned for more exciting updates to level up your Salesforce journey!