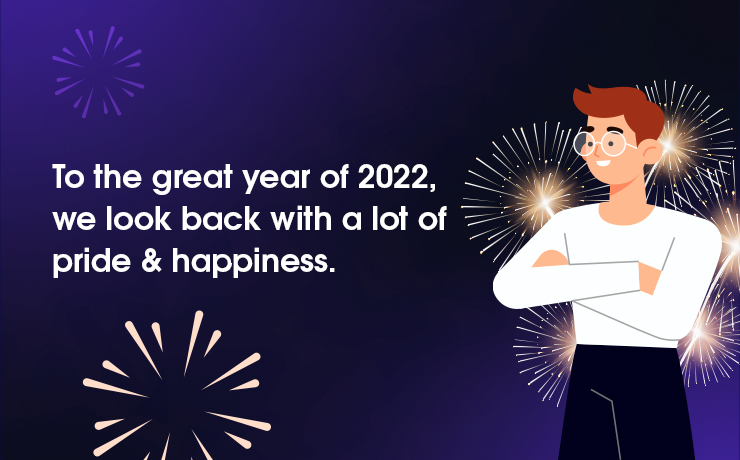 XfilesPro has been on a long venture. Our customer journey value had always been on point because our prime motive was always to have a customer-friendly experience on XfilesPro. Easing into the skin of the game for file management and external storage integration in Salesforce, XfilesPro has been the customer's favorite since its inception.
This blog is just our expression of gratitude through numbers and also gives an insight into how much you customers gave us this year. So, let's get started.
Closed Our 500th Customer
This was a number out of our reach when we first started his product. But with your interest in us, times have changed and we are frontiers in file management in Salesforce.
On-boarded 20 New Partners
We believe that collaboration is a much-needed aspect of today's business world. We slowly started with a few partners and now we have grown to have 20 partners.
XfilesPro DocuPrime was launched
Our latest baby XfilesPro DocuPrime came into existence this year. This top-gen Salesforce app is for creating documents automatically. Trust us, this is going to be a lifesaver in the near future of the Salesforce ecosystem.
Captain FiDo – Product Mascot of XfilesPro
Completing 9 years in the Salesforce ecosystem, we gifted XfilesPro with a new buddy, Captain FiDo. Being an empathetic and smart leader, hereafter you will have captain FiDo alongside joining you guys in the ocean of file management.
5 New Features were included in the App
To improve customer experience and usability, XfilesPro extended its functionalities with 5 new features. They are:
SharePoint Tagging

Google Drive Folder Syncing

SharePoint Online Support

SharePoint Online Folder Structure

Multi-org File Integration
9 years down the lane, we have 500k+ licensed users on a global basis. XfilesPro has been always the #1 file management on AppExchange and our customers have always kept their faith in us.
File management is a chaotic affair in the Salesforce ecosystem. But since XfilesPro is in the market, around 250M+ files have been uploaded to different external storages as per the customer's choice.
Files are an important aspect be it any field. XfilesPro is a versatile application that is being used across 17+ industries for their file management and external storage integration in Salesforce.
With loyal customers having our back, we receive a renewal rate of 98% which is increasing year by year. This number stands as a true testimonial and we are very much grateful for this tremendous renewal rate.
And now, with the year-end celebrations, and the Christmas and New Year Gala all around the world, team XfilesPro is content and happy for the hard work and dedication being paid off. Also, we wish you a very Merry Christmas and a Happy New Year.
If you are looking for a file management application for your Salesforce files, you have reached the right destination. Hop into the XfilesPro train and have a chat with our product experts to get an extensive guide on the #1 file management application AppExchange.