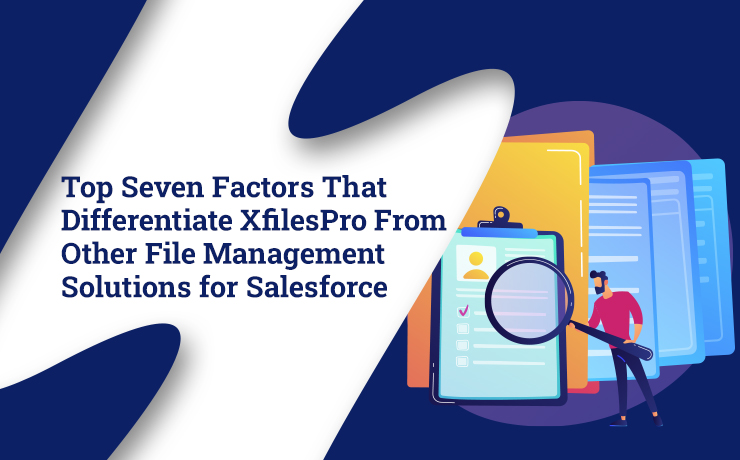 When it comes to managing the sheer volume of files & documents in Salesforce, most companies struggle to do it effectively; in short, efficient file management is a big difficulty for them. The presence of multiple IT systems or the trend of adopting multiple cloud platforms for running the business means that files can be generated & stored in several different places.
In most enterprises, using the Salesforce cloud platform, for business processes to run smoothly, it is imperative for the users to have unfettered access to the relevant files at all times. Managing & maintaining this access, regardless of the user's access level, is the real challenge most businesses encounter. This is where a robust file management system steps in to boost the company's efficiency & harbor business success.
What Exactly is XfilesPro?
As we discussed above, a Salesforce file management solution is extremely crucial in not only efficiently managing the files & attachments in Salesforce but in optimizing the file storage & improving the system performance also. One such extremely popular application on the AppExchange is XfilesPro.
This advanced file management & external collaboration solution specializes in helping enterprises seamlessly collaborate their Salesforce system with different external systems in a bid to store important files & attachments in them. What makes it a favorite among leading Salesforce enterprises is the fact that it performs extremely well with solutions like Sales Cloud, Service Cloud, Community Cloud, & others. It also boosts the ROI by 3X+, significantly improves the system performance, & helps in efficient compliance management.
For a more in-depth understanding of the app, check out this product datasheet.
But the AppExchange also has several other applications that claim to simplify the file management processes in the Org. In this case, how do users choose which application suits their needs the best & will benefit them in the long run? For their ease, in this article, we have pitched XfilesPro against some other file management solutions (available on the AppExchange) & will highlight some unique aspects that give XfilesPro a certain edge over its competitors.
XfilesPro vs Other File Management Solutions
Storage Support
While most file management solutions are compatible with either one or two external storage, XfilesPro easily supports a plethora of external storages & lets users seamlessly store files in their preferred storage. These include cloud storage like SharePoint, AWS S3, Google Drive, OneDrive, & Dropbox as well as on-premise systems like SFTP, SMB, & Network Drive.
Third-party Application Support
At times when enterprises leverage more & more third-party applications, like DocuSign, Conga, Litify, etc, alongside Salesforce to manage different aspects of their business, hardly any file management solution provides support for them. Whereas XfilesPro offers top-notch support for these third-party applications, offering an auto-trigger based file migration utility. Because of it the files generated from these applications are directly moved to the external storage, without anyone's manual intervention.
File Ownership
When using other applications that offer file management services, Salesforce users are often forced to store their files & attachments in the storage cloud belonging to the third-party application itself, thereby giving them limited ownership of their files. Whereas with XfilesPro, users can leverage their own external storage to store the Salesforce files in them, which gives them 100% ownership of their files. The solution also allows users to preview their stored files right from within the Salesforce platform.
Folder Management
When other file management applications are taken into consideration, hardly any of them makes the storage of files in the external storage so properly managed as XfilesPro. This is because XfilesPro lets users create customized folder structures in the external storage, keeping in mind the relationships between files. It also lets users migrate the existing file/folder structure in the external storage to Salesforce itself. This makes file accessibility & visibility extremely easy & doesn't even affect the integrity of the files.
Also Read: Why is XfilesPro the Most Comprehensive File Management Solution for Salesforce?
Large Volume Files Export
Among all the file management solutions in the AppExchange, XfilesPro is the only application that supports scheduled file export for a large volume of files into any external storage of your choice. Due to its initial offloading feature, users can export a large volume of already-existing files from the file storage in Salesforce to their preferred external storage in one go. The solution also supports long-term archiving of old, rarely-used Salesforce files in the external storage.
Bi-directional File Syncing
As far as the troubles of making changes to the files in Salesforce are concerned, XfilesPro is the only file management solution that offers bi-directional sync capability. This enables users to make changes in the specific file in Salesforce & have that change automatically reflected in the subsequent file stored in the external storage. Therefore, using XfilesPro, users don't have to go through the trouble of making changes in the files twice as changes made in one file are automatically reflected in the other.
Support for Community Users
When it comes to the Salesforce Org's community portal users, there is hardly any file management solution available that provides any kind of support for them. But not XfilesPro! In fact, the solution offers top-notch support to the community users, allowing them to upload files of any size limit to the external storage. In turn, the solution gives community users more access to the enterprise's internal Salesforce system.
So, there you have it! These conclude some of the most prominent differences between XfilesPro & other file management solutions in the market. We hope that this detailed comparison we provided helps you make a well-informed decision for your organization in terms of choosing an efficient & cost-effective file management solution.
In case you still have any doubts about XfilesPro or want to know more about its integration & external collaboration capabilities, get in touch with our experts & get all your doubts cleared. You can also schedule a quick demo to understand the features of the application better.