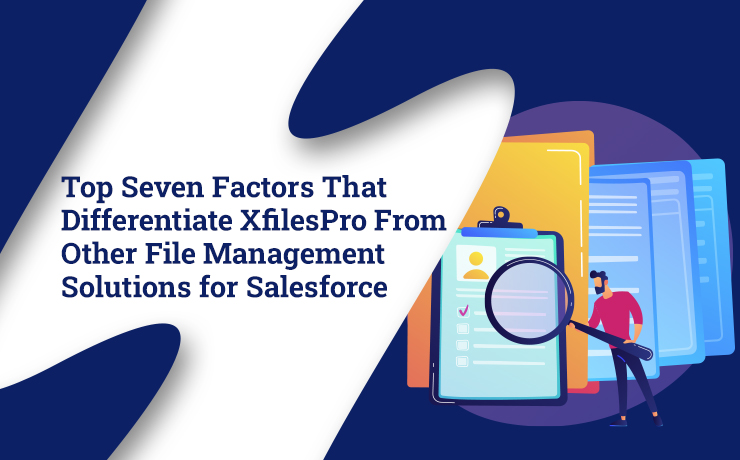 Last Updated: September 22, 2023
If you are a Salesforce customer, you might know that dealing with a large number of files within the app is always troublesome considering the platform limitations. Being the #1 CRM provider in the world, Salesforce powers organizations to boost their sales, marketing & customer service processes. However, it can't be considered as an advanced document management system because the platform doesn't include this in its core capabilities.
The presence of multiple IT systems and, the trend of adopting different cloud platforms for running a business while using Salesforce as the centralized CRM means, files will be generated from different sources & ultimately get stored within the Salesforce app. Now with the limited file storage space that Salesforce offers, it becomes extremely challenging to maintain all the documents in one place with easy access, collaboration, and sharing. This is why the need for a powerful document management system becomes essential to drive higher business efficiency & harbor customer success. And XfilesPro masters the art of document management in Salesforce.
What is XfilesPro?
XfilesPro is an enterprise-grade file management application for Salesforce. Available on the AppExchange, this 5-star rated application offers seamless integration between Salesforce & other external file systems such as SharePoint, Amazon S3, OneDrive, Google Drive, and On-prem. XfilesPro customers easily move Salesforce files to their external storage without losing access to their Salesforce files. This ensures Salesforce org never runs out of its file storage limits while customers can save high storage costs.
Along with this, XfilesPro also offers multiple additional features to improve the Salesforce CRM experience while managing documents efficiently. Salesforce compatibility is one of the best functionalities of XfilesPro as it can be used for all types of major Salesforce apps including Sales Cloud, Service Cloud, Industry Cloud, Platform Apps, AppExchange Applications, Salesforce1 mobile, etc.
Objectives to use XfilesPro
XfilesPro is being used by Salesforce customers to meet certain key file management objectives. Some of them are;
Better Storage Optimization:

With external storage integration, customers can optimize their Salesforce file storage. This will help them to always be within the allocated file storage limits and prevent paying additional storage upgrade costs.

Enhanced File Collaboration:

With XfilesPro, users can seamlessly collaborate on files with different internal & external users. This includes file sharing, view, access, edit, and much more. To maintain security standards, access control features are in place.

Centralized Content Management System:

Customers use XfilesPro to build a highly centralized content or document management system that can bring documents from multiple Salesforce apps, or connected external platforms & keep them in one place for better business results.
7 Reasons to Choose XfilesPro Over Similar Salesforce File Management Applications
While most of the file management applications for Salesforce offer similar kinds of features, there are certain aspects where XfilesPro has a distinctive edge over its competitors. Let's have a sneak peek of 7 top reasons why Salesforce customers choose XfilesPro;
Easy Setup & Quick Configuration
Integrations are always complex & time-consuming. While most of the file management applications are complicated to set up & use, XfilesPro comes with a super easy setup & configuration process. You can start moving your Salesforce files to external systems within minutes.
Connect with us to set up the app & start a free trial.
Highly Reliable
XfilesPro is a 9+ years old product with a track record of delivering excellent customer service. With over 100+ reviews on the AppExchange, the application is rated as a 5-star. On the other hand, we are known as one of the most trusted Salesforce partners & currently serve 1000+ global customers.
Read what customers say about XfilesPro.
Aligned with the Salesforce Ecosystem
As a product, XfilesPro is completely aligned with the Salesforce ecosystem & it's future. As mentioned earlier in the blog, XfilesPro supports all major Salesforce apps, AppExchange apps, force.com apps, and Salesforce1 mobile.
Large Volume File Migration
One of the most unique capabilities of XfilesPro is that the application can migrate a large number of files from Salesforce & offload it to the external storage system. The process is easy, automated, and highly reliable. This will help customers optimize their file storage space immediately. A customer can use this feature as many times as they want.
Bi-directional Syncing of Files
Files moved from Salesforce to the external storage are synced from both sides. So a user having access to both applications can view, access, edit, and share files from either end. If a file is being edited from one side, the changes will automatically reflect in the other app as well. Another benefit of this feature is that non-Salesforce users can upload files to the external system, and Salesforce users can view it within their app.
Folder Structure & Syncing
The beauty of XfilesPro is that it offers not one, but two folder design options. Users can keep migrated Salesforce files within specific folders in their external system. Folder structure either can follow a template offered by XfilesPro, or customers can build custom folders. For customers moving to Salesforce from a legacy system, their existing files/folders can be synced to their new Salesforce app using XfilesPro.
Community User File Migration
XfilesPro supports Experience Cloud. Files getting uploaded from community users can be moved automatically to the external storage without any manual intervention.
So, there you have it! These conclude some of the most prominent differences between XfilesPro & other file management solutions in the market. We hope that this detailed comparison we provided helps you make a well-informed decision for your organization in terms of choosing an efficient & cost-effective file management solution.
In case you still have any doubts about XfilesPro or want to know more about its integration & external collaboration capabilities, get in touch with our experts & get all your doubts cleared. You can also schedule a quick demo to understand the features of the application better.