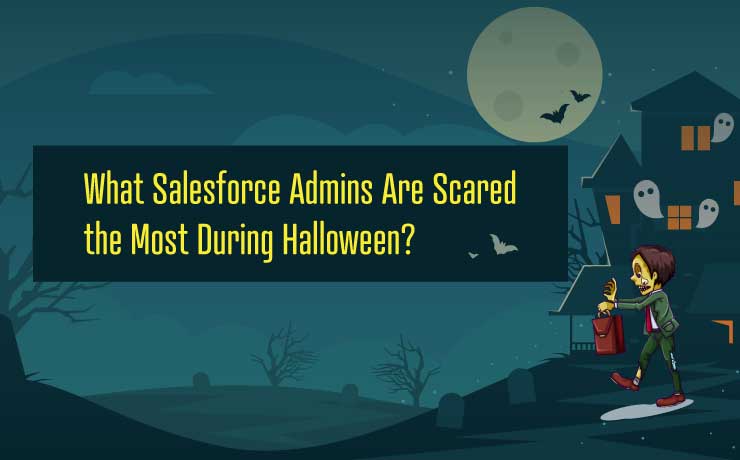 Raise your hand if you never expected to receive a ghostly greeting from your Salesforce CRM. If you are urged to raise, consider the monstrous volumes of files you manage within the application every day.
Did those volumes never send a chill down your spine? Don't the file ghouls make fun of your document management processes within Salesforce?
We know your answer is a spooky 'YES.'
While witches ride the broomstick, and dreadful dreams haunt your nights, let's discuss the top five nightmares of Salesforce admins when it comes to document management. The fang-tastic part is that we have the perfect solutions to address each of your nail-biting concerns.
So, let's begin!
File Storage Space – The Tombstone
Here's the eerie sign! As you generate a horrifying volume of files due to many means such as email attachments, 3rd-party apps, or user uploads, the limited file storage space of Salesforce seems to be a scaredy cat, cautioning you with the red alert. If you hit the storage cap or are almost on the way there, it will be terribly difficult to manage big-sized files and you'll also suffer from the slow-loading Salesforce application. In a nutshell, your life will be gruesome afterward!
The Tricky Tip: Try out XfilesPro, the killer and most recommended document management app ever built for Salesforce. With XfilesPro implemented in the Org, you can finally sit and relax as document management is no longer a frightening experience. Addressing your storage overload concern, XfilesPro migrates your files from Salesforce to any of your preferred external storage such as SharePoint, Amazon S3, Google Drive, OneDrive, and on-premise platforms. This storage optimization happens through the bootiful integration that XfilesPro enables between Salesforce and your external storage.

Dreadful Cost on Extra Storage Purchase
Can you keep calm and carry a wand when the Salesforce file storage crosses its deadly limit? NO! You'll wander for solutions. Obviously, the first solution that strikes your mind would be the purchase of extra storage space from the biggest CRM provider. But do you know that the purchase decision would cost you an arm and a leg? No superstition, it's real that you need to pay exorbitant money for some extra storage space. Is that something your dreamy, growing business demands?
The Tricky Tip: With XfilesPro, you can bury the nightmare of buying additional file storage space from Salesforce. Through effective external storage integration, XfilesPro clears up your storage space and lets your CRM breathe freely. So, you don't have to break your head over this wicked plan of storage upgrade.

The Vampire Attack on Files
No. You can't rest assured that there's no ghost trying to get into your Salesforce files. There are evil hands always around your files. No matter how reliable and powerful your external storage is, once you decide to move your Salesforce files into it, you need to be cautious about its security. Because there are high chance that your files could land in the hands of unauthorized users. Considering this frightful possibility, how would you achieve peace of mind that your files are safe from evil attacks?
The Tricky Tip: Everything's better with a little magic. The magic here is XfilesPro. XfilesPro safeguards your migrated files in the external storage with its Access Control capability. With this weapon, XfilesPro empowers you to control who can view and access your migrated files in the external storage. Access Control is a great step to ensure that the files are absolutely safe from unauthorized access even if it's a full moon tonight.

The Creepy Way of File Arrangement
It's dreadful that within Salesforce, admins have limitations in arranging files in specific folders as per their business process. So, it's going to pose a deadly impact on the overall file management experience for you. When the files are scattered, their availability, search, and access will be in question and you will undergo a terrific experience handling the huge file volumes. Tell us, do you wish to create a customized folder structure to arrange your Salesforce files?
The Tricky Tip: XfilesPro understands the Awesome Admins' requirement for a customized folder structure in the external storage. So, the application helps them to build their preferred folder format in the external location in a way that makes sense to their processes. So, there's no more frightening experience with file search or accessibility. You can easily eat, drink, and access files without being scared of the uneasy experience.
Learn more about XfilesPro's smart Folder Structure functionality here.
Unsynced Files – The Witchy Part
Now you know how to move all your Salesforce files to the external environment so easily like witch driving a broom. But what if you need to access those files in Salesforce post-migration? If the Salesforce records are not matched with the respective files in the external repository, how will you conduct seamless and effective operations? Even the thought of processing workflow with unsynced files could make your blood run cold.
The Tricky Tip: Here's where XfilesPro again brings the lantern of hope to admins like you. With its 'Folder Sync' functionality, XfilesPro efficiently syncs Salesforce records with respective files (migrated) in the external storage. So, you'll never have to worry about a scenario where you need to access files within Salesforce. Even after their migration to the external storage, the Folder Sync retains them in Salesforce and you won't feel any change in the user experience.
Brrr…It seems your Halloween is pretty calm this time. Enjoy your holidays without being worried about the file management hurdles in Salesforce. XfilesPro is here to save your life!
Bugs and hisses to you!