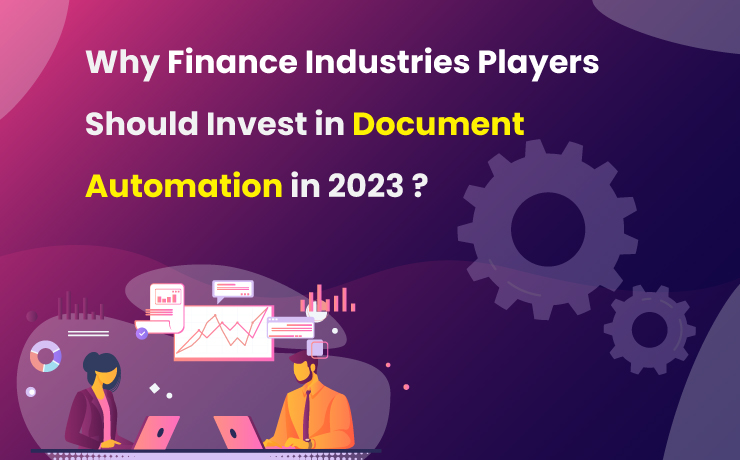 Ditch manual document generation as it is the bottleneck for growth and change
The financial industry is like a can of worms with data. They have to be handled very well or else the aftermath can be very catastrophic. Your bank statements, cash flow statements, balance sheets, and expense reports are something that is very critical to your business. With digitalization hitting everywhere, the urge to go paperless has come in as the new trend. When you go paperless, another important development in this stage that you will have to incorporate is to start creating your documents manually.
In the current digital landscape, being in the Salesforce CRM, maintaining competitiveness is difficult when employees are burdened with laborious manual tasks, including paper-based processes. To thrive, financial industries must adopt solutions that streamline workflows, optimize processes, and enhance efficiency, enabling faster and higher-quality value delivery. Document automation emerges as a transformative solution revolutionizing financial business operations for the better.
Little Light on Document Automation
Document automation is the process of automating all your document generation processes within Salesforce. Each time manually fetching your data from several Salesforce objects is only going to lead to more and more errors. Financial industries that are using Salesforce CRM can transform their digital journey by incorporating a document generation application for their needs. This will give you credit for concentrating on many other aspects of the job to satisfy your operational efficiency.
By leveraging the advancement of technology, your financial documents can be automated to streamline the process of creating, capturing, and processing data from complex documents with zero to minimum human intervention.
5 reasons why should invest in document automation application in Salesforce
Strengthened Adherence to Compliance Standards
Being in the finance industry, one thing that you have to be very particular about is how secure your documents are. You cannot elude settling for a tiny compromise when it comes to the security of your financial documents. The financial industry is one that comes up with a lot of audits and several other procedures. Automatic document generation can bridge your inconsistencies and can easily demonstrate compliance with regulations and provide a clear record during an audit. Also through auto document generation, there is no chance your data moves out of Salesforce and has zero exposure to external platforms. This ensures the highest security and compliance adherence.
Some of the major financial documents are income statements, cash flow statements, debit and credit notes, purchase orders, late payment notices, and so on. All of the above require to have some data fetched from several Salesforce objects. If going for a manual process, this can bring in a lot of inconveniences and errors that can sometimes be irreversible. Hence document automation will be your cathartic escape as all your document processes right from fetching the information to the e-sign will be automated, making every process a breeze with net zero errors.
Augmented Productivity Leads to Improved Profitability
In the finance industry, documentation stands as a testimony for transparency and also ensures accuracy. And to create documents, one has to be specific with the details. Fetching them and constructing a document for different needs is really time reckoning. But give automating your documents a chance and you can see these tedious tasks unwinding into easy and good-to-go documents. With the power of automation, your finance documents can be processed in a matter of time that is directly proportional to your profit rates.
Managing Versions and Ensuring Uniformity.
Another perk of using a document generation application for Salesforce is that it also automates your workflow. Being in the financial industry, there will be times wherein you will have to collaborate with several other users too. But with so many of them working on one finance document, it can rupture the confidentiality bubble of the document and also maybe lead to several loopholes against sensitivity. With automation, you can maintain versions and also make sure strict uniformity is achieved when it comes to your brand perspective.
Improved Customer Satisfaction and Experience.
Be it any business, customer experience is something that should never be overlooked. Today when everything in the world is severed on a ready-made platter as per the wish and will of the customers, even a tiny bit of botheration can make you lose your customers. With document automation, your customers will be looking at an error-free, crisp and clear, sharp document and a speedy process that will deliver exactly what they need. Since everyone appreciates a transparent and clear financial document, it will result in a stellar customer experience bringing you more and more customers.
Meet XfilesPro DocuPrime – Your Perfect Automatic Document Generation Application for Salesforce
XfilesPro DocuPrime is a big name for document automation applications in Salesforce. With its fine features such as Existing Template Import, Template Access Control, Customized Template Creation, Multiple Document Type Support, E-Signature Attachment, and so on, several financial industry giants have been already using XfilesPro DocuPrime and already reaping great success and have broken the barriers of productivity. With one click it helps to create documents automatically fetching data from multiple objects. And also it works 100% native to Salesforce.
Also read: How XfilesPro DocuPrime Can Help You Enhance Speed And Accuracy With End-To-End Auto Document Generation In Salesforce?
XfilesPro DocuPrime is always a savior as it is cost-efficient, time-saving, and can create your documents in bulk with the utmost quality. It is high time you automate your documents in Salesforce and get your hands off the dirt then you have to talk to our product experts. They will give you a comprehensive understanding of the product. Click here to schedule your personalized call.


Hopefully, See you on the other side.