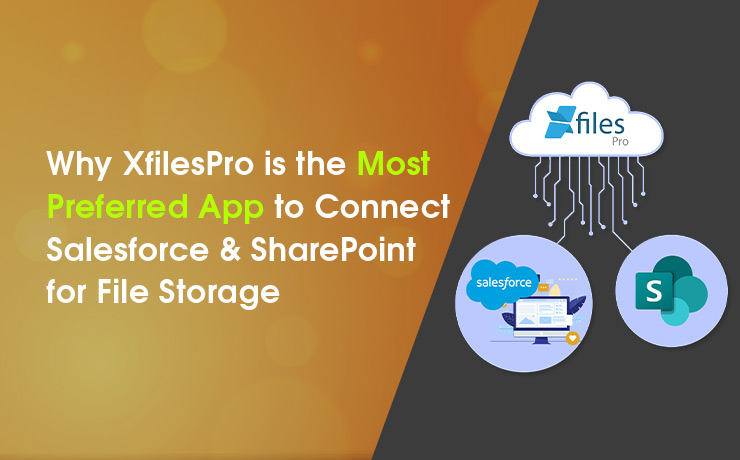 Have you ever wondered why XfilesPro stands out from other file management and external storage integration applications for Salesforce, which ranks at the top of AppExchange even after almost a decade of this app coming into the industry?
If you ask us, it is because of the capabilities we extend to SharePoint users.
XfilesPro is your perfect partner to get your Salesforce file storage optimized by helping you to route a way to the desired external storage. The external cloud storage systems that XfilesPro supports are as follows:
SharePoint
One Drive
AWS S3
Google Drive
Along with these, XfilesPro also supports Salesforce file upload into external On-premise systems such as SFTP, Network Drive, and SMB.
In this blog, there will be extensive guidance on how Salesforce users have an upper hand when it comes to having their XfilesPro integrated with SharePoint for file storage optimization.
SharePoint is the most preferred platform if you are looking for an intranet-based cross-collaboration experience that enables secure sharing, content management, and workflow collaboration features among the employees in your organization. To help both Salesforce & SharePoint users collaborate & maximize the ROI of these platforms, XfilesPro offers exclusive features for the SharePoint platform.
Let's go through the features one by one to understand the efficiency and also how it will enhance your overall workflow.
SharePoint Tagging
XfilesPro functions as a conciliatory that allows tagging the content against specific columns. It helps the user to make smart arrangements and also to know about the contents of the file without opening it. One can view the same file on SharePoint too with the help of XfilesPro by not changing the template of the file.
View Version History
While working in an organization, on a day-to-day basis, you stumble upon a lot of document-related queries. Sometimes it can be to draft a document, share a document, view a document, give access to a document, and so on. Thanks to SharePoint, you can control access to the documents that you have ownership of. When putting up a document on intra-style premises, there will be others who have permission to edit or view the document. So, if someone has edited the document, you can view the version history even through XfilesPro without leaving the premises of your Salesforce org and vice versa.
Template Creation
Whenever you are creating a template in SharePoint, automatically subfolders will be produced as per the requirements. This will avoid the manual creation of folders and subsequently enhance your productivity and help in keeping the files more organized.
File Sync
XfilesPro mirrors the tagging to either of the storage systems (Salesforce and SharePoint) each time a new file gets added. The above happens due to the Bi-directional Sync feature.
File Archiving
XfilesPro facilitates having the files archived if not in use and will retrieve them when needed. The archived files can be viewed from either the Salesforce storage or SharePoint at your convenience.
SharePoint has always had a close association with XfilesPro. SharePoint users have really been benefited way more than any other external cloud storage users. Most of our customers have been using SharePoint and reaped success when it comes to file management. Rest assured you will not be disappointed by this move.
If you are looking for future-proof file management for Salesforce and would like to rev up your file storage optimization in Salesforce, then XfilesPro is your perfect partner. Schedule a meeting now with our product experts to know more about it