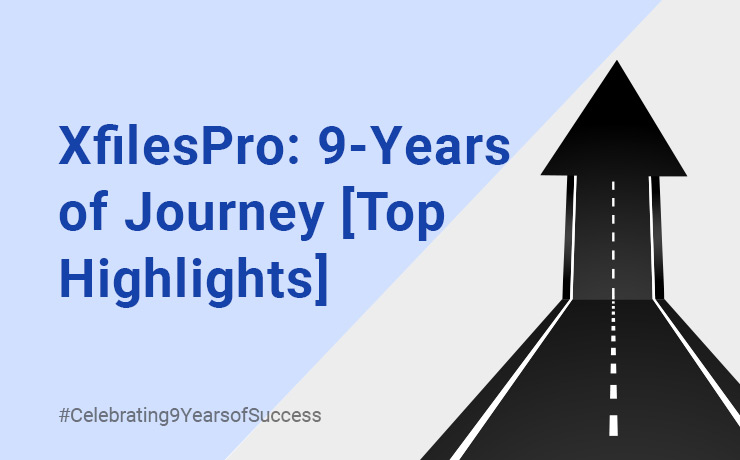 XfilesPro is the #1 File Management and External Storage Collaboration Solution for Salesforce in AppExchange. It has been 9 years since XfilesPro came to the industry and has been doing wonders. With its birthday around the corner, get ready to witness the journey of your favorite storage optimization app in Salesforce.
2012
This was the year the App was launched. It was initially christened EXTFM.
2013
EXTFM was renamed as 'Xfiles' with being listed in the "AppExchange". It was launched as a free app supporting only AWS S3.
2014
We started getting our valuable 5-star reviews alongside 10+new addition of customers. We extended our external platform support to Dropbox & Box.
2015
Xfiles was again relabeled as XfilesPro and became a paid app. We became a growing family with 15+ customers and started supporting on-prem storage platforms.
2016
Our core achievements for the year were
5K+ licensed users

Reached 100+ total customers

Onboarded 30+ new customers

4 new releases

Added Google Drive as external storage

Footprint in 5+ industries
2017
Our numbers started growing to these:
20K+ licensed users

Added 40+ more new customers

4 new releases

5+ industries

20+ customer reviews

New features like folder structure, file collaboration, community user file management, etc.
2018
We were gleaming proudly in the industry watching our success grow over the years with the below numbers:
Reached the landmark of 100+ customers

50K+ licensed users

60+ new customers

The footprint of over 8 industries

30+ customer reviews

Showcased at Dreamforce
2019
This year was a game changer for us with the below exciting numbers
100K+ licensed users

10+ industries

40+ customer reviews

80+ new customers

80%+ renewal rate

Rolled out game-changing features like multi-org file integration, external file sharing, file view within Salesforce, etc., showcased at Dreamforce.
2020
No pandemic was able to break our hard work and success as you can see in these numbers.
Positioned XfilesPro as a complete file management app with next-gen features like auto file export

Bi-directional sync and file collaboration

200K+ licensed users

On-boarded multiple enterprise customers

250K+ licensed users

90+ new customers

12+ industries

90%+ renewal rate
2021
Our consistent long haul has helped us reach where we are now. We owe it all to our customers for giving us the below numbers.
Included SharePoint & OneDrive as external storage for Salesforce files,

100+ new customers on-boarded

350K+ licensed users

15+ industries

On-boarded 2 new partners

95%+ renewal rate

60+ customer reviews
2022
It was an exciting year for us to have been blessed with several customers and partners.
100+ new customers on-boarded & still counting,

450K+ licensed users

17+ industries

98% renewal rate

10+ Fortune 500 customers

7+ partners

Rolled out exclusive features for SharePoint users

70+ customer reviews

With the arrival of Captain FiDo

Showcased at Dreamforce

The new capability of one-click document generation in Salesforce
2023
We are more robust and wiser than in our yesteryears. With 9 years of expertise and several new strategies, XfilesPro is upscaling its game through several customer-friendly innovations. Stay tuned for more information.
We are grateful for all our customers are well-wishers who have traveled with us through the journey and were equally a part of our success. If you are looking to be a part of our journey, then schedule a call with our product specialists and get your queries and concerns addressed.