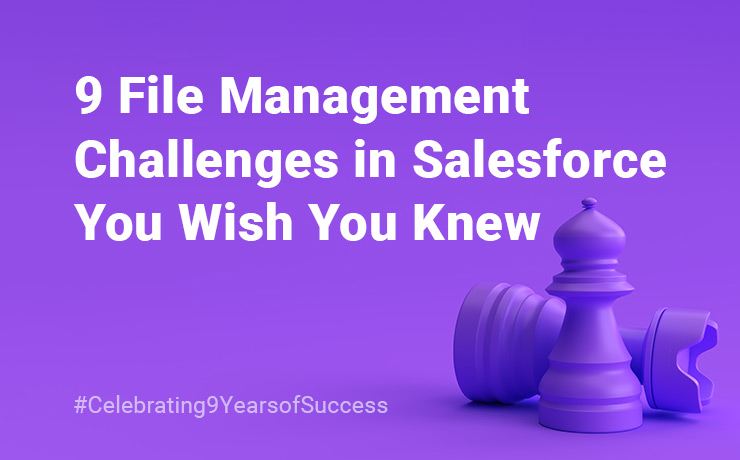 File management is one of the most important challenges every Salesforce admin faces. Managing and retaining files are very crucial to any business be it big or small. The problems one can encounter with file management are numerous. There is no dynamic solution within Salesforce to help you free of this misery. Hence with the limited Salesforce storage concern, file management has become quite a task for several customers. Before taking up any decisions regarding your file management query, go through these challenges which we are sure you will face while managing your files on Salesforce.
Unmanaged File Growth
Every Salesforce Admin bumps into this issue. There is no escape from this. There are files going to pile up every day if you are running an enterprise. Hence this is a problem where the kill is not the cure.
Pro Tip: There is one thing that can help in making this an unsustainable issue. XfilesPro, the leading file management app on Salesforce AppExchange supports storage optimization making this an intermittent problem.
File Storage Limitation
Salesforce provides limited initial file storage for all its users. With the accelerated growth of files, buying extra storage is not a cost-effective option. The storage limitation gets filled up pretty soon and we are left with the choice of purchasing a new storage limit.
Pro Tip: XfilesPro helps in the optimization of file storage by supporting external storage integration to Salesforce. This helps move the files to external storage (SharePoint, S3, Google Drive, OneDrive, On-prem) freeing up the space in Salesforce.
Seamless File Collaboration
At times, you come under circumstances wherein you are supposed to collaborate with different teams on projects wherein file sharing and collaboration are very much fundamental. But seamless file collaboration was always a big issue in Salesforce. This is one challenge that is very hard to tackle.
Pro Tip: With the integration of XfilesPro into your Salesforce, with the feature of file collaboration, the files can be exchanged easily. Internal and external teams can collaborate on the centralized files to improve the file management system and productivity.
Difficulty in Integrating External Systems for File Storage
It is not an easy task to have an external system to get integrated into your Salesforce storage to have it optimized. It is really a tedious task and also a very time-consuming process. It kills a lot of time that could otherwise be used to be more productive.
Pro tip: XfilesPro is one of the top preferred solutions by Salesforce experts who face the issue of storage optimization on a daily basis. XfilesPro works as a perfect pathway to have your external storage to be integrated with your Salesforce Storage.
Inadequate File Visibility & Accessibility
This problem is encountered when you have your Salesforce storage integrated with external storage or there is a bad organization of files. In either of the above circumstances, it will be a mess when it comes to fetching or searching a particular file.
Pro Tip: XfilesPro is to your rescue. This app supports the feature of file visibility and accessibility wherein you can view your Salesforce moved files from the Salesforce storage itself. It also helps in the proper file organization by adding more brownie points to your solution.
File Archiving
File Archiving is wherein you are providing a secondary file destination storage option for your file so that your Salesforce storage can be freed or optimized. In Salesforce, the option of finding secondary storage for archiving is very difficult which in turn has become a serious issue.
Pro Tip: XfilesPro's feature of file archiving has made it very easy to have your files archived in your desired external storage. By doing so, the files can be fetched from either of the storage options at the need of the hour.
Organized File/Folder Structure
File organization is one of the biggest concerns that has always haunted Salesforce users. With the huge pile-up of files, it is very difficult to have your files organized and establish a hierarchy system among them. Most of the time this results in file loss.
Pro Tip: XfilesPro helps in having a devoted folder structure and establishing file hierarchy when integrated with external storage. By doing so, one can have a clear and distinct idea about where to find a particular file.
Centralized File Management
Centralized file management is the best option to eliminate the hassles of shared folder management. But in Salesforce this action is quite chaotic and difficult to undertake. Henceforth having folders shared across many entities will lead to losing the authority of access and sometimes results in the leakage of confidential information.
Pro tip: XfilesPro has come up with a feature of Centralised file management that helps in beating the above-mentioned concern. This feature lets users bring files from different sources and manage them from a single location.
File Sharing with External Users
Not every entity at an enterprise should necessarily hold a Salesforce org. There are several files in Salesforce that are to be accessed by external users. In these circumstances, it is very difficult to have the files shared at crucial times.
Pro Tip: XfilesPro facilitates a feature called community user support to eradicate this challenge. Having this feature helps in getting your Salesforce files stored in a common space that can be accessed by both internal and external users. This in turn helps in getting the storage space optimized.
Phew! That was a long list of challenges that a Salesforce user comes to encounter on a daily basis. But the most electrifying part is that XfilesPro has a solution for all the strong concerns on Salesforce. XfilesPro is getting better and better. With its new update, XfilesPro is now capable of document generation. Cool, right? This is the right time to take your decision on having your Salesforce challenges to zero. Come on! Set up a meeting. You can have all your doubts and queries answered by them. Make the wise decision to have XfilesPro integrated into your Salesforce and be a pro at file management.