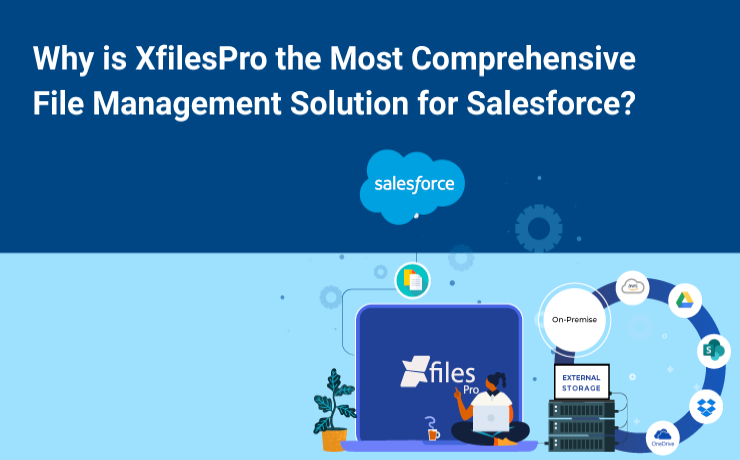 Every day, Salesforce enterprises generate, modify, & delete a massive volume of files owing to their various processes. Files (like documents, spreadsheets, images, Google documents, proposals, reports, agreements, etc) possessing sensitive information & being extremely important for the enterprise, need to be precisely & carefully managed in the CRM system. This is the reason why most users expect the Salesforce CRM to be much more than a simple document repository.
When thinking about Salesforce file management, users should take into consideration various aspects including creating, storing, modifying, transferring, copying & deleting necessary files in an efficient manner. With an efficient Salesforce file management system in place, users can enhance their presentation skills, boost the business productivity, & reduce their stress levels. One such popular file management solution for Salesforce users is the AppExchange solution, XfilesPro.
XfilesPro: A Dependable Salesforce File Management & Collaboration Solution
By definition, XfilesPro is an advanced file management & external collaboration solution, designed especially for the Salesforce system, that performs extremely well with solutions like Sales Cloud, Service Cloud, Salesforce Platform, Experience Cloud, & others. This application helps Salesforce users seamlessly store & collaborate their important files & attachments with different external systems. These include cloud storages like SharePoint, AWS S3, Google Drive, OneDrive & Dropbox as well as on-premise systems like SFTP, SMB & Network Drive.
Also read:
Document Management in Salesforce: A Brief Introduction to its Best Practices
This highly customizable & admin-friendly application is loaded with various exceptional features like 360-degree file collaboration, large volume file migration, centralized content management, and top-notch file/folder management. What's best is that by using XfilesPro, users can not only optimally & hassle-freely manage their Salesforce files but can also cut back on their file storage costs significantly & enhance the business growth, without compromising on their user experience.
What makes XfilesPro a Complete File Management Solution for Salesforce?
In the course of efficient file management, Salesforce users often encounter some common challenges like lack of proper folder structure, unmanaged file hierarchy, critically-rising file storage costs, difficulty in syncing files from multiple sources, & difficulty in adhering to internal guidelines & compliance directives. In this article, we are going to shed light on some unique aspects of XfilesPro that are useful in overcoming the above-mentioned challenges, making it a complete file management solution for the Salesforce system.
Support for Different Salesforce Apps

– One of the primary reasons behind the immense popularity of XfilesPro amongst all Salesforce file management solutions is its ability to work well with multiple Salesforce apps. As mentioned before, the application functions effectively with

primary solutions

like Sales Cloud, Service Cloud, Experience Cloud & more. In addition to them, XfilesPro is also compatible with

custom Salesforce applications

designed on Force.com including different sales applications & ERP solutions. Not only this, XfilesPro can also be used to effectively manage files generated from different

third-party AppExchange applications

that an enterprise might be working with.

Seamless Integration Capabilities

– Another important USP of XfilesPro is its capability to establish seamless integration & collaboration between the Salesforce system and different external storage systems. Now this includes both

Cloud-based & On-premise storage systems

. All major cloud storages like SharePoint, Google Drive, AWS S3, OneDrive & Dropbox can be integrated with Salesforce using XfilesPro, as can on-premise storages like SMB, SFTP & Network Drive.

Large Volume File Migration (File Archiving)

– Even though its a fairly new capability, XfilesPro now also allows Salesforce users to

migrate a large volume of Salesforce files

& attachments (usually redundant & rarely-accessed files) from the primary file storage to the external storage of the users' choice, in a way

archiving those files

. What's worth mentioning is that this offloading of files can also be

scheduled in advance

or can also be

trigger-based

, cutting back the need for any manual intervention.
You can also watch the
video recording
of our recent webinar on the
file archiving capability
of XfilesPro.
Hassle-free Collaboration

– With XfilesPro, Salesforce enterprises can easily set up seamless &

secure collaboration among their internal teams & external users

. This comes in handy when crucial information has to be shared among different users, all working on a single project. Such collaboration also ensures that though files are stored externally & managed from a central location, they are available to anyone who needs to view, edit, download or share them.

Centralized Content Management

– Another feature that makes XfilesPro a complete file management solution is its ability to provide a

centralized content management platform

for Salesforce files/attachments generated from different sources & scattered across various systems like Salesforce, cloud storage, on-premise storage, community portal, etc. Using XfilesPro, all these files can easily be

linked to specific Salesforce records

in the Org and be

managed from a single location

(the external storage).
Community File Management

– Another crucial feature of XfilesPro that makes it the ultimate file management solution is XfilesPro's management capabilities for the Salesforce files generated by the enterprise's community portal users. The

community portal integration

grants more capabilities to the

community portal users

and gives them better access to the overall Salesforce ecosystem, while managing their files efficiently.

Well-defined File/Folder Structure

– If there's one thing Salesforce users always struggle with, it's hassle-free management of files in proper folders. Even when there is no proper file/folder structure in the native Salesforce CRM, admins using XfilesPro can create

intelligent, well-defined file/folder structures

in the external storage, according to appropriate

file hierarchies

. This allows them to manage their files even more systematically.

Coherent File/Folder Syncing

– Another unique feature of XfilesPro is its ability to

establish proper synchronization

between the

files stored in the primary Salesforce file storage

and the

files & folders held in the external storage system

. Such kind of secure syncing promotes

easy visibility & accessibility

for the Salesforce files held in the external storage.

File Preview Capabilities

– Eliminating another hindrance to efficient Salesforce file management is XfilesPro's file preview capability. Even when the files and attachments are securely held in the external storage, XfilesPro lets users

preview the files right from the Salesforce console

, without even leaving the Salesforce ecosystem.

In-app Functionalities

– Several of XfilesPro's application functionalities also contribute towards making it a preferred Salesforce file management solution. These include

drag & drop feature

for Salesforce files, the

auto-export feature

, its capability to perform

various functions (share, delete, download) on multiple Salesforce files

in a single click, and allowing Salesforce files to be

shared among external users

.
Also read:
Forget One-By-One! XfilesPro's Mass Functionalities Are Here
Faster ROI

– Because of all the capabilities mentioned above, XfilesPro leads to an

instant boost in the enterprise's ROI

, right after its implementation in the Org. Since XfilesPro can be

set up quickly

, is very

easy to operate

, & can easily be

customized

, using it

enhances the overall user experience

,

optimizes the business productivity

, & drastically

reduces the file storage costs

(nearly 80-90%); all leading to a faster return on investment.
Owing to all the above-mentioned features & capabilities, XfilesPro has steadily emerged as the most trusted Salesforce file management solution. With over 8+ years of experience in the Salesforce ecosystem, XfilesPro is trusted by over 300+ customers worldwide & has over 400K+ licensed users globally. Using XfilesPro, admins can easily ace their Salesforce file management & realize the dream of an optimized Salesforce Org. To know more about the application, please give us a call or schedule a demo with us.