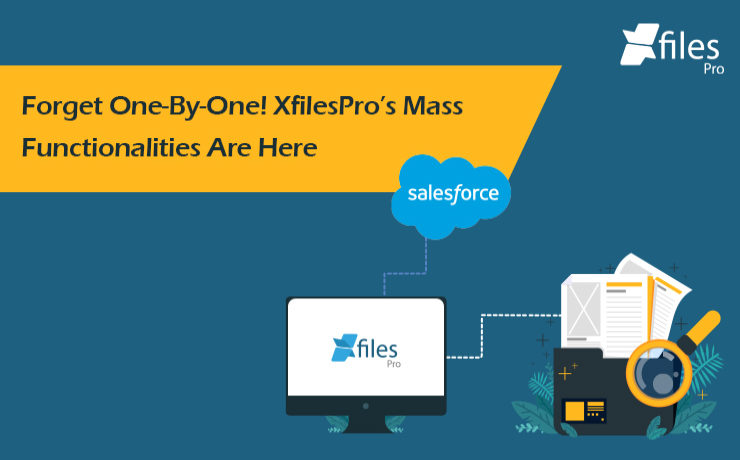 Every Salesforce admin at some point has faced different kinds of challenges because of the limitations associated with internal Salesforce file storage. It may be the back-breaking storage costs or the degradation of the Salesforce CRM's performance because of the massive file volume or simply difficulty in adhering to the compliance directives. To make life easier for such admins, we came up with an all-round solution called XfilesPro.
XfilesPro, easily available on the AppExchange, is an advanced file management & collaboration solution designed especially for Salesforce users. Using this application Salesforce users, both standard and community, can integrate any external Cloud or On-premise storage system of their choice with the Salesforce system and store the Salesforce files externally. Users have the option to collaborate with different external cloud storage systems like SharePoint, AWS S3, Google Drive, OneDrive, & Dropbox as well as on-premise systems like Network Drive, SFTP, SMB when using XfilesPro.
Such integration offers benefits like storage optimization, significant cost reduction, productivity enhancement, and a complete centralized content management system. But if you still need more reason to believe us, here are some primary reasons why XfilesPro is an ideal solution for file management in Salesforce:
Highly Compatible Network

– XfilesPro is a highly compatible solution which can be used in Lightning, Classic, & Salesforce1. The solution works well with Sales Cloud, Service Cloud, Community Cloud & Platform and can be customized to meet specific business needs, support chatter files, and multi-file uploads.

Simplified Approach

– XfilesPro quickly manages all the files and documents in the file storage along with easing up the existing storage. Admins have to simply install the app, configure their desired storage system and they are ready to reduce their Salesforce storage usage by 80% while still being able to view the files in Salesforce.

Lightning Customized Component

– Being a Lightning & Salesforce1 mobile-ready application, XfilesPro is fully equipped to provide better and efficient support. It also facilitates easy integration of any standard or custom object, applications, third-party applications, communities, Salesforce1 or any other VF page.

No Size Limitation

– XfilesPro allows files of all sizes and types to be easily uploaded to the external storage system while ensuring complete visibility and accessibility from inside the Salesforce system.

Easy File Migration Utilities

– XfilesPro's simple file migration utilities allow Salesforce admins to seamlessly and securely import files and attachments from any external system to their Salesforce system as well as export any number of files and attachments from their Salesforce system to the external system.

Custom Folder Hierarchy

– Through XfilesPro, admins can manage all the files using the custom folder hierarchy feature which facilitates easy linking of all the objects to their respective folders while most of the unlinked files are moved to the document folder in the external storage to keep them synchronized and managed as well.

Cost-effective

– With XfilesPro in place, you can easily save nearly 60%+ of your recurring file storage costs in Salesforce. And in case you have already exceeded your file storage limits, XfilesPro will help you free up your storage space, hence more storage cost reduction.
Also read: XfilesPro 2.0– Adorn with it's Next-gen Salesforce File Management Capabilities
As a Salesforce external file storage solution, XfilesPro has been clinical in offering best in class external file storage and collaboration services to multiple Salesforce users belonging to different industries. Apart from reducing the recurring Salesforce file storage costs significantly, XfilesPro's top-notch file management capabilities, aided by its seamless external collaboration capabilities, make it extremely popular among Salesforce admins.
Today, the application delivers more than just Salesforce external file storage services. The highly efficient features in the current version of the solution make life easy for Salesforce admins. In order to maintain the efficiency of the solution and make it even more user-friendly, we keep on enhancing the already existing features as well as add new features in each of the new releases. In this respect, we bring to you some of the latest features that we added in the last release.
Mass Download Functionality
Many Salesforce admins complain that downloading files and attachments from the Salesforce system is a tedious and time consuming process. This is because admins have to meticulously select those files one at a time and then download all of them separately. Then comes the challenge of storing those files in a specific location while keeping the structure intact.
To make this tedious process easier for admins, XfilesPro introduced the Mass Download functionality in its latest release. When using XfilesPro, both the List and Bi-Sync component users can easily DOWNLOAD multiple files at a time. They can select a maximum of 10 files at a time and download them as a zip file, so the hassle of storing them together is also eliminated.
Mass Sharing Functionality
Just like downloading, even sharing files in between internal teams or among the external or community users becomes difficult when performing this action directly from the Salesforce application. The platform allows only one file to be shared at a time. This can again become an extremely taxing task if there is a massive number of files that have to be shared among different users.
To simplify this concern, our technical team at XfilesPro came up with the Mass Sharing functionality that can be availed by both List and Bi Sync component users of XfilesPro. With this feature, SHARING multiple files (maximum of 10 files) among different users becomes very easy.
Please note: Mass Sharing is not available for Bi-directional component users in Google Drive.
Mass Delete Functionality​
The Salesforce application puts restrictions on the deletion of Salesforce files and attachments as well. At a time, admins can only select one file/attachment to be deleted. This can again prove to be a time-taking process, especially when multiple files have to be deleted.
With the introduction of the Mass Delete functionality in the winter release of XfilesPro, both the List and Bi-Sync component users of XfilesPro can conveniently DELETE multiple Salesforce files and attachments in just one click. Currently, the upper limit for selecting files to be deleted together is of 10 files for both the users.
Also read: XfilesPro Winter '20 Release: The Latest Version of the Application is Now LIVE in the AppExchange
There are several advantages of these mass functionalities of XfilesPro:
Reduced Manual Intervention

– There is very little manual labour involved as users only have to select the files that have to be downloaded/shared/deleted and then click the required button & the rest is taken care of by the application itself.

Little Supervision Required

– By performing the tasks of downloading, sharing or deleting the files in bulk, very little supervision is required from the Salesforce admin, giving him sufficient time to focus on other business-related operations.

One Click Execution

– After the files and attachments to be downloaded, shared or deleted have been selected, the admin has to only click on the required button and the action will be automatically performed without any delay.
We hope that with this article Salesforce admins will have gained a better understanding of the new features in the XfilesPro application and will be able to easily use them in their system. XfilesPro is all set to release yet another version very soon with even more enhanced features & some unique and cool new functionalities. To know more about the features in the current version or about the version releasing soon, please get in touch with us or you can schedule a free demo of the application to better understand its functionalities.