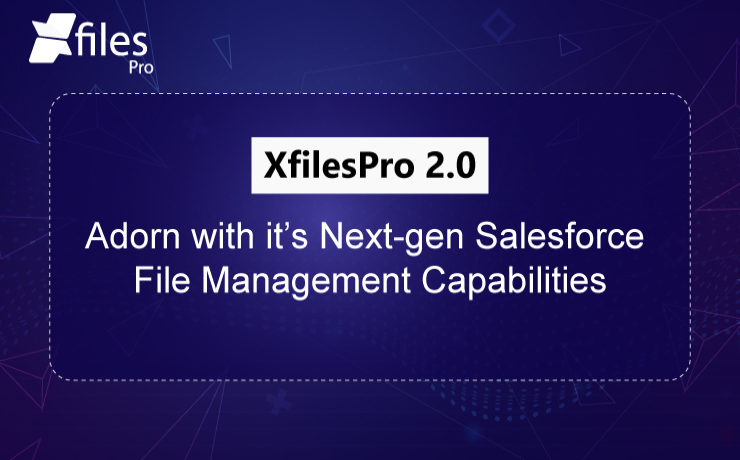 XfilesPro revamped. Yes, you heard it right. XfilesPro which is the best file management solution for Salesforce has now become more powerful than ever. The latest version of the application offers a full suite of advanced Salesforce file management & collaboration solutions that will take your CRM experience to a whole new level. Enterprises can now revolutionize their Salesforce system with a future-proof file collaboration strategy leveraging the cutting-edge XfilesPro functionalities & can unleash the power of unlimited file storage.
Let's have a sneak peek of some of the XfilesPro latest standard features & capabilities:
An Advanced File Management & Collaboration Solution
Collaborate with external file storage solutions seamlessly within Salesforce & unleash the power to extend file management with various other solutions and business with Salesforce Sales Cloud, Service Cloud, and Community Cloud.
Integrate Cloud/On-premise Storage Solution
Get a range of file storage options to integrate from multiple external Cloud storage platforms like (SharePoint, OneDrive, Amazon S3, Google Drive, Dropbox) to On-premise systems like (SMB, SFTP, Network Drive). This integration provides all the options to choose a better content management system for your entire organization & collaborate with the Salesforce system.
Storage Optimization & Cost Savings
Rise above the Salesforce file storage limitations & unlock the potential of connecting any cost-effective external storage platforms thereby future-proofing on your storage cost.
Centralized Content Management System
Work collaboratively with your internal Salesforce as well as external users by ensuring files are managed centrally but available for all the teams to share, view, download, and edit.
Salesforce Community Collaboration
Salesforce community portal integration brings more capabilities to community portal users and thus extending the capabilities deeper into the Salesforce ecosystem.
Define Intelligence on File/Folder Creation
A highly customizable file & folder management allows any business process to be embedded in the way files and folders need to save into their external storage. Pre-defined templates help businesses to create default folders/files for better file management.
Tailor-made Solution – Build an exclusive process as per customers personal specifications
XfilesPro is extremely customizable which helps customers to blend it as per their unique business specifications. This makes the solution very unique and blended giving the customer amazing ROI from it.
As a highly customizable solution, XfilesPro also offers a bunch of custom features. Let's have a look at those:
Highly Customizable – Build your own hierarchy
The solution is highly flexible & can be customized to any level based on specific Salesforce file management needs.
Collaborate External Files into the Salesforce System
Files residing in the external storage with a proper folder structure can be synced/linked with the respective records in the Salesforce system.
Build a Central Storage System – Manage all the files under one roof
Link the files scattered in different storage systems such as On-cloud, On-premise, and Salesforce system and manage them all from one place (external storage) by linking them with the Salesforce record.
Multi-Org File Integration
Integrate files from multiple Orgs without hindering the best user experience.
Large Volume File Migration
Migrate a large volume of files from your Salesforce system to any external system seamlessly without impacting any of your business processes.
Salesforce file management has its own challenges, but paying high file storage costs should never be one of them. With XfilesPro, Salesforce customers can not only save significant file storage costs, but they can also seamlessly enable 360-degree file collaboration including integration with various external storage systems, experience a centralized content management system, file/folder hierarchy management, multi-org file integration, large volume file migration, community portal collaboration and much more. To have a look at the revamped solution and learn how it will take away all your Salesforce file management related pains, please schedule a demo.