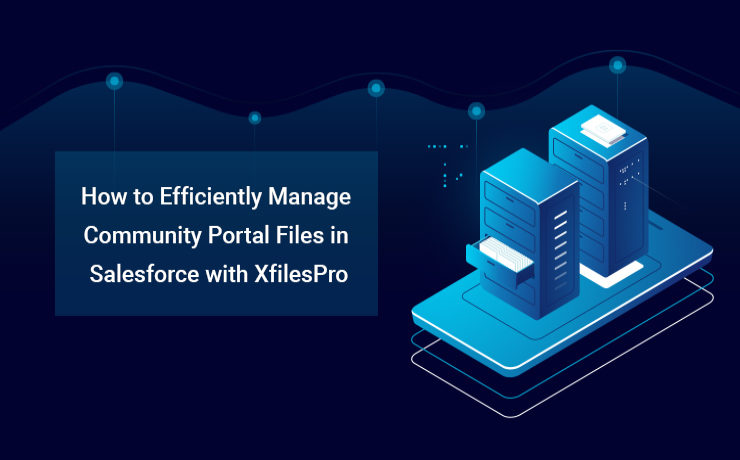 As a comprehensive platform that enables businesses to streamline any of their critical processes, Salesforce has been exceptional in the last two decades. With over 150,000+ customers from multiple industries and sizes, today Salesforce is offering a full suite of solutions spanning across sales, service, marketing, commerce, analytics, Customer 360 platform, etc. In order to maintain top-notch org performance and business productivity, the CRM giant has limited some of its capacities. Storage is one of those. A Salesforce org comes with a limited amount of data & file storage, and anything additional to these comes with a hefty price.
To ensure you never run out of your storage and operate the business in a highly optimized org, enterprises adopt various long-term data & file management strategies. For example, in order to optimize the data storage, leading enterprises implement an intelligent archival plan, while to deal with a growing number of files of large sizes, they look for external storage integration. However, things become a little more obscure, when the volume of files is million in number & you need a robust system in place to manage those files cost-effectively.
Companies use Salesforce Community Cloud to connect with their customers in a better way. Enterprises having a community portal (Salesforce Community Cloud License) with a lot of community users who consistently generate a lot of files, often find them in the middle of a crisis where they left with no option other than purchasing additional storage with a very high price, or delete old files or build a solution that can help them store the files somewhere else.
So what are the challenges that Salesforce customers face when it comes to managing a huge pile of files coming from multiple community users? Here are the top three basic challenges;
Limited native file storage – Unable to optimize

High recurring (additional) file storage costs – More investment

External file storage & collaboration – Need of a solution to enable this
External file storage & collaboration comes with its own set of challenges.
Choosing the right external storage system to integrate with Salesforce

Collaborating files seamlessly with the external system

Automating the entire process without any manual intervention

Migrating large volume of files (Initial process)

Defining the folder structure – Where to store the community user files in the remote storage

Centralized content management system – Managing files from one place

Customizing the solution to any extend – Meet evolving business needs
ALSO READ: Salesforce-SharePoint Integration – How to Transform your Salesforce File Storage Needs
How to Implement a Strategic Approach with XfilesPro?
In order to manage the huge volume of files generated by the community users, enterprises need to implement a future-proof file management strategy where they can rise above the limited native storage & make their file storage unlimited with external storage collaboration using advanced file storage & collaboration solutions for Salesforce like XfilesPro.
Choose your External Storage
Choose from a range of options to integrate from various external Cloud (SharePoint, OneDrive, Amazon S3, Google Drive, Dropbox) or On-premise (SMB, SFTP, Network Drive). The integration allows a better content management system for your entire community users & collaborate the files with the external storage.
Storage Optimization & Cost Savings
The integration will automatically store all the incoming community user-generated files in the chosen external storage & enable you to never run out of the primary file storage. This means no need for additional storage & high storage investment.
Centralized Content Management System
Drive high-degree of file collaboration with your internal as well as community users by ensuring files are managed centrally but available for all to share, view, download & edit.
Better Community Collaboration
Salesforce community portal integration delivers more capabilities to community portal users and thus extending the capacities deeper into the Salesforce ecosystem.
Store Files in the Right Folder – Sorted & Synchronized File Management
A highly customizable file & folder management allows the business process to be embedded in the way files and folders need to save into your external storage. You can save specific community portal user-generated files in pre-defined specific folders automatically with zero human intervention.
Highly Customizable – Use the way you want
The solution is highly flexible & can be customized to any level based on specific Salesforce community file management needs.
Collaborate External Files into the Salesforce System
Files staying in the external storage with a particular folder structure can be synced/linked with the respective records in the Salesforce system using the XfilesPro Bi-directional sync components.
Manage all the files under one roof
Link the files scattered in different storage systems such as On-cloud, On-premise, Community portal, and Salesforce system and manage them all from one place (external storage) by linking them with the Salesforce record.
Large Volume File Migration
Migrate a large volume of community portal files from your Salesforce system to any external system seamlessly without impacting any of your on-going business processes.
To know more about XfilesPro & it's capabilities in managing Salesforce community portal files, please get in touch with our Salesforce file management experts today.