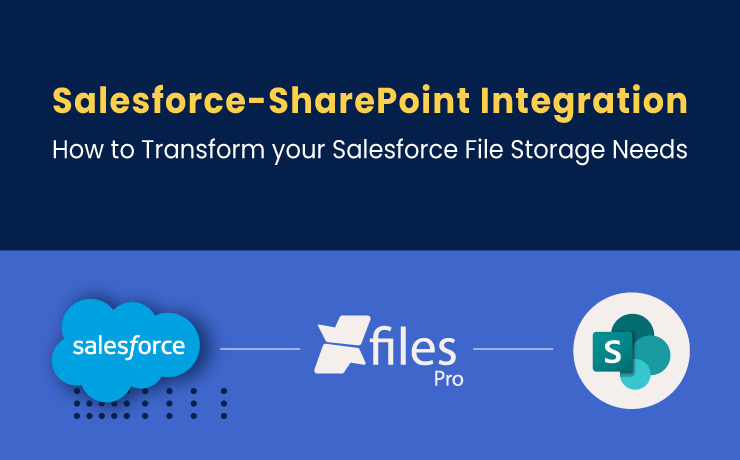 With the advent of new companies on the technology landscape, the competition in one's own industry has increased exponentially. When various other companies also provide similar kinds of solutions & services to customers, it's imperative for enterprises to maintain an edge over their competitors by continuing to offer best quality services to their end-users. For this purpose, enterprises turn towards automated solutions that can efficiently handle their business procedures.
One such automation solution is the world's #1 cloud CRM platform, Salesforce. It's valuable services across different departments like marketing, sales, customer service, finance, etc make it the most trusted platform among enterprises. When enterprises can generate more leads, make better informed decisions & drive forth success, what more will they need, right? But that's not the case over here!
One major issue with Salesforce is the limited nature of its primary file storage space which is fine until the voluminous files generated in the process of managing the customers' information are not brought into the picture. And then there is also the high additional file storage cost, which is a challenge in itself. Thankfully, being a customer-friendly platform, Salesforce can be easily integrated with different external storages to handle this issue with file storage limitations.
SharePoint: A Reliable Salesforce File Storage Option
One such viable secondary storage option is SharePoint. SharePoint is one of the most popular document management and storage platforms today with over 100 million users worldwide. Being used by a huge chunk of Fortune 500 companies, SharePoint offers storage, retrieval, searching, archiving, tracking, management, and reporting of electronic documents and records regarding any customer. Owing to such features, Salesforce can be easily integrated with SharePoint which enhances its collaboration & document management capabilities.
Some of the primary reasons to choose the Salesforce-SharePoint collaboration for your business growth are:
Lower investment

– In contrast to opting for more Salesforce licenses to increase document management capabilities (which is a costly option), an enterprise can simply choose SharePoint-based collaboration where full-fledged collaboration among large cross-departmental teams will definitely cost less.

Cross-departmental collaboration

– Even though Salesforce was intended for multiple departments like sales & marketing, several colleagues collaborating on a single project proves to be extremely challenging. Using the SharePoint intranet, employees company-wide can connect with each other. promoting & letting them engage in cross-departmental collaboration.

Extended knowledge management

– SharePoint reinforces Salesforce in terms of knowledge management as its communication sites make knowledge sharing more dynamic by pushing meaningful information to users through article announcements and promotions.

Large-scale document management

– SharePoint is more powerful when it comes to collaboration on documents & storage of large volumes of collaboration content. It also allows real-time co-authoring and off-line work with documents with greater data storage limits.
Setting Up Salesforce-SharePoint Collaboration
When you have decided to set up a seamless collaboration between your Salesforce system & SharePoint storage, there's just the question of how to do that. For this purpose, there are several means through which the Salesforce-SharePoint integration can be established. These range from ready-made tools to the ones built from scratch. A standard list of possible integration tools includes:
Salesforce Files Connect

– Offered by Salesforce itself, the Salesforce Files Connect framework allows users to access, search, and share Salesforce files stored in external sources in real time & allows Salesforce admins to set up the integration themselves with simple point-and-click tools. It can also be configured to take into account SharePoint's custom properties like custom columns, custom content type, & metadata from Office 365 documents during Search, SOQL, and SOSL Queries which allows simultaneous search results for a particular file in both Salesforce & SharePoint. The only downside is that this solution is rather pricey, precisely extra $7 per user per month.

Custom-built integration applications

– This is a very flexible option since such applications can be designed in line with specific requirements and can address a need for multiple integrations, without exceeding the costs. But it is important to mention that the internal Salesforce administrator might not be able to build the custom integration app himself so it becomes imperative to seek external help, which adds to the cost.

Salesforce AppExchange integration applications

– There are several options available on the AppExchange that can be installed by the Salesforce admin. In case further features are required, such apps can nearly always be modified by the Salesforce developer.
WEBINAR ALERT: Integrate SharePoint & Salesforce using XfilesPro – An Advanced File Management & Collaboration Solution for Salesforce
XfilesPro: Your Silent Salesforce File Management Partner
One such AppExchange application that can help enterprises seamlessly store and collaborate files with SharePoint is XfilesPro. XfilesPro is a highly customizable, admin-friendly application that performs exceptionally well with several Salesforce solutions like Service Cloud, Community/Experience Cloud, Sales Cloud, & Salesforce Platform. With XfilesPro, Salesforce customers can not only significantly reduce their file storage costs but can also seamlessly enable 360-degree file collaboration, including integration with various external storages like SharePoint.
In addition to SharePoint, XfilesPro can also be used to collaborate the Salesforce system with various other external file storage systems. These include the Cloud-based storage systems like OneDrive, Amazon S3, Google Drive, & Dropbox and On-premise systems like SMB, SFTP, & Network Drive. To know more about XfilesPro and how it can facilitate Salesforce-SharePoint integration, get in touch with us or schedule a live demo with us.
Store Salesforce Files in Your SharePoint Storage
Leverage The Power of SharePoint to Reimagine Your Salesforce File Storage & End-to-end Management