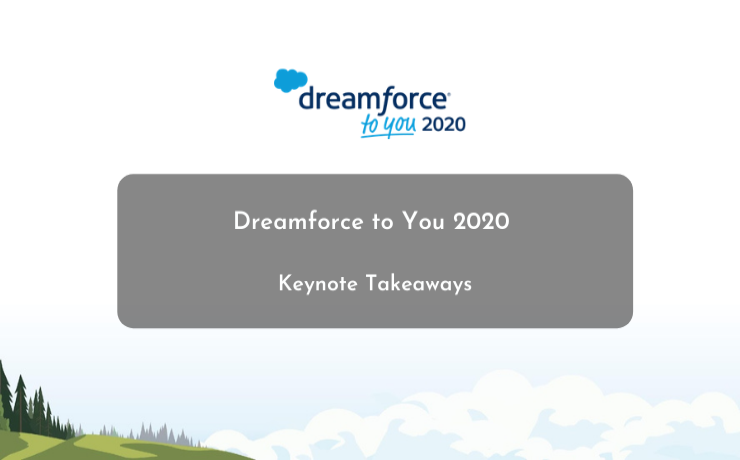 There is no denying that each year 'Dreamforce' is one of the greatest of Salesforce events, replete with new innovations, inspirational stories, and all-round learning. But this year owing to the global pandemic, even this grand technology conference was affected, almost to the point where everyone had lost hope of its happening. And then all of a sudden Salesforce announced the 'Dreamforce to You 2020' event and just like that the world's biggest B2B digital conference was back on track.
Being entirely virtual, this year's Dreamforce promised to be completely different than the previous one. But the thing that remained constant was the power-packed keynote, albeit virtual. So on 2nd December, Salesforce CEO Marc Benioff kicked off the event with the virtual keynote where he shared the future vision, celebrated customer success, and introduced new innovations across the Customer 360 Platform.
Let's have a sneak peek of what really happened during the keynote.
Salesforce Hyperforce
In one of the major announcements, Salesforce introduced Hyperforce, an innovative reimagination of the company's platform architecture designed to securely deliver exceptional services across the complete suite of Salesforce Customer 360 including Sales Cloud, Service Cloud, Marketing Cloud, Commerce Cloud, Industries & more, on major public clouds.
With Hyperforce, Salesforce's customers will be able to accelerate their growth and success making use of the robust and highly scalable platform. They will also be able to access any Salesforce app and platform from anywhere, leveraging the agility of the public cloud.
Salesforce's Slack Acquisition
Another key takeaway was the news of the definitive agreement between Salesforce and Slack under which Salesforce is all set to acquire Slack, the most innovative communications platform. This acquisition will enable Salesforce customers to transform the way they communicate and collaborate in the all-new digital, work-from-anywhere world, backed with the unique combination of Slack with Salesforce Customer 360.
Salesforce Einstein Automate
Another major announcement was the introduction of Einstein Automate, an end-to-end workflow automation solution to make businesses more productive. Owing to the fast-shifting digital customer approach that generates a massive volume of data, organizations can make use of this highly efficient workflow automation technology that delivers automation capabilities to help employees enhance their productivity by building intelligent workflows and integrating data across any system with simple clicks.
Einstein Automate also enables enterprises to automate anything using the new Flow Orchestrator, integrate anything with the new MuleSoft Composer, and transform any industry using pre-built solutions and resources from Salesforce.
Service Cloud Workforce Engagement
Lastly Salesforce also introduced the Service Cloud Workforce Engagement, a brand-new dynamic workforce planning solution to help contact centers forecast the demand for customer service and support, assign service agents accordingly, and coach service agents remotely in real-time to deliver trusted service experiences. Using this solution, Salesforce customers can ultimately deliver outstanding services to their users, being equipped with precise customer service demand prediction and the knowledge about the right agents with the right skills.
*source : Salesforce.com
About XfilesPro
XfilesPro, the next-gen file management and external collaboration application for Salesforce files, efficiently expedites seamless storage and collaboration for an enterprise's Salesforce files and attachments in different external storage platforms. This extremely customizable and admin-friendly application helps Salesforce admins not only reduce their file storage costs significantly, but also enables the 360-degree file collaboration including integration with various external storage systems.
Currently XfilesPro can be used to collaborate the Salesforce system with external file storage platforms including the Cloud-based systems like SharePoint, Amazon S3, Google Drive, Dropbox, and OneDrive as well as the on-premise systems like SMB, SFTP, and Network Drive.
Equipped with other features like centralized content management, efficient file and folder hierarchy management, multi-org file integration service, capacity to undertake large volume file migration as well as community portal collaboration, XfilesPro offers complete file management services to Salesforce users.
To know more about the application, please get in touch with us.