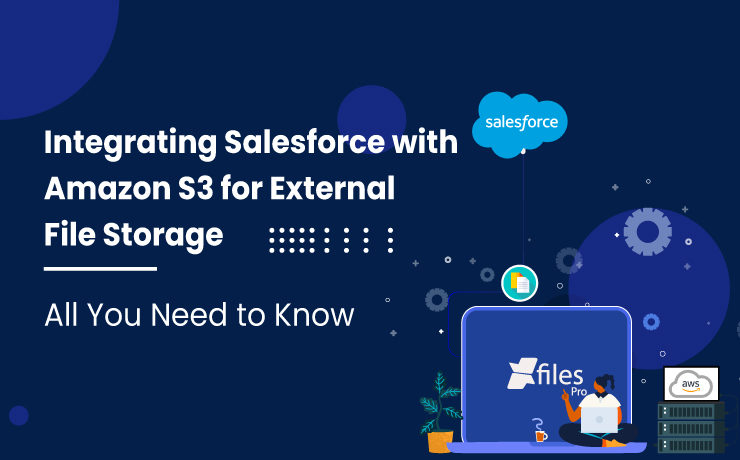 Of late enterprises across the globe have been trusting Salesforce with their customer management. Being the true market leader in CRM platforms, Salesforce helps them in creating an overall holistic view of each and every customer. Using it, companies ensure that their products & services gain maximum exposure and are well received by their end-users. Not only this, Salesforce also makes it easier for companies to generate more leads, make better informed decisions, & multiply their chances for success.
But as all good things have disadvantages, Salesforce too has a downside. While managing a number of customers, a massive volume of files and attachments are generated that are automatically stored in the primary file storage. A lot of challenges arise because of the limited nature of this primary Salesforce file storage & the hefty costs associated with purchasing additional storage space from Salesforce.
Handling Storage Issues with Amazon S3
An ideal way of overcoming the Salesforce file management problems is integrating the Salesforce system with different secondary storage platforms. One such viable storage option is Amazon S3, which is extremely effective in resolving challenges linked with Salesforce file management. Amazon S3 (Amazon Simple Storage Service) is one of the most popular object storage services offered by Amazon Web Services (AWS) that guarantees industry-leading scalability, data availability, security, & performance to developers and IT teams.
In addition to being easy to use, AWS S3 also offers a simple web services interface to store and retrieve any amount of data from anywhere on the web. When Salesforce is integrated with AWS S3, not only are its collaboration & document management capabilities enhanced but admins are also able to manage their Salesforce files easily. Some of the primary reasons to choose this collaboration for business growth are:
Lower Investment

– In contrast to upgrading the amount of Salesforce licenses or its edition in order to optimize Salesforce document management, a company can simply choose AWS S3-based collaboration where full-fledged collaboration among large teams from different departments costs much less.

Store Large Documents

– AWS S3 offers secure storage capacity for a vast amount of documents. After integrating it with Salesforce, businesses can do away with restrictions of file storage space & ensure seamless operations every time.

Quick Inter-Entity Linking

– Quick linking is another beneficial feature of S3 to Salesforce integration. It allows users to link specific documents with other business entities, like marketing campaigns, opportunities, quotes, sales documents, and case studies, from right inside the system. By integrating, users can also edit, retrieve and share documents from within the Salesforce UI itself.

Increased Customer Coverage & ROI

– AWS S3 provides users with a way to cater to their clients better and in an effective manner. By offering customers direct access to the product and business information, you can expect an increased return on investment.
Also read: Salesforce File Management : Storage & External Collaboration (A Complete Guide)
XfilesPro Facilitating Salesforce – AWS S3 Integration
Instead of performing the complex integration between Salesforce & AWS S3 themselves, most Salesforce admins look for other solutions that can streamline the integration processes. These include the native Salesforce Files Connect framework, simple custom-built integration applications, & different third-party applications. One of the best places to look for third-party solutions is the Salesforce AppExchange. Here is where admins will come across our advanced Salesforce file management & external collaboration application, XfilesPro.
XfilesPro helps enterprises seamlessly store & collaborate their Salesforce files with AWS S3, owing to its comprehensive integration capabilities. This highly customizable application can enable a 360-degree collaboration between the systems and help enterprises resolve their Salesforce file management issues. XfilesPro's other features like centralized content management, efficient file/folder hierarchy, large volume file migration, multi-org file integration, & community portal collaboration make it an admin-friendly application.
Also read: Leukaemia Foundation linked 6k+ files with their Salesforce system by keeping the files in Amazon S3
Using XfilesPro, Salesforce users can also cut back on their file storage costs significantly & do away with the need to purchase any additional file storage space from Salesforce. In addition to AWS S3, users can also use XfilesPro to collaborate the Salesforce system with various other external file storage systems like the Cloud-based storage systems like OneDrive, SharePoint, Google Drive, & Dropbox and On-premise systems like SMB, SFTP, & Network Drive.
To know more about XfilesPro and how it can facilitate Salesforce-AWS S3 integration, get in touch with us or schedule a demo with our experts.
Store Salesforce Files in Your Amazon S3 Storage
Reduce File Storage Costs, Improve File Visibility & Collaboration, Customize Your Folder Structure