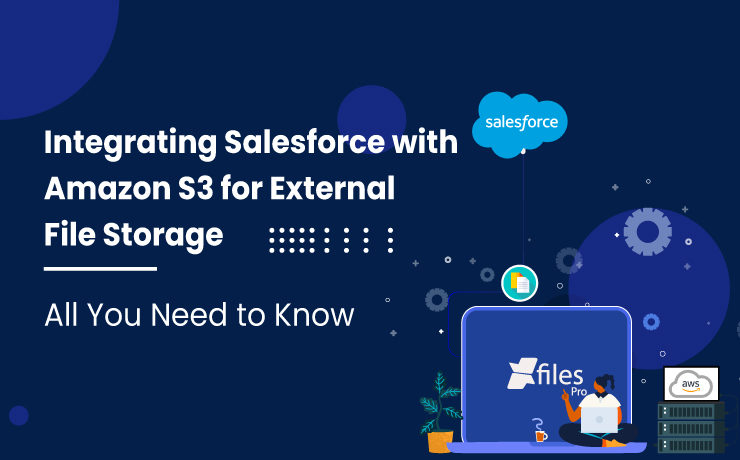 Last Updated: September 13, 2023
Business success largely depends on connecting with potential customers in a meaningful way & also through the platforms that they choose. Salesforce as a CRM has been allowing businesses to achieve the same & also consistently. With its world-class products, Salesforce has been pivotal in many company's sales, marketing, and customer service success for the past several years. Organizations are leveraging Salesforce's Customer 360 platform to obtain better business visibility, minimize sales cycles, deliver improved customer service, and make informed business decisions.
On the flip side of the coin, while allowing customers to accelerate their success on its CRM platform, Salesforce has also set certain restrictions in order to maintain the high performance and consistency of its premium applications. Primary application storage limit is definitely one such limitation, and businesses often find it difficult to address. Storage upgrades come at a high price & purchasing additional storage space from Salesforce is always a tricky decision to make.
Integrating Amazon S3 with Salesforce for Storage Collaboration
Organizations that are joint customers of Salesforce & Amazon, always have the option to extend their Salesforce file storage by connecting the CRM platform with their Amazon S3 system. With this, Salesforce files can be seamlessly moved and stored in relatively less-priced S3 storage for a long period of time. This cross-platform integration is extremely effective in resolving challenges related to Salesforce file management including limited storage, easy collaboration, unlimited sharing, and dealing with large file sizes.
On the other hand, Amazon offers S3 storage as one of the most popular object storage services that ensures industry-leading scalability, information availability, security, & performance to its users. In addition to the above features, S3 also offers a simple interface and robust document management capabilities including collaboration, sharing, and access.
Why choose S3 for Salesforce file storage?
Some of the primary reasons to choose S3 for Salesforce file storage are:
Lower Investment

– In contrast to adding more storage space at the expense of additional cost, or increasing the number of Salesforce licenses, enterprises can simply leverage their S3 storage to offload Salesforce files. This will also make collaboration easy among large teams & reduce the overall costs.

Store Large Documents

– As Salesforce restricts the upload of large-size files to its CRM, S3 can make it possible & allows organizations to manage large files with ease. Businesses can ensure seamless business operations every time & this will also enhance productivity.

Quick Inter-entity Linking

– Quick linking is another beneficial feature of S3 to Salesforce integration. It allows users to link specific documents with other business entities, like marketing campaigns, opportunities, quotes, sales documents, and case studies, from right inside the system. By integrating, users can also edit, retrieve, and share documents from within the Salesforce UI itself.

Folder Structures

– With S3, Salesforce users can also keep their files in a highly structured way within multiple folders. They can also create sub-folders, & custom structures to fit their business needs.
Also Read: Salesforce File Management: Storage & External Collaboration (A Complete Guide)
XfilesPro Enabling Salesforce – Amazon S3 Integration
Instead of performing the complex integration between Salesforce & AWS S3 themselves, most Salesforce customers look for other solutions that can streamline the integration processes. These include the native Salesforce Files Connect framework, simple custom-built integration applications, & different ready-made 3rd-party applications. One of the best places to look for third-party solutions is the Salesforce AppExchange. Here is where admins will come across our advanced Salesforce file management & external storage collaboration application, XfilesPro.
Learn more: Effortlessly Store Salesforce Files In S3 With XfilesPro: A Step-By-Step Guide
XfilesPro helps enterprises seamlessly store & collaborate their Salesforce files with AWS S3, owing to its powerful integration capabilities. This highly popular application can enable a 360-degree collaboration between the systems and help enterprises resolve their Salesforce file management issues. XfilesPro's other features like folder structure, bi-directional sync of files, large-volume file export, folder syncing, file sharing, community user file management, and much more make the app #1 in its segment & a must-have Salesforce admin application.
Using XfilesPro, Salesforce users can also cut back on their file storage costs significantly & do away with the need to purchase any additional file storage space from Salesforce. In addition to AWS S3, users can also use XfilesPro to integrate their Salesforce CRM with various other external file storage systems like OneDrive, SharePoint, Google Drive, and on-premise platforms.
Learn more: How To Store Salesforce Files In Amazon S3 Using XfilesPro: A Comprehensive Guide
Looking for Salesforce AWS integration to store Salesforce files in S3 storage? Please request a XfilesPro demo.