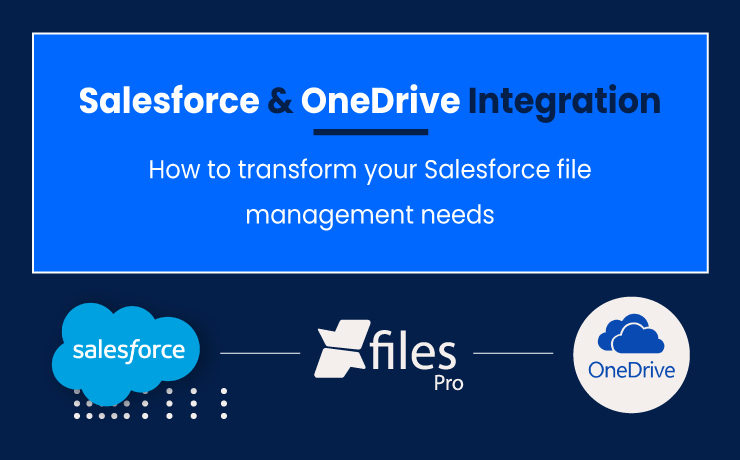 Are you a Salesforce user? Are you struggling with copious amounts of files that are steadily increasing every day? Is your Salesforce Org nearly on the brink of exhaustion with all it's file storage?
If you answered YES to any of the questions above, then we have the ideal solution for your woes. We understand that with rising competition in one's own industry it becomes necessary for companies to offer the very best services to their end-users. For this purpose, they turn to the #1 CRM tool in the world, Salesforce that helps them effectively manage their business operations to promote growth & success.
Though Salesforce helps to generate leads and make well-informed decisions, it also comes with a plethora of issues because of its limited file storage space & high storage costs. Therefore enterprises are always looking for ways in which they can overcome those challenges. The solution we suggest for overcoming these issues is using secondary storages to address the storage constraints.
Resolving File Storage Concerns with OneDrive
Plenty of Salesforce customers like to use OneDrive as their external secondary storage to securely hold the important files & documents. Microsoft OneDrive is another one of the popular document management & storage platforms in the market today. In addition to connecting users to all their files, this file hosting & synchronization solution also lets them store and protect their files, share them with others, and access them from anywhere on all their connected devices.
Also read: How to Overcome the Pitfalls in Salesforce File Storage Management with OneDrive Integration
Owing to such features, Salesforce can be easily integrated with OneDrive in a bid to ultimately enhance its collaboration and document management capabilities. Let's have a look at some of the primary reasons to opt for this collaboration:
Simplified Document Management

– Many enterprises deploy OneDrive to take care of their documents containing customer contacts, accounts, and other business information that needs to be tracked. By integrating Salesforce with OneDrive, you can easily monitor these aspects while making document sharing, updating, and management much easier.

Better Team Collaboration

– Perhaps the best benefit of Salesforce integration with OneDrive is the improved file collaboration. Such an integration allows the enterprise users to easily maintain and share multiple documents among various departments, thus enabling direct and swift collaboration.

Improved Data Security

– The Salesforce & OneDrive integration allows users to view, edit, or share documents using a single platform, thereby eliminating the need to switch systems frequently. As adequate permissions and authorization rights to access these documents are in place, there is no need for greater admin security.
How to Set Up Salesforce-OneDrive Collaboration
There are several techniques that can be implemented to carry out the Salesforce and OneDrive integration. These range from ready-made tools to the ones built from scratch. Firstly there is the native Salesforce Files Connect framework which can be set up using simple point-and-click tools and allows admins to access their files & attachments, stored in the external storage, in real-time. Then there is the option to deploy custom-designed integration applications that can be customized according to one's specific needs.
But perhaps the most ideal way of bringing about seamless integration between Salesforce & OneDrive is using different Salesforce AppExchange solutions as an easier and cost-effective alternative. One such popular & widely-trusted AppExchange application is XfilesPro, designed to help enterprises seamlessly store & collaborate Salesforce files with OneDrive. XfilesPro is a highly customizable & admin-friendly application that is completely aligned with the Salesforce roadmap and performs exceptionally well with solutions like Service Cloud, Sales Cloud, Community Cloud, and Salesforce Platform.
Check out this product datasheet to know more about the XfilesPro application.
Something More About XfilesPro
XfilesPro is an advanced Salesforce file management & collaboration application that is hailed as the #1 application among Salesforce users because of its comprehensive file management capabilities. Using this solution, admins can reduce their file storage costs significantly, in some cases by up to 80-90%. Other prominent features of this solution include 360-degree file collaboration, centralized content management, file/folder hierarchy management, file archiving, multi-org file integration, and community portal integration.
In addition to OneDrive, XfilesPro can also be used to collaborate the Salesforce system with various other external file storage systems like the Cloud-based storage systems like SharePoint, Amazon S3, Google Drive, & Dropbox and On-premise systems like SMB, SFTP, & Network Drive. To know more about XfilesPro and how it can facilitate Salesforce-OneDrive integration, get in touch with us or schedule a demo with our Salesforce file management experts.
Integrate Salesforce & OneDrive for Next-gen File Storage & Collaboration
With XfiesPro, Store Salesforce Files in OneDrive with Seamless Collaboration & Reduce 85%+ File Storage Cost in Salesforce