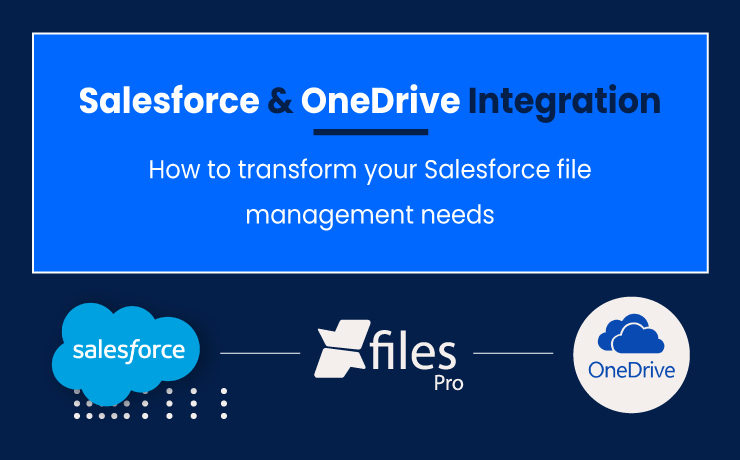 Last Updated: September 22, 2023
Does your business use Salesforce CRM to operate sales or customer service? Do your users often grumble about the limited file storage space they have? Do you find storage upgrades expensive & disorganized? 
If your answer is YES to the above questions, then we have the perfect solution for you to come out of Salesforce file storage limitations & enhance your file management experience. Salesforce is an amazing CRM, a real productivity booster for any business. However, you need to accept the fact that it is not a storage system. So, smart customers always find alternatives to address Salesforce storage challenges with external cloud file storage options.
Now accelerate your success on the world's #1 CRM along with a complete document management system, powered by XfilesPro. Connect your external document management platform such as OneDrive with your Salesforce in minutes with the help of XfilesPro and store all your Salesforce files in OneDrive automatically.
Resolving Salesforce File Storage Challenges with OneDrive Integration
A number of Salesforce customers leverage their OneDrive storage as an extended file storage space for Salesforce files. OneDrive is a Microsoft cloud service that comes with 1 TB* of storage space which can be used to store documents. It is a very popular document management platform which is highly scalable. Compared to Salesforce's additional file storage, OneDrive is very much less priced & users can increase the storage up to 5 TB. Files stored in OneDrive can be shared & accessed seamlessly from anywhere through all connected devices. 
Also read: How to Overcome the Pitfalls in Salesforce File Storage Management with OneDrive Integration
Owing to such large storage space & features, Salesforce can be easily integrated with OneDrive in a bid to ultimately enhance its file collaboration and document management capabilities. Let's have a look at some of the primary reasons to opt for this integration;
Simplified Document Management

– Many enterprises deploy OneDrive to take care of their documents containing customer contacts, accounts, and other business information that needs to be tracked. By integrating Salesforce with OneDrive, you can easily monitor these aspects while making document sharing, updating, and management much easier.

Better Team Collaboration

– Perhaps the best benefit of Salesforce integration with OneDrive is the improved file collaboration. Such integration allows Salesforce users to easily maintain and share multiple documents among various departments, thus enabling direct and swift collaboration.

Improved Data Security

– The Salesforce & OneDrive integration allows users to view, edit, or share documents using a single platform, thereby eliminating the need to switch systems frequently. As adequate permissions and authorization rights to access these documents are in place, there is no need for greater admin security. 

Cost Savings –

As Salesforce storage cost is on the higher side, moving & storing files in OneDrive is always cost-effective. This prevents Salesforce users from buying additional storage from Salesforce & allows them to save high costs.
How to Connect Your Salesforce with OneDrive?
There are multiple options to connect Salesforce with OneDrive for file movement. Some are ready-to-use and others need to be built from scratch. Files Connect is one such tool provided by Salesforce to connect external platforms like OneDrive with Salesforce. With this, users can move files from Salesforce to OneDrive. However, Files Connect has certain limitations. Building an in-house app is always expensive & time-consuming. If you need more features, then the timeline will increase and you also need to hire experts. Considering this, smart Salesforce customers always look at AppExchange where they can get ready to use & feature-rich file management applications that can really connect both Salesforce & OneDrive for file movement. 
XfilesPro is the #1 file management application available on the AppExchange which can really transform the file management experience in Salesforce by seamlessly integrating it to any external file storage like OneDrive. Files from Salesforce will automatically move to OneDrive & your user will never experience storage or performance issues. XfilesPro setup is fast & easy once the application is installed from the AppExchange. It comes with a highly admin-friendly user interface & navigation within the app is simple.
Why choose XfilesPro over Files Connect or any custom app?
XfilesPro is highly advanced & it comes with 10+ in-built features. The popular application supports all major Salesforce apps, Salesforce1 mobile, AppExchange apps, Community portals, and force.com apps. Apart from integrating external storage with Salesforce, XfilesPro can boost your business productivity with futuristic features like smart folder structure, large volume file offloading, bi-sync of files, folder sync, tagging, file collaboration, and much more.
Our application powers a 360-degree document management system that enables enhanced doc management, document collaboration, seamless file sharing, storage management & cost reduction, and centralized document management. In addition to OneDrive, XfilesPro can also integrate other popular external platforms like Amazon S3, Google Drive, SharePoint, and on-premise file systems.
To learn more about XfilesPro capabilities & how the application can be used for your file management needs in Salesforce, please request a demo.
Integrate Salesforce & OneDrive
With XfiesPro, Store Salesforce Files in OneDrive with Seamless Collaboration & Reduce 85%+ File Storage Cost in Salesforce