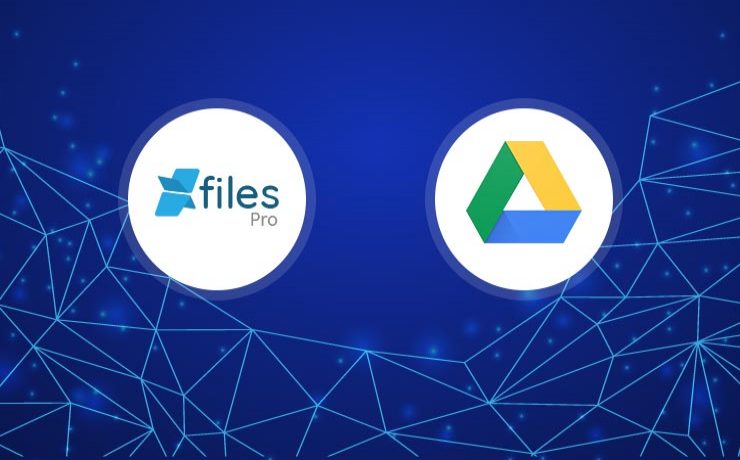 Choosing the best external storage system in order to store and collaborate Salesforce files is a crucial job. Organizations must consider various aspects of external storage systems and how well it can blend with their business model, in order to get the best results. External storage is of two types: Cloud & On-premise. Our XfilesPro customers use different external storage systems such as AWS, Google, Dropbox, OneDrive, etc. to store their Salesforce files. In this blog, we are going to discuss why you must consider using XfilesPro if you are looking to store your Salesforce files in your Google Drive.
XfilesPro has been introducing new features in every new release to help its users across domains to optimize their Salesforce file storage as well as to extend their workflow at a rapid pace. However, when it comes to using Google Drive for external file storage, XfilesPro offers a wide range of features that are well integrated with the advanced Google components. Some of these features are;
Bidirectional sync
Uploading and syncing files have made simplified with XfilesPro. It was earlier difficult for users to upload and manage files because of one-sided sync. XfilesPro now offers bidirectional sync to make your file management experience seamless. Users using Google Drive can use this feature to both upload and manage files within Google Drive. Once you configure Google Drive as your external storage, XfilesPro enables you to upload files from your Drive, and have them in your Salesforce record and vice-versa. The process of uploading the files can be done from anywhere keeping the files in Google Drive.
Folder creation
Users can now organize their files the way they want using this XfilesPro feature. New folders and subfolders can be created within a record and all the files can be organized. This feature will help you keep one stack of files separately from the other bunch in an organized way. This will help the user to navigate through the right folder. So, if you want to organize your Salesforce files inside your Google Drive, XfilesPro is the perfect solution for this.
Bread crumb view
This feature ensures smooth navigation from your Salesforce Org to your Google Drive using XfilesPro. This feature not only helps you with navigating folders within Salesforce but at the same time no need to access Google Drive for the same. XfilesPro breadcrumb view feature allows users to access all their files within one particular folder. This will make it easy for the user to move from one folder to another and select files to upload in them. Everything in one place.
Map folders to an existing folder
Users were facing difficulties while placing their files and whenever they upload new files, one of the structures was getting disturbed. Now if you are using Google Drive for external file storage, XfilesPro can address this with the mapping of existing folders. Users can map their existing folders and also connect with the same without trobling other folders. This assures seamless upload using XfilesPro. Users can always choose an existing Google Drive folder at the time while setting up a storage system to upload all the files to that existing Google Drive folder. At the same time dodge manual downloading of the files and then uploading them in a new folder.
Edit content option for Google Drive
This feature is only applicable to organizations, using Google Drive as their external file storage. Users can edit content, attachments, and documents.
Team Drive support
If you want to use Team Drive for your Salesforce file storage, XfilesPro supports this as well. We have recently implemented Team Drive for one of our clients. Check here.
ALSO READ: Are you still paying additional Salesforce file storage cost?
Get in touch today!
XfilesPro has been the first choice external file storage and collaboration solution for many Salesforce users. So, if you have a large no. of Salesforce Attachments or Files, you can store all your files in your preferred external Cloud (AWS S3, GDrive, Onedrive, etc.) or On-premise (FTP, SMB, Shared Drive, FILE) storage system with seamless integration & collaboration implementing XfilesPro. XfilesPro offers a bunch of additional benefits to users using Google Drive for their external file storage. Get in touch today to avail a demo.