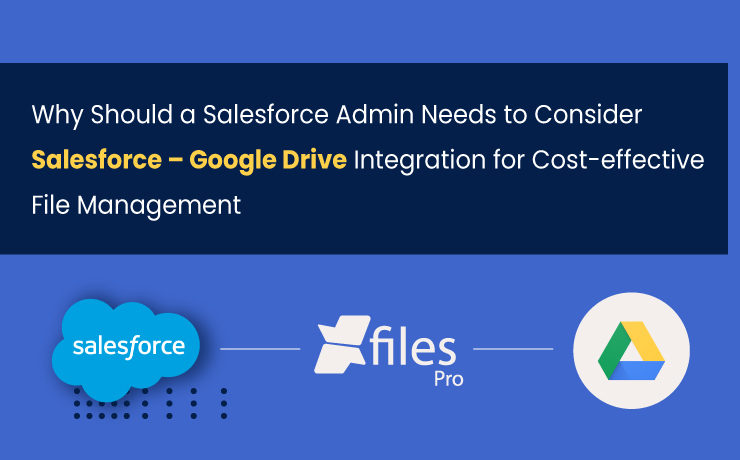 In the current technology landscape, enterprises trust customer management platforms like Salesforce to securely handle each and every little detail about their business. This goes a long way in generating correct leads & making well-informed decisions. Though this ultimately leads to the enterprise's growth & success, it can be extremely frustrating to store all such minor details efficiently within the limited storage space offered by the cloud platform.
Yes, even when Salesforce is the #1 CRM platform in the world, it has a very limited primary storage space, both for Salesforce files (mostly 10 GB) & Salesforce data (10 GB primarily). Though it may seem like a lot in the beginning, it usually starts exhausting after only 3-4 years of use. And if enterprises choose to purchase additional storage from Salesforce, even that option is very costly as it's a recurrent cost.
How & Why is Google (Team) Drive Effective
Thankfully, to their respite, Salesforce users can easily leverage various external storages to address such file storage concerns in Salesforce. Among those secondary storage systems, one viable solution is Google Drive. Google Drive (Team Drive) is one of the most popular document management & storage platforms in the market today with over 100 million users worldwide. This file storage & synchronization service allows Salesforce users to store a multitude of files on their servers, synchronize files across devices, and share those files.
Owing to such features, Salesforce users like to integrate their Salesforce system with Google Team Drive so as to enhance their file management & collaboration capabilities in Salesforce, thereby future-proofing the file storage costs. Some of the predominant reasons why this collaboration is beneficial for business growth are:
High data security

– Collaborating with the Salesforce system & Google Drive provides multi-level security to the files, while keeping it confidential. Google Drive offers a specially designed feature to protect files & back them up.

Real-time synchronization

– One of the reasons Salesforce admins hesitate to collaborate with external systems is the worry of having to maintain data integrity between the systems. But Google Drive offers the feature of real-time synchronization which allows any changes made in the file to be reflected on both the Google Drive copy as well as the Salesforce file, without any delay.

Two-way synchronization

– Another benefit of collaborating with Google Drive is the feature of two-way synchronization which permits changes in the file to be made from both platforms. These changes also get updated immediately and can be viewed from both platforms.

Ease of access

– Google Drive also allows Salesforce admins to add new files to the Salesforce system without actually having to access Salesforce itself. These files can be added to Google Drive directly and will automatically get reflected in the Salesforce account as well. They can also be accessed from both Salesforce and Google Drive.
XfilesPro's Role in Salesforce-Google (Team) Drive Collaboration
One of the ways in which Salesforce users can integrate their Salesforce system with Google Drive storage is by leveraging the easily-available AppExchange integration applications. There are several options available on the AppExchange that can be installed by the Salesforce admin, one of which is XfilesPro. The XfilesPro application helps users seamlessly store & collaborating their Salesforce files with Google (Team) Drive storage.
The highly customizable application boasts lucrative features like centralized content management, large volume file migration, intelligent file/folder hierarchy management, multi-org file integration, community portal collaboration, & file syncing that make it an ideal solution for integrating Salesforce & Google Drive. Using this admin-friendly application, Salesforce users can not only drastically cut back on their recurrent file storage costs, but can also enable a seamless 360-degree file collaboration between both storage platforms.
In addition to Google (Team) Drive, XfilesPro can also be used to collaborate the Salesforce system with various other external file storage systems, including Cloud-based storage systems like OneDrive, Amazon S3, SharePoint, & Dropbox and On-premise systems like SMB, SFTP, & Network Drive.
BONUS: Some More Ways of Integrating Salesforce & Google Drive
In addition to using AppExchange solutions like XfilesPro to integrate Salesforce with Google Drive, there are several other means by which this integration can be brought about. Two of the prominent ways have been explained below:
Salesforce Files Connect

– As per the Salesforce Files Connect framework's capabilities, it allows users to search and work with Google Drive files from within the Salesforce UI itself while preserving all content permissions. This functionality of Files Connect speeds up the users' work & helps them in making the most out of Google Drive files while communicating with customers. The only disadvantage of this method is that it only integrates the document libraries while leaving out other images and videos.

Custom-built integration application

– This is yet another flexible option that allows Salesforce admins to design an application according to their specific requirements while also addressing the need for multiple integrations, without exceeding the costs. But it is important to mention that an internal Salesforce administrator might not be able to build such a custom integration app himself, so external help needs to be sought out which adds to the cost.
Also read: XfilesPro Helped Search Technology Company Automatically Handle Leads & Modify Documents Through External Collaboration With Google Drive
To know more about XfilesPro and how it can facilitate Salesforce-Google Drive integration, get in touch with us or schedule a demo with our Salesforce file management experts.